Thousands displaced by flashflood in Sultan Kudarat town
November 6, 2016 | 3:29pm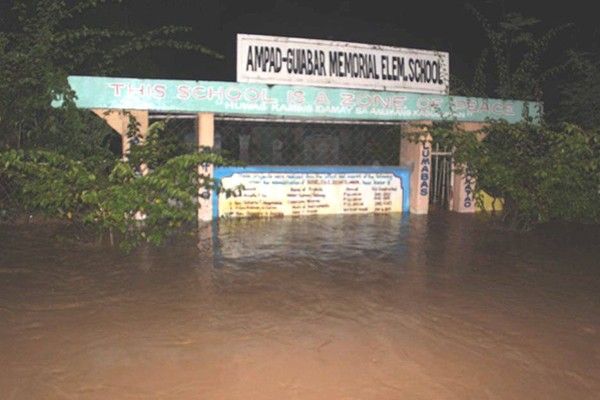 SULTAN KUDARAT — Thousands of villagers got dislocated as flashfloods spawned by heavy rains swept through six barangays in the seaside Kalamansig town late Saturday.
Local officials said Sunday many of the displaced 4,209 families are now confined in school campuses on higher grounds and in houses of relatives in nearby hinterlands.
The flashfloods were preceded by two days of heavy rains, which swelled rivers that spring from nearby densely forested watersheds and straddles through the now flooded barangays.
The local government unit of Kalamansig, aided by policemen and personnel of the Philippine Marine Corps, was still relocating villagers from the adjoining Barangays Poral, Obial, Limulan, Santa Maria, Hinalaan and Cadiz until almost noontime Sunday.
Kalamansig Mayor Ronan Garcia said relief workers are now extending relief services to the evacuees.
Hundreds of families in Barangays Salaman and Poloy-Poloy in nearby Lebak town, also in Sultan Kudarat, were also displaced when rivers crisscrossing their villages overflowed following two days of heavy downpours.
Garcia said supply of electricity in interior areas in Kalamansig had also been cut when branches of huge trees felled by strong winds hit and broke power lines carried by wooden posts.
More than a dozen low-lying agricultural districts in the neighboring Datu Piang and Salibo towns in Maguindanao have also been flooded since Friday.
The two towns are dotted with marshes and swamps that connect to the 220,000-hectare Liguasan Delta, a natural catch basin for big rivers that spring from hinterlands in North Cotabato, South Cotabato and Bukidnon provinces.
More than 5,000 ethnic Maguindanaon villagers were affected by the calamity, according to local officials.
The Office of Civil Defense and the Humanitarian Emergency Assistance and Response Team in the Autonomous Region in Muslim Mindanao are now validating the dislocation of Datu Piang and Salibo residents, a procedural requisite for relief operations.