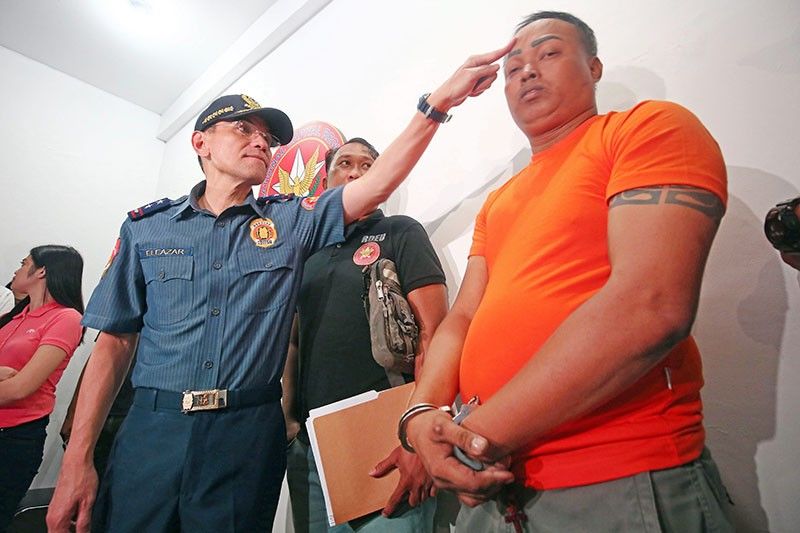 Maj. Gen. Guillermo Eleazar berates former policeman Victor Bustamante at past midnight yesterday following the latter's arrest in a drug sting.
Miguel De Guzman
Ex-cop nabbed in drug sting
MANILA, Philippines — A former policeman was arrested during a drug sting in Muntinlupa City on Thursday.
Victor Bustamante, 37, who held the rank of patrolman prior to going absent without leave (AWOL), was apprehended at his home in Barangay Poblacion beside the New Bilibid Prison's minimum security compound, said Maj. Gen. Guillermo Eleazar, National Capital Region Police Office director.
He allegedly handed over five grams of methamphetamine hydrochloride or shabu with a street value of P68,000 to an undercover police officer.
Bustamante yielded two sachets of shabu, the P10,000 marked money, a Glock 9mm pistol, a Philippine National Police identification card, a sling bag and a cell phone.
"He is not, in any way, connected anymore with the Philippine National Police. For sure his apprehension will reduce the proliferation of illegal drugs in the different areas of this city," Eleazar said.
Lt. Col. Rogarth Campo, chief of the NCRPO's Regional Special Operations Unit, staged the sting following reports that Bustamante was allegedly behind the proliferation of illegal drugs in Barangay Poblacion and neighboring areas.
Bustamante was recruited by the NCRPO in 2011 and reassigned to the Southern Police District's intelligence unit until he went AWOL in February. Ralph Edwin Villanueva