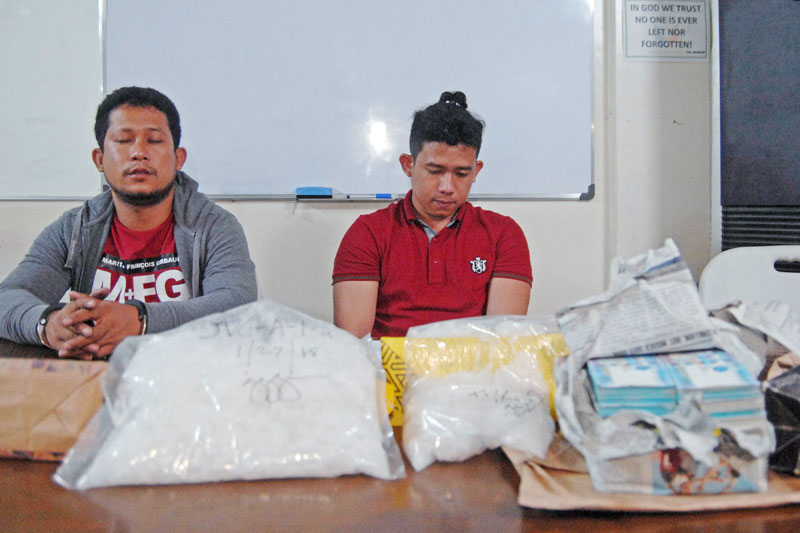 Brothers Abdurasid and Abdil Aziz Asaali are interrogated at the PDEA headquarters in Quezon City following their arrest in a drug sting yesterday.
P7.5-M shabu seized in Quezon sting
MANILA, Philippines — Two brothers were arrested and P7.5 million worth of shabu, which the Philippine Drug Enforcement Agency (PDEA) said came from Malaysia, were seized in a drug bust in Quezon City yesterday.
Abdurasid Asaali and Abdil Aziz Asaali were caught in the vicinity of a hospital in Barangay Greater Lagro at around 9 a.m., PDEA spokesman Derrick Carreon said.
Based on their investigation, Carreon said over the phone the siblings were supposed to meet another person who will purchase 500 grams of shabu.
The suspects reportedly sold a kilo of shabu to a PDEA operative posing as a buyer, Carreon said.
Operatives recovered approximately 1.5 kilos of shabu from the suspects, who are facing charges for the sale and possession of illegal drugs.
Carreon said the siblings obtained the drugs from a source in Malaysia and smuggled into the country via Mindanao.
From their home province of Tawi-Tawi, the suspects rented a vehicle and traveled to Metro Manila on board a roll-on, roll-off vessel.
The agency is conducting an investigation to trace the source of the drugs from Malaysia.
5 more held in QC
Also in Quezon City, five suspects were arrested in separate police operations on Friday.
Police officers on routine patrol caught Bryan Valenzuela, 24, carrying a sachet of shabu when they accosted him for carrying a knife in Barangay Pinyahan at around 10:30 p.m.
Roy Gador, 29, was arrested after a concerned citizen told police he was reportedly selling drugs along Selecta Drive in Barangay Pag-ibig sa Nayon at around 9 p.m. A sachet of shabu was confiscated from him.
Joel Nazareno, 22, was arrested in Barangay Escopa 3 after allegedly selling shabu for P200 to a policeman posing as a buyer at around 1:30 p.m. Two sachets of shabu were seized from him.
In another sting, Jun Jon Obamos, 42, and Jayson Abelarde, 27, were arrested in Barangay UP Campus at around 2:40 p.m. for allegedly selling a sachet of shabu for P500. Three sachets of shabu were found in their possession.
Alleged dealers Eljune Torillo and Michael Payag were reportedly caught in a drug session in Barangay Barangka Drive in Mandaluyong City at around 1 p.m. Two sachets of marijuana were confiscated from them.
6 nabbed in Parañaque
Six persons were arrested in drug stings in Barangays BF Homes and Baclaran in Parañaque City Friday night, an official said yesterday.
Mc.Artney Ramos, 28; Joshua Ramos, 22; Michael Rebato, 25; and Arnold Manangkil, 18, were arrested in a sting in Sampaloc Site 2, Barangay BF Homes, according to Police Officer 3 Alberto Canonigo Jr.
The suspects were arrested after Mc.Artney sold a sachet of shabu worth P5,000. Seven more sachets of shabu were seized from him.
Each of the four other suspects yielded a sachet of shabu and drug paraphernalia, Canonigo said.
In Barangay Baclaran, Rosario Jay Malaluan, 30, and Enrique Sanchez, 30, were caught in a sting along Tomas Claudio street, according to Police Officer 1 Brigido Agnawa Jr.
Two sachets of shabu with a street value of P1,000 were confiscated from them. – With Robertzon Ramirez