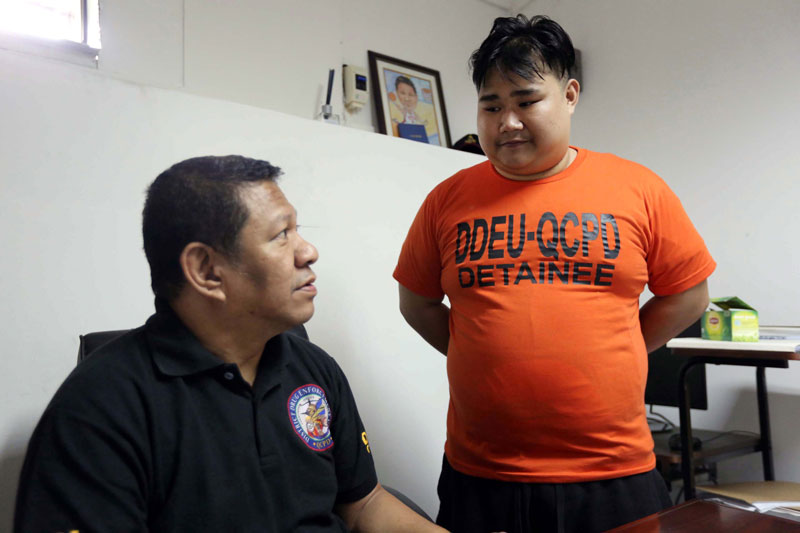 Mikey Gealogo Santos answers questions at Camp Karingal following his arrest in Quezon City Thursday night. Boy Santos
College student nabbed for high-grade marijuana
MANILA, Philippines — A 21-year-old college student was arrested for reportedly selling high-grade marijuana in Quezon City Thursday night.
Mikey Gealogo Santos, a fourth year marketing major at the Jose Rizal University, was caught in a sting at a gasoline station at the corner of Aurora Boulevard and Balete Drive in Barangay Doña Mariana at aroudn 11:45 p.m.
An undercover police officer was allegedly able to buy P1,000 worth of dried "Kush" marijuana from Santos, Quezon City Police District director Chief Superintendent Guillermo Eleazar said.
Ten sachets of the marijuana variant, with a street value of P25,000, were seized from the suspect.
Eleazar said Santos, also identified as Benson Miller, is not connected to the two men arrested last week for selling Kush marijuana.
Merhan Jahiron, 28, and Jovan Carino, 20, were arrested in Barangay Doña Josefa and yielded P100,000 worth of Kush marijuana.
Kush is a variant that is supposedly 10 times more potent than regular marijuana.