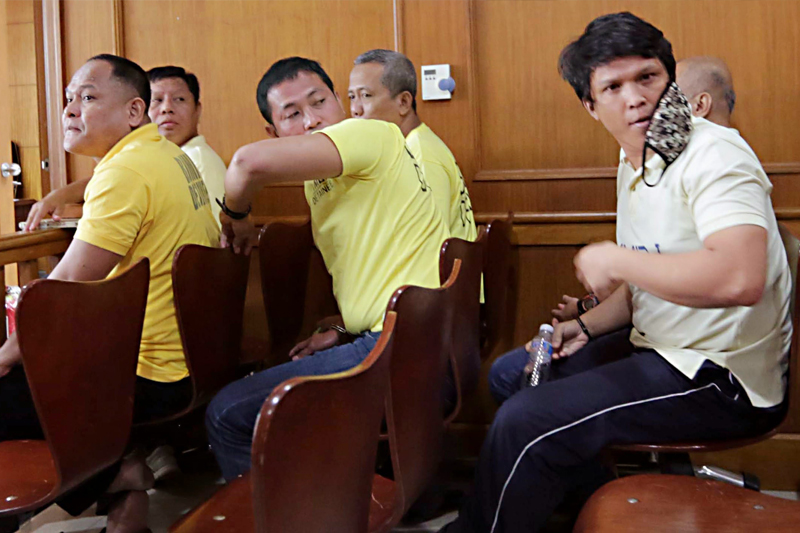 Former corporal Jumel Cañazares removes his mask as he and six others are sentenced to life imprisonment yesterday for kidnapping a Pakistani-Filipino businessman in Makati City in 2007. Ernie Peñaredondo
2 ex-soldiers, 1 ex-cop get life for businessman's kidnap
MANILA, Philippines — Two former soldiers, a former policeman and four others were sentenced to life imprisonment yesterday for kidnapping a Pakistani-Filipino businessman in Makati City in 2007.
In a 28-page decision, Judge Elmo Alameda, presiding judge of the Makati Regional Trial Court Branch 150, found ex-Sergeant Luminog Guiapal, ex-Corporal Jumel Cañazares and former Senior Inspector Eleazar Seiton guilty of kidnap for ransom.
Alameda also convicted Jonathan Melgo, Ahmad Guiamad and Beltran Tompeta.
Businessman Tariq Mian filed charges of kidnapping for ransom against the seven men for kidnapping him on May 24, 2007 after he closed his store, Silver Rose General Merchandise, at the corner of Dela Rosa and Santuico streets.
Mian said that Seiton, who was wearing a police uniform, served him a fake warrant of arrest for illegal recruitment, handcuffed him and shoved him inside a Toyota Innova, where six other men were waiting.
He said that the suspects brought him to a house in Calamba, Laguna where he was detained for 10 days. His kidnappers initially demanded a ransom of P5 million but later agreed to P2 million.
He was released after his wife paid the ransom.
Alameda said kidnapping for ransom carries the death penalty, but "since Republic Act 9346 has suspended the imposition of the death penalty, this means that the six accused can only be sentenced to the penalty of reclusion perpetua."
Guiapal, Cañazares, Seiton, Melgo, Guiamad and Tompeta were present during the promulgation of the case.
Asked for comments about the court's decision, Guiapal insisted that he is innocent.
Mian said that he felt happy that all of the suspects were convicted.
"After 10 years you get the justice. How do I feel? I am so happy everybody was convicted," Mian said.
Teresita Ang-See, chairperson of the Movement for Restoration of Peace and Order, commended Mian's persistence in pursuing the case against the suspects. Mian is a member of the MRPO.