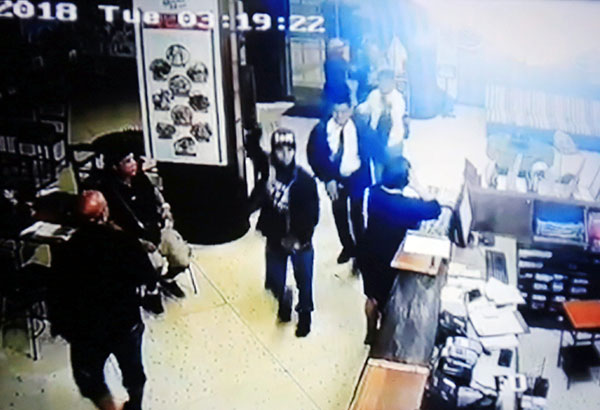 Two of four armed men are seen in an image taken from The Mabuhay Manor's closed-circuit television footage of yesterday's robbery. Edd Gumban
4 robbers take P4 M in hotel heist
MANILA, Philippines — Four armed robbers barged into a hotel in Pasay City before dawn yesterday, taking more than P4 million in cash and valuables from the hotel and a family about to check out.
Closed-circuit television footage from The Mabuhay Manor showed four men, wearing masks and hats, entering the hotel, pointing their guns at hotel guests and staff and taking the hotel's earnings of P33,000.
A Filipino-American guest, overseas worker Dominador Castro, 57, and three of his family members were about to check out of the hotel when the robbers took $82,750 (P4,137,500) in cash and valuables from them, said Superintendent Jenny Tecson, Southern Police District spokesperson.
She said the robbers took $15,800 cash, gadgets worth $7,000 and other valuables – including a Rolex watch – amounting to $59,950 from Castro and his family before ordering the hotel staff and guests to lie down on the floor.
The robbers boarded a black Hyundai Starex with no plate number and sped away.
One week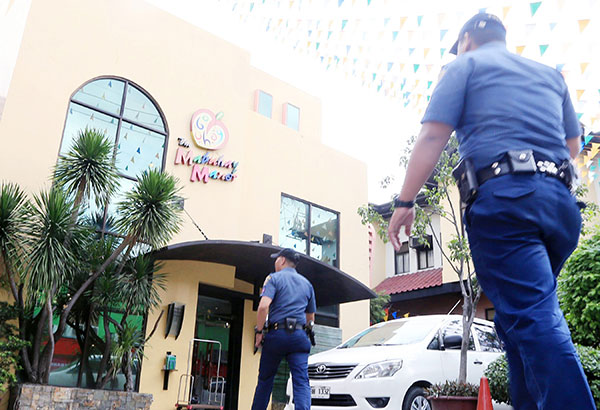 Lower photo shows police officers arriving at the hotel to investigate the incident. Edd Gumban
Director Oscar Albayalde, National Capital Region Police Office (NCRPO) chief, yesterday gave Pasay police chief Senior Superintendent Dionisio Bartolome one week to solve the robbery or face relief.
"The faces of the suspects are clear in the CCTV video and they could be identified immediately as the footage went viral on social media," Albayalde said as he urged netizens to report the whereabouts of the robbers to the nearest police station.
He said he directed Bartolome to unmask "insider" at the hotel as the robbers appeared to know where the hotel cashier kept the money and the whereabouts of the Castro family.
After receiving the robbery report, Albayalde rushed to the hotel to supervise the initial investigation of the incident.
In a statement issued yesterday, The Mabuhay Manor said that at around 3 a.m., "four unidentified, heavily armed men entered the hotel premises and took cash from our front desk, as well as personal belongings from three of our guests who were at the lobby during the incident."
The hotel said all the guests and employees present during the robbery are "safe and have been attended to."
The hotel said it is working closely with city police officials, the Criminal Investigation and Detection Group and the NCRPO to solve the robbery.
"Everything at the hotel is back to normal, but we are still asking for your prayers in these difficult times," the hotel said. – With Non Alquitran