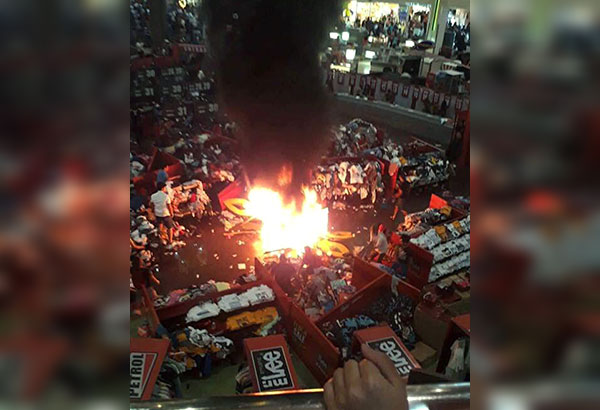 Flames spread from a Christmas lantern to stacks of clothes for sale at a mall in Taguig City Monday night in a Facebook post by Jerene Marcial.
2 hurt as parol catches fire in mall
MANILA, Philippines — Two mallgoers were hurt after a Christmas lantern caught fire at a mall in Bonifacio Global City in Taguig Monday night, an official said yesterday.
Arson investigators said the parol caught fire at around 7:45 p.m. at the mall's activity center. The two mallgoers were injured as they ran to safety.
Facebook user Jerene Marcial posted a photo and a short video of the fire showing how the mallgoers panicked and how the fire affected some stalls at the activity center.
Another Facebook user Bella Mercado, who was in the mall when the incident happened, said she saw the snowflake lantern burst into flames and fall on the stalls selling clothes.
Jeffrey Belleza said that they were ordered by mall officials to use the fire exit.
Investigators said the fire was immediately controlled and put out before 8 p.m. No one was reported killed.