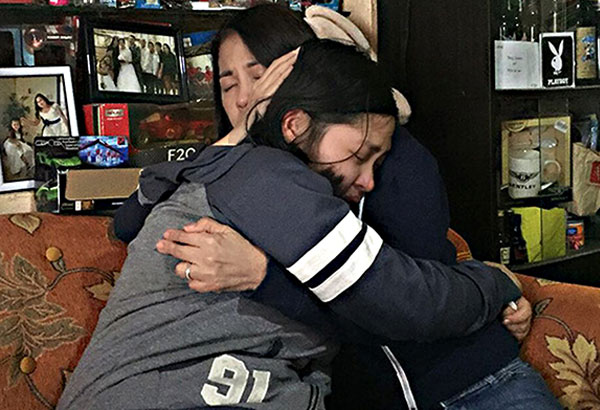 Ica Policarpio is embraced by her sister Bea after she reunited with her family yesterday.
Missing teenager reunites with family
Ghio Ong
(The Philippine Star) - December 24, 2017 - 4:00pm
MANILA, Philippines — The 17-year-old girl who has been missing since Thursday reunited with her family yesterday.
With the help of social media and information from netizens, authorities found Patricia "Ica" Policarpio in Laguna.
"After three days, we are happy to announce that Ica was found by concerned citizens in San Pablo City," National Capital Region Police Office chief Director Oscar Albayalde told reporters.
Ica's sister, Bea, took to social media to thank netizens, authorities and strangers for helping them find Ica.
Bea described the family's reunion with Ica as a "Christmas miracle."
"We found Ica. Words cannot express our joy in this moment. Our family can never thank you enough, each and every one of you, for storming the heavens so we could be given a second chance to be complete. Investigation is still ongoing, but be assured we will be verifying relevant facts through official media sites. Kindly wait for that and respect our family's privacy at this time. In the meantime we just wanted to ease everyone's worry and let you all know that she is OK, she is unharmed and she is with us. Thank you, Lord. Thank you everyone for helping us #FindIca," Bea posted on Facebook.
Ica's father, lawyer Rufino Policarpio III, also thanked netizens who provided information on social media that led to finding Ica.
"This will be a life-changing experience for us, knowing so many people cared and showed their love for us," Policarpio said.
He said he received a call from officials of Barangay II-B in San Pablo City confirming that Ica was found in the area.
The local officials identified as barangay chairman Manuel Fronda II and Councilor Emma Servano turned over Ica to Superintendent Gil Torralba, San Pablo City police chief.
Finding Ica
On Saturday night, a Twitter user posted a photo of her and her friends, with Ica in the background.
Danica Bragado, 19, said she was hanging out with her friends at Starbucks in a mall in San Pablo City when she spotted Ica reading a book outside the coffee shop.
Bragado said she noticed that the girl looked like the missing person in the news.
They did not know their meeting would lead to the finding of Ica.
Ica's father admitted that he and Ica had some "disagreements" before she went missing.
"But we have a good father and daughter relationship," Policarpio said.
Police said Ica was not kidnapped or persuaded by other people to run away contrary to earlier reports.
Ica was last seen in Sucat, Muntinlupa City on Thursday.