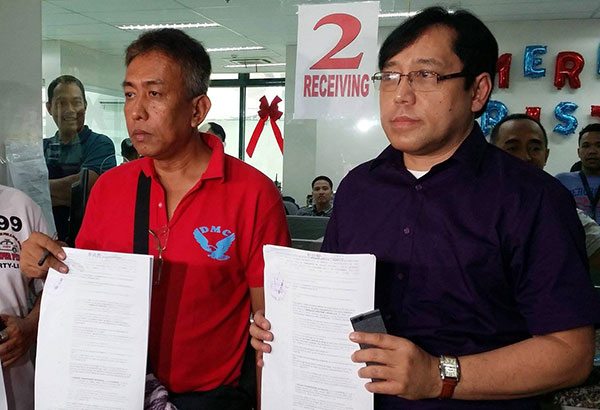 Taxi driver Virgilio Doctor (left) and Ariel Inton of the Lawyers for Commuters Safety and Protection show copies of the charges Doctor filed with the Quezon City prosecutor's office yesterday. Emmanuel Tupas
Cabbie files raps vs 'road bully'
MANILA, Philippines — The taxi driver who was slapped by a woman in a road rage incident in Quezon City sued his attacker yesterday.
Virgilio Doctor, 52, filed charges of unjust vexation, malicious mischief and slight physical injuries against Cherish Sharmaine Interior, 31, before the Quezon City prosecutor's office.
Doctor, who survived a stroke in 2014, was accompanied by his relatives and Ariel Inton of the Lawyers for Commuters Safety and Protection (LCSP).
Inton said they will file an amended complaint to include a charge of slander after Doctor told them Interior hurled insults at him.
"We will also pursue the suspension of her driver's license. She is an example of a road bully," Inton told reporters in an interview.
Doctor vowed to pursue the cases against Interior up to the end, saying the female motorist should pay for her crimes.
Doctor said he will not retract his complaint even if Interior personally apologizes to him.
"She has to pay for what she did to me. We will see each other in court," he said in an ambush interview.
A video of the incident, which went viral on Facebook over the weekend, showed Interior slapping Doctor in the presence of a male companion and bystanders.
Countercharge
Meanwhile, two staffers at the prosecutor's office said Interior also filed a complaint against Doctor at around 3 p.m. Monday.
"She filed cases of unjust vexation and slight physical injuries," they said.
Interior kept a low profile and immediately left after she filed her complaint.
VXI Global Holdings BV – where Interior works as an office supervisor – said it does not condone her actions.
"While VXI is not in any way connected with the incident, VXI does not condone misconduct and any inappropriate behavior by any of its employees," it said in a statement.
However, the call center company distanced itself from the case, saying the incident happened "when the employee was on personal time and was not doing any work for VXI. We leave it to the appropriate authorities to handle the case."