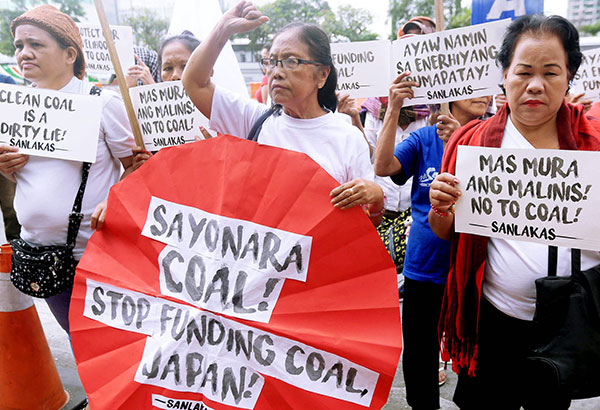 Activists gather in front of the Japanese embassy in Pasay City on Thursday to denounce Japanese Prime Minister Shinzo Abe's promotion of fossil fuel and 'clean coal' to members of the Association of Southeast Asian Nations. EDD GUMBAN
Japan hit for promoting fossil fuels
MANILA, Philippines — Environment advocates are denouncing Japanese Prime Minister Shinzo Abe for promoting fossil fuels and coal to power members of the Association of Southeast Asian Nations (ASEAN) growing economies.
Lawyer Avril de Torres, legal research officer of the Center for Energy, Ecology and Development, asked Japan to stop pushing Asian countries to use coal.
De Torres said Japan has been securing and financing coal projects during the ASEAN and East Asia Summits.
De Torres said severe global warming caused by the increase in coal burning significantly affects the region. Most of Southeast Asia's population and economic activities are concentrated along the coastlines and their livelihoods depend heavily on agriculture, she said.
"Projections of climate change-caused economic losses in Southeast Asia include a decline of up to 50 percent of rice yield potential by 2100 and a loss of 6.7 percent of combined gross domestic product each year by 2100," she claimed.