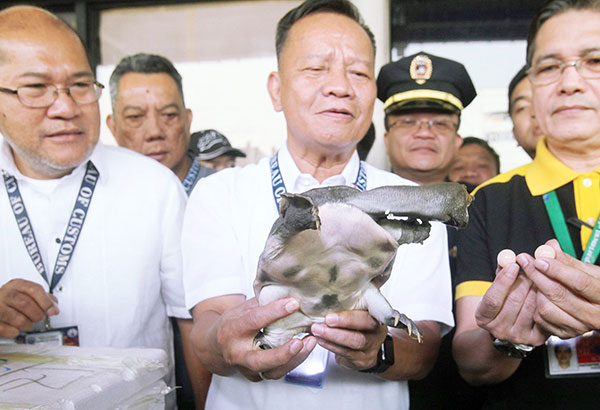 Customs Commissioner Isidro Lapeña holds a soft-shell turtle, one of 123 seized last Friday, during a press conference at the NAIA yesterday. Rudy Santos
123 soft-shell turtles seized near NAIA
Rudy Santos
(The Philippine Star) - November 11, 2017 - 4:00pm
MANILA, Philippines — The Bureau of Customs (BOC) intercepted 123 live Chinese soft-shell turtles, packed in seven polystyrene boxes, at the Pair Cargo warehouse near the Ninoy Aquino International Airport Terminal 1 (NAIA-1) last Friday.
BOC Commissioner Isidro Lapeña said yesterday the shipment was misdeclared as eels and was bound for Taipei when it was intercepted by customs officers.
Two eels were included in the shipment, officials said. They explained that eels are covered by export permits while soft-shell turtles are not.
NAIA District III collector Ramon Anquilan said Customs Export Division personnel led by collector Rey Gatchalian discovered the real contents of the shipment when it went through manual examination.
The shipment was consigned to Jan Birt Co. Ltd. in Taipei and shipped by 3H Enterprises Ltd. Inc. of Guiguinto, Bulacan, Anquilan said.
The Chinese soft-shell turtles, which reportedly came from Pampanga and Bulacan, are considered delicacies in Taiwan and China.
"They are usually harvested for food and folk remedy tonics. However, the continuous consumption and exploitation may cause its extinction," Lapeña and Anquilan told reporters.
Each turtle, which weighs nearly a kilo, is valued at $40, making the value of the shipment approximately P250,920.
Lapeña said the Department of Environment and Natural Resources will file charges of violation of Republic Act 9147, the wildlife protection law, against the shipper.