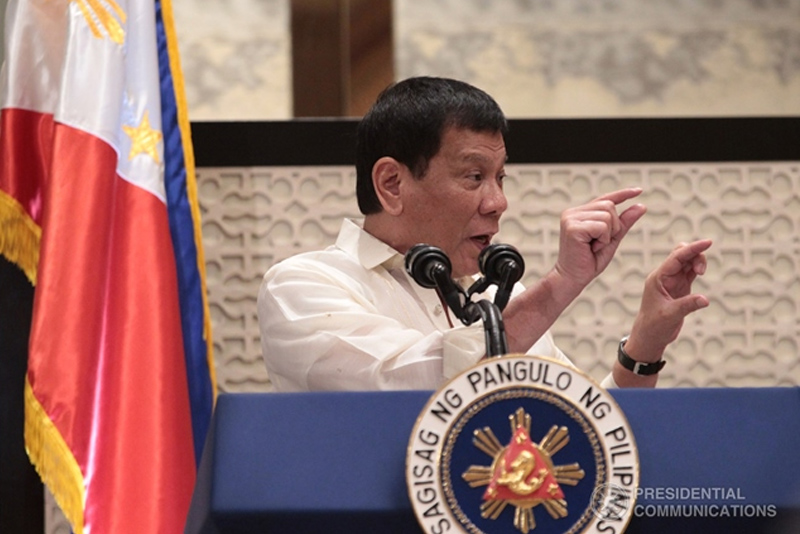 Duterte said he would only protect police officers if the crime they are charged with is connected with their duty. PPD/King Rodriguez, File
Rody vows to 'slaughter' abusive cops
(The Philippine Star) - September 20, 2017 - 4:00pm
MANILA, Philippines — Abuses are rampant among police officers in Metro Manila, President Duterte admitted Tuesday as he vowed to "slaughter" law enforcers who are guilty of criminal acts.
Duterte said he would only protect police officers if the crime they are charged with is connected with their duty.
"Kung sabi ko gusto mo patayin kita, patayin kita. Alam nila 'yan (I said I would kill you. They know that)…May mga g*** talaga na abusado. Grabe ang kaso ng abuso ng pulis sa Maynila (There are fools who are really abusive. The abuses of policemen in Manila are rampant)," the President told government station PTV 4 last Tuesday.
He said some "ninja cops," who protect drug lords or benefit directly from the illegal drug trade, have yet to surrender.
"They are the ones who brought drugs here, police generals. Because it's hard to pin them now," Duterte said.
Bounty raised for ninja cops
Duterte yesterday raised the bounty from P2 million to P3 million for each ninja cop arrested or killed.
He made the announcement during his speech at the conferment ceremony of the Gawad Career Executive Service and the 2017 Outstanding Workers in Malacañang.
"Balutin mo na lang ulo nila, ilagay mo diyan sa hagdanan ko, okay na iyan (Wrap up their heads, put them on the stairs, that's okay). No questions asked," Duterte said.
The Chief Executive first announced the P2-million reward for the arrest of ninja cops during rites honoring the country's national heroes at the Libingan ng mga Bayani on Aug. 29 last year.
Kuyog culture
Philippine National Police chief Director General Ronald dela Rosa said yesterday that police officers should develop a "kuyog" or swarm culture to rid their ranks of scalawags.
"I hope a culture within the PNP will be developed wherein if a policeman commits a wrongdoing, he is swarmed by a majority of good and honest policemen," he said during a mass oath-taking of newly promoted police officers at Camp Crame.
He told reporters that as police officers are promoted, they should be more sensitive to the wrongdoings of their colleagues.
"The higher you get in the ladder of promotion, the more callous you can be," Dela Rosa said. "It's scary. We will be in deep sh** if that happens to us." – Alexis Romero, Christina Mendez, Emmanuel Tupas