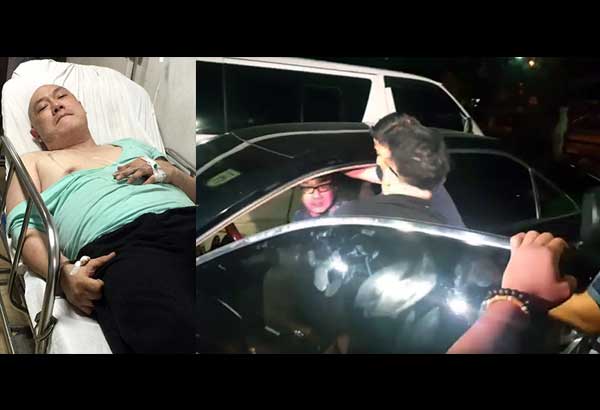 Arvin Tan is handcuffed to a hospital bed at the Ospital ng Maynila following his arrest yesterday. Inset shows a video grab of police officers trying to pull Tan out of his car at the MPD headquarters. MIGUEL DE GUZMAN
UST alumnus makes trouble at MPD
(The Philippine Star) - September 20, 2017 - 4:00pm
MANILA, Philippines — A man was arrested yesterday for causing trouble at the Manila Police District (MPD) headquarters after he was caught taking a video of a witness in the fatal hazing of University of Santo Tomas (UST) law student Horacio Castillo III.
Arvin Tan – a businessman and an alumnus of UST – went to the MPD's homicide section before dawn yesterday and approached Police Officer 3 Aldeen Legaspi to complain about an MPD Station 8 personnel who allegedly pointed a gun at him.
Tan also reportedly claimed he is a stockholder in ABS-CBN, a source said.
Police officers later noticed him surreptitiously taking a video of the Uber driver who delivered Castillo's belongings to his home in Makati City. The driver agreed to give his statement to the police on condition of anonymity.
Police officers accosted him and asked for his identification as he sat in his Toyota Altis (ACA 3829), smoking a cigarette.
Tan claimed he is an employee of the Department of the Interior and Local Government, but did not present any identification card.
He threw the butt of the cigarette he had been smoking at the police officers, who tried but failed to pull him out of his car.
As police officers shot at him, Tan managed to drive his car out of the MPD headquarters, hitting some parked cars and nearly running down members of media on his way out.
He was arrested at his home hours later, MPD director Chief Superintendent Joel Napoleon Coronel said.
Tan underwent medical examination at the Ospital ng Maynila before he was brought to to the MPD headquarters.
Schizophrenic
Tan, who owns an electronic gambling outlet, had nothing to do with Castillo's case, according to MPD spokesman Superintendent Erwin Margarejo.
Investigators have yet to find out if Tan's injuries stemmed from the shots police officers fired as he escaped.
Tan has schizophrenia and has not taken his medication for at least a month, his lawyer Donna Jalmas-Masilungan told reporters.
She described his psychological condition as "unstable." Tan's mother told her about his condition following his arrest, Masilungan said.
Ordered to explain
National Capital Region Police Office chief Director Oscar Albayalde ordered the MPD to explain why its police officers allowed Tan to leave the compound.
He said Tan claimed to be with the DILG and to have pull with Malacañang. Tan also cursed at the MPD homicide investigators as he walked out of the main building, Albayalde said.
Tan then went to his car and sped away.
Albayalde said the police officers on duty should have immediately arrested Tan.
Police said Tan may be charged with malicious mischief, unjust vexation, resisting arrest, destruction of property and alarm and scandal, according to GMA News.