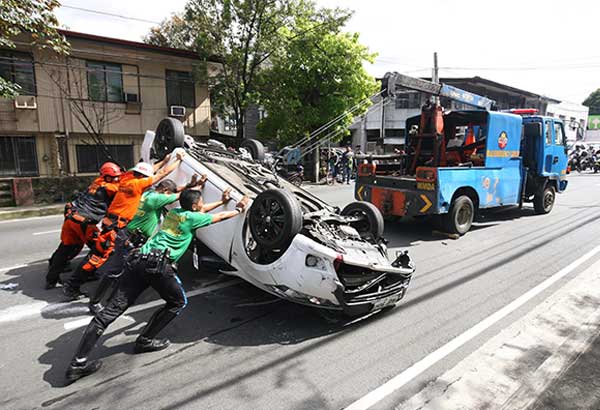 Traffic management personnel help turn over a Toyota Vios that figured in an eight-vehicle collision along Boni Serrano Avenue yesterday. MICHAEL VARCAS
MANILA, Philippines — At least six people were injured in an accident involving eight cars and motorcycles in Quezon City yesterday afternoon.
The collision started after the driver of a Toyota Vios, Royce Andrew Torino, 24, reportedly lost control of his vehicle along Boni Serrano Avenue in Barangay Socorro at around 8 a.m.
Probers said Torino's car hit four motorcycles.
Police identified the affected motorcycle riders as police officer Jerry Sambajon, 41; Mark Angello Cabico, 24; Molan Reu Montuno, Reynante Jamisola, Janet Mercado, 25, and Erorencio Garcia, 44.
Torino's car rolled over from the impact while the four motorcycles hit three other vehicles in the area.
The victims were rushed to the PNP General Hospital and Quirino Memorial Medical Center for treatment.
The accident caused heavy traffic in the area, police said.
It was the second major road accident in Quezon City in 12 hours, following the death of a motorcycle rider the night before along the southbound lane of EDSA at around 8 p.m.
Ramiro Bersamina, 29, was killed when his motorcycle was hit by a Pangasinan Five Star Co. bus at the Quezon Avenue flyover.
Bersamina was thrown from his motorcycle due to the impact. He died while being treated at the East Avenue Medical Center.
The bus driver, Crispin Figueroa, 36, was placed under police custody following the accident.