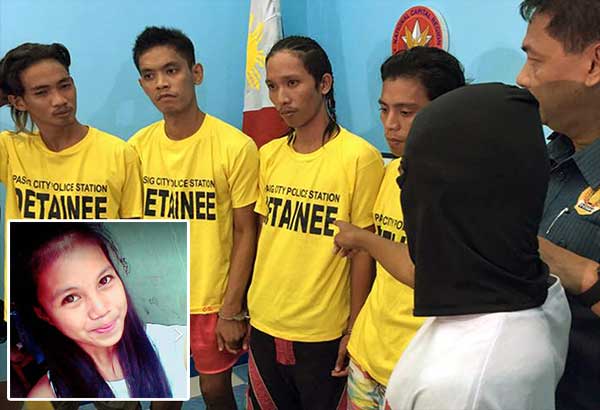 A witness identifies (from left) John Jerico Peralta and brothers Jomari, Emmanuel Jr. and Joel Manuel as suspects in the rape and killing of Grace Omadlao (inset) during a press conference yesterday as Pasig police chief Senior Superintendent Orlando Yebra Jr. looks on. NON ALQUITRAN
Pasig rape-slay: 4 arrested
MANILA, Philippines — Three brothers and their friend were arrested on Wednesday in connection with the rape and murder of a 16-year-old girl in Pasig City on Sept. 4, police said yesterday.
John Jerico Peralta, 18 reportedly acted as a lookout for Manuel brothers Jomari, 22; Emmanuel, 27; and Joel, 31.
Peralta and Jomari were arrested at a basketball court in Villa Cuaresma at around 5 p.m. Wednesday. Emmanuel was apprehended when he paid the two a visit at the Pasig police station an hour later.
Joel was apprehended along Esguerra street in Barangay Pinagbuhatan at around 7 p.m.
Senior Superintendent Orlando Yebra Jr., city police chief, said at least three witnesses identified the four men as the ones who reportedly dragged Grace Omadlao, a Grade 10 student at the Nagpayong High School in Barangay Pinagbuahatan.
The suspects, victim and witnesses are neighbors.
3 more to go
According to Yebra, they are hunting down at least two to three more "persons of interest" who might have had a role in Omadlao's rape and murder.
"Our investigation of the case is a continuing process. We will arrest anybody when their names crop up during our probe of the incident," he said.
Omadlao's body was discovered in front of a house on Block 10, Lot 2 in Villa Esguerra Homes in Barangay Pinagbuhatan at around 5 a.m. on Sept. 5.
The girl had been raped, according to the results of an autopsy done by Chief Inspector Marianne Ebdane of the Eastern Police District's Scene of the Crime Operatives.
She bore strangulation marks on her neck and hematomas on her legs.
Omadlao was last seen alive seeing off a classmate on a tricycle at around 10 p.m. on Sept. 3.
One of the witnesses claimed he saw the three brothers apparently waiting for someone at the corner of Cuaresma and Pinalad streets as the girl was walking to a computer shop.
When the witness saw the brothers reportedly drag Omadlao while Peralta acted as a lookout, he hid himself but later told police about the incident.
Somebody else?
When presented before the media yesterday, the four suspects vehemently denied raping and killing Omadlao.
Peralta admitted he and the brothers were drinking at the time Omadlao was taken. The Manuel brothers pointed to "somebody" who was last seen in the company of Omadlao.
Yebra said the four suspects are in the Pasig police's watchlist as drug users.
The suspects admitted to using shabu in the past.
Yebra said samples were taken from the suspects to determine if they match saliva and semen samples collected from Omadlao's body.
Omadlao's mother, Juvita, 42, vowed to push through with the case against the four suspects, who are detained at the Pasig police station.
She said her daughter, the third of six children, helped her make a living as a vendor. Grace wanted to finish her studies and become a teacher to help her family, Juvita said.
Yebra said they would file rape with homicide charges against the four suspects before the Pasig prosecutor's office.