Drug-crazed man takes uncle hostage
MANILA, Philippines - A man allegedly high on drugs was arrested after he took his uncle hostage for hours at a market in Quezon City early yesterday morning.
Juren Amego, 27, held his uncle, Jerry Pisngot, 55, at knifepoint at the Muñoz Market along Dangay street in Barangay Veterans Village at around 3 a.m.
Operatives of the Quezon City Police District (QCPD) were able to subdue Amego around three hours after the hostage-taking incident was reported to authorities.
Pisngot suffered injuries in his neck and body and was rushed to the Quezon City General Hospital for treatment.
Prior to the incident, Amego had asked Pisngot to accompany him in going home because he believed there were armed men who wanted to kill him.
When Pisngot refused, Amego took a knife and held him hostage.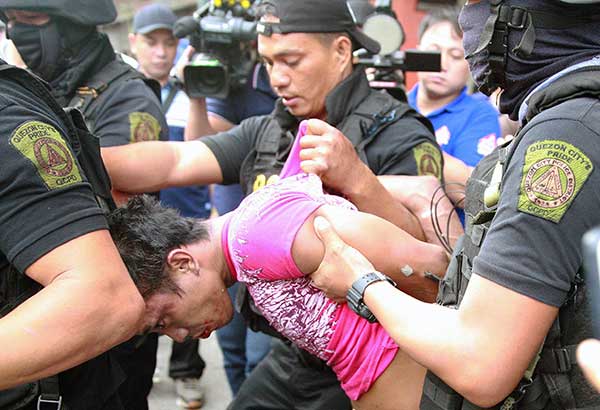 QCPD director Chief Superintendent Guillermo Eleazar said Amego was still high on drugs during police interrogation.
The suspect admitted that he used shabu.
Amego is being held by police on charges of frustraded murder and grave alarm and scandal.
Drug surrenderee slain in Marikina
Meanwhile, a drug surrenderee was shot dead by unidentified assailants in Marikina City on Thursday night.
Gerald Magdaong, 31, died at the scene from multiple gunshots to the body.
Magdaong had been convicted of theft and included in the drug watchlist of Barangay Marikina Heights, Chief Superintendent Romulo Sapitula, director of the Eastern Police District, said.
Investigation showed that Magdaong was walking along Eagle street when a car blocked his path at around 11:30 p.m.
Witnesses said the occupants of the car opened fire at Magdaong.
The gunmen drove away after the attack.
Police said they recovered a sachet of shabu from Magdaong's pocket. – With Non Alquitran