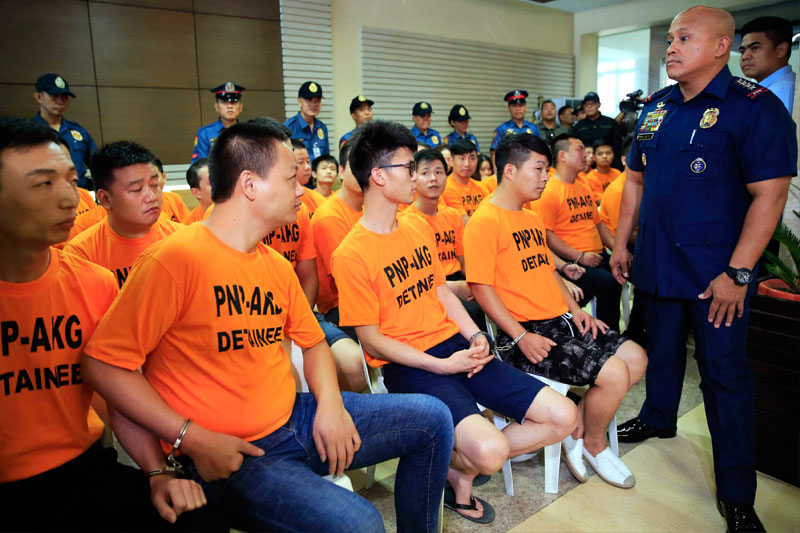 PNP chief Director General Ronald dela Rosa talks to some of the 43 for- eigners, arrested for kidnapping, during a press conference at Camp Crame yesterday. Photos below show alleged gang leader Chen DeQin and Ah-Wing Zhang, who remain at large. Boy Santos, Cecille Suerte Felipe
Manhunt on for kidnap gang chief, henchman
MANILA, Philippines - Authorities are hunting down the alleged leader of a gang whose members kidnap high rollers in casinos, officials said yesterday.
The Philippine National Police's Anti-Kidnapping Group (AKG) is searching for Chen DeQin and Ah-Wing Zang, alias Andy Chang, PNP chief Director General Ronald dela Rosa said as he presented 43 members of Chen's gang in a press conference at Camp Crame yesterday.
He said AKG chief Senior Superintendent Glenn Dumlao's teams are looking for two other groups involved in the same modus operandi.
"As of now, we have identified two known syndicates operating in the gambling industry here in Metro Manila. Mostly composed of Chinese, Singaporeans, Singaporeans of Chinese descent," Dela Rosa said.
The 43 suspects were arrested after they kidnapped a Singaporean woman, Wu Yan, who was later rescued by the police.
The victim was playing baccarat at the Solaire Resorts and Casino on July 17 when two Malaysians, Ng Yu Meng and Go Kok Keong, befriended her and invited her to play at the City of Dreams casino, Dumlao said.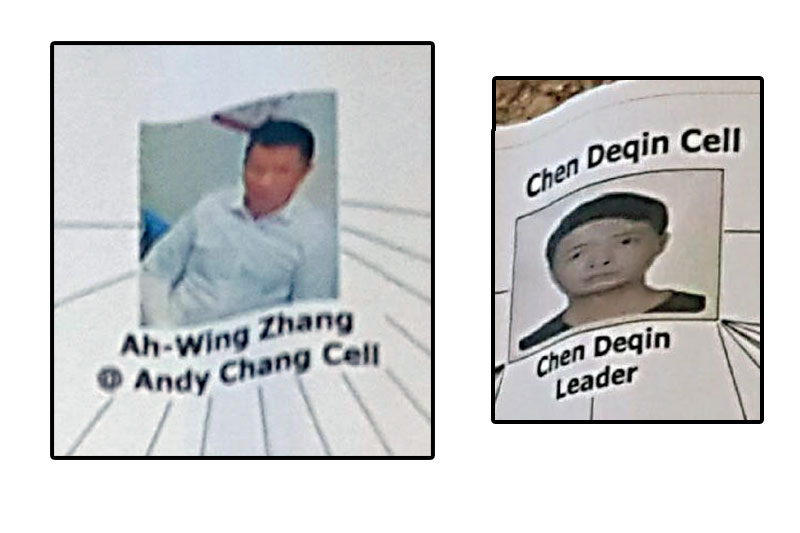 On their way to the casino, the two suspects brought the victim to Bayview International Towers condominium, where they held her. The group contacted her family and demanded $180,000 ransom.
The AKG and the Bureau of Immigration (BI) raided the condominium, rescued Wu and arrested the 43 suspects, including the two Malaysians and the man initially reported to be the gang's leader, Zhang Fuxing.
On Wednesday, Senior Deputy State Prosecutor Richard Anthony Fadullon, chairman of Task Force Anti-Kidnapping, recommended the filing of kidnapping for ransom and serious illegal detention against the 43 suspects.
Dela Rosa said Solaire, City of Dreams and Okada Manila have been very cooperative.
Dumlao said the group gathers information on prospective targets then sends its members to befriend and kidnap them.
Dumlao said DeQin's group has kidnapped two victims, who have returned to China.
Meanwhile, the BI is verifying the identities of the 43 arrested foreigners.
BI spokesperson Ma. Antonette Bucasas-Mangrobang said they are checking if the arrested foreigners violated immigration laws, for which they would face separate charges.