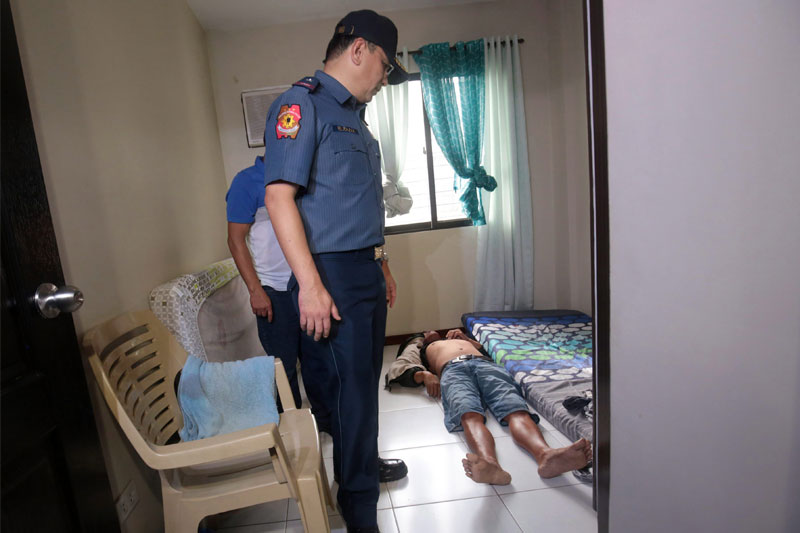 Quezon City Police District director Chief Superintendent Guillermo Eleazar looks at the body of Johnny de Leon who was slain in Barangay Pagasa yesterday. Michael Varcas
QC drug suspect, 4 others shot dead
(The Philippine Star) - July 16, 2017 - 4:00pm
MANILA, Philippines - A high-value drug suspect and four others were killed in separate incidents in Metro Manila yesterday.
In Quezon City, Johnny de Leon, 53, an alleged drug dealer who had gone bigtime in Santiago City in Isabela, and his two companions were slain after they allegedly engaged policemen in a firefight at a house in Barangay Pagasa at past 5 a.m.
Authorities identified one of De Leon's cohorts as Arnold Criste, 61.
De Leon was the target of the anti-narcotics operation by the Quezon City Police District and Police Regional Office 2 (PRO2) in Cagayan Valley, according to QCPD director Chief Superintendent Guillermo Eleazar.
Eleazar said De Leon was allegedly involved in the distribution of shabu in the provinces of Cagayan, Isabela, Nueva Vizcaya and Quirino.
"Based on the information that we received, his relatives are also involved in illegal drugs," Eleazar said.
Police officers were about to serve a search warrant on De Leon for illegal possession of firearms when one of his cohorts opened fire at police, prompting them to return fire.
De Leon and Criste died at the scene from gunshots to the body.
Police said they recovered six sachets of shabu, three firearms and a bank book with millions of pesos in transaction details.
De Leon had been residing in Quezon City since last year, according to Eleazar.
"We will coordinate with the PRO2 to determine if he had connections here in the city," Eleazar said.
In Marikina, a suspected drug pusher was shot dead by an unidentified assailant.
Orlando Lagunoy, alias Boying, 28, died on the spot from multiple gunshots to the body.
Lagunoy was on the drug watchlist of Barangay Fortune, Chief Superintendent Romulo Sapitula, director of the Eastern Police District, said.
Relatives had advised Lagunoy to surrender to authorities under Oplan Tokhang and mend his ways but he ignored them, Sapitula said.
A barangay watchman, Danilo Gamban, said he saw several men chasing Lagunoy along Fortune Avenue at around 4:40 a.m.
After a few minutes, Gamban and his fellow watchmen said they heard successive gunshots.
When they rushed to the scene, they saw Lagunoy lifeless.
In Caloocan City, another drug suspect died in an alleged shootout with police.
Senior Police Officer 2 Allan Budios, officer-in-charge of the Caloocan police north extension office, said they have yet to identify the fatality.
Budios said members of the Police Community Precinct 3 received a call from a resident that armed men were seen roaming around Barangay 176 in Bagong Silang at around 2:30 a.m.
Responding police officers approached three men to check their identities. But the suspects drew their guns and fired at police who returned fire, killing one of them.
The two other suspects managed to escape.
Budios described the slain suspect as between 25 and 30 years old, 5'4" tall and wearing a black shirt and blue short pants.
Probers said they recovered a .38-caliber revolver and four sachets of shabu from the suspect.
3 fall in drug stings
Three suspected drug pushers were arrested by police in anti-narcotics operations in Marikina and Quezon City on Saturday.
Members of the Batasan police Station 6 apprehended Jayvie Riosa, 31, and Jude Euhres Ambrocio, 19, after they allegedly sold P500 worth of shabu to a policeman who posed as a buyer in Barangay Sto. Niño in Marikina at around 3 a.m.
Riosa and Euhres allegedly yielded two more sachets of shabu and the marked money.
Ardino Martinez, 41, was collared in a drug sting in Barangay Batasan Hills.
Martinez was apprehended after he allegedly handed over a sachet of shabu to a police officer.
Police confiscated his motorcycle.
The suspects are being held by police on charges of violating Republic Act 9165, the Comprehensive Dangerous Drugs Act. – Emmanuel Tupas, Non Alquitran, Rey Galupo