Pasay barangay chief hurt in ambush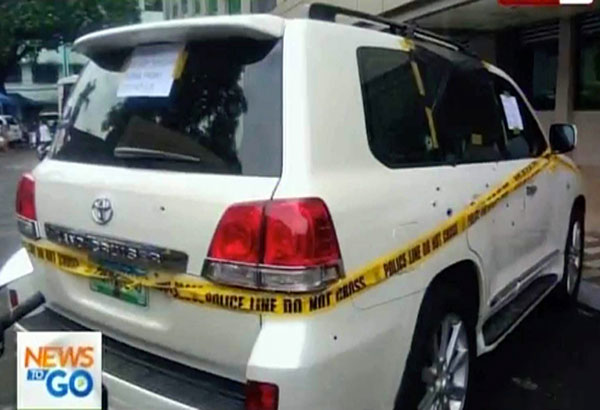 MANILA, Philippines - A barangay chairman of Pasay City was wounded in an ambush along Macapagal Boulevard shortly before dawn yesterday.
Barangay 112 chairman Borbie Rivera, president of the Liga ng mga Barangay in the city, had just come out of a bar at past 4 a.m. when two unidentified assailants shot at his vehicle, hitting the victim.
Alex Dominguez, Rivera's close-in security aide, fired back, prompting the assailants to speed away on a motorcycle, police said.
Rivera was rushed to the San Juan de Dios Hospital, where he remains confined.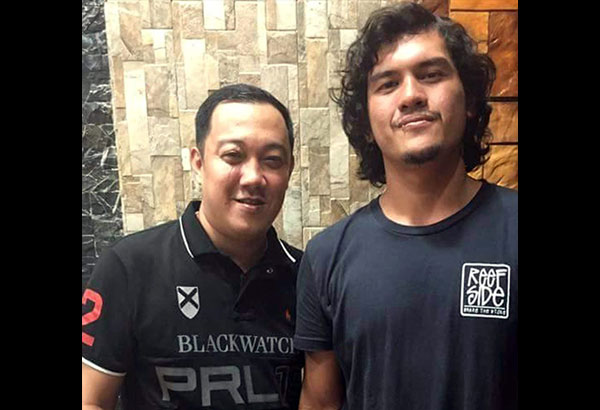 Photo shows the victim and Sebastian 'Baste' Duterte, President Duterte's youngest son, in a photo Rivera posted on his Facebook page on Dec. 23, 2016.
Investigators recovered 30 shells from the scene of the attack and bullets hit at least five vehicles during the firefight.
Police officers are reviewing footage taken by closed-circuit television cameras in the area to get images of the assailants.
Held for murder
Rivera – who is also a city councilor after being elected president of the Liga ng mga Barangay in the city – was arrested in April 2015 on charges of murder for his alleged involvement in a drive-by shooting in Barangay Pio del Pilar, Makati in January of that year that left one person dead and nine others wounded.
Police officers from the Southern Police District (SPD) arrested Rivera after the gray Ford Mustang GT he was driving was stopped at a police checkpoint at the Magallanes interchange. The car is registered to Em Jie Corp. with business address in Binan, Laguna, investigators said.
According to SPD spokesperson Superintendent Jenny Tecson, SPD police officers followed Rivera from his residence in Biñan, Laguna to the police checkpoint. Rivera was tagged as the most wanted target by the SPD, according to Tecson.
Seized from Rivera's car were an unlicensed Sig Sauer 556 SWAT 5.56 caliber semi-automatic rifle and a 9mm Heckler and Koch P2000 pistol with two magazines loaded with 29 bullets.
Tecson said Rivera is the subject of an arrest warrant issued by Makati Regional Trial Court Branch 59 Judge Winlove Dumayas for murder.
A police source earlier said a raging drug turf war could have been the motive for the drive-by shooting.
Coddled?
In a previous report by The STAR, Rivera is reportedly a close ally of Pasay Mayor Antonino Calixto.
According to a Philippine National Police intelligence report, his links to some politicians and police officials enabled Rivera to avoid being jailed for his illegal activities.
The intelligence report claimed Rivera is involved in illegal gambling, contract killing and drug trafficking.
In previous reports, confessed contract killer Alvin Nidua issued a sworn statement in September 2014 accusing businessman Domingo de Guzman of trying to hire him to kill Enzo Pastor before the race car driver could get him.
Pastor reportedly wanted to kill De Guzman after he found out about the businessman's affair with his wife, Dalia.
Nidua said when he refused to do the hit job because the pay was too small, De Guzman tapped Police Officer 2 Edgar Angel to kill Pastor on June 12, 2014. He said the offer was P200,000 but he wanted P500,000.
Nidua said he was contacted by a Rivera and Inspector Efren Oco. He claimed that if Rivera wanted someone killed, he would contact Oco to find a hitman for him.