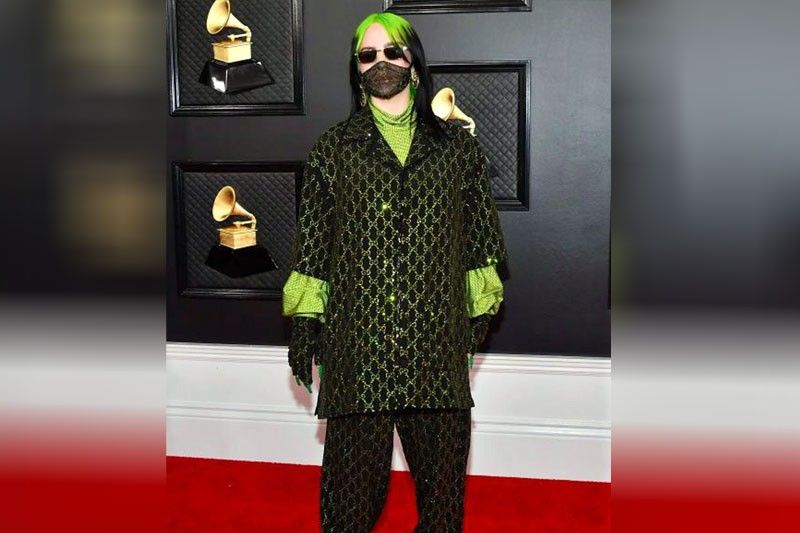 2020 so far in face masks: Billie Ellish goes viral in Gucci face mask.
Fashion in the time of coronavirus
It is funny to me that not one astrologer or doomsayer predicted that the challenge the new decade brings would come in the air that we breathe. But fashion did.
This story comes out as the Duterte administration grapples to contain the rapid spread of novel coronavirus COVID-19. Social distancing is required as the first course of prevention, but the phrase takes on a new meaning as enhanced quarantine lockdown magnifies the great class divide. Masks are not sufficient armor against coronavirus — the microscopic organism rests on hard surfaces (think glass doors, countertops, touchscreens), transmitted as droplets through the air within a meter from infected individuals, thus requiring meticulous 20-second hand-washing routines and alcohol disinfectants — yet the mask endures as the must-have accessory that defines the new year.
It has been a long and difficult 2020 so far. It was only in January that Taal Volcano erupted, spewing steam and magma and covered areas from Calabarzon to south east of Metro Manila in ash fall. Suddenly, everybody knew the difference between a dust mask and a surgical mask. According to the Department of Health, the Taal ash fall caused 1,729 acute respiratory infections. Across the Pacific in the same month, Australia endured 13 million acres of bushfires.
In the same month, singer Billie Ellish went viral in her Gucci face mask on the Grammys red carpet. Happening around the same time as the first coronavirus outbreak in Wuhan, hers was a sheer black mask that matched her monogrammed Gucci attire, set off by sunglasses and green-tinted hair. At Paris Fashion Week, a front-row guest decorated hers with Chanel camellias. Rapper Cardi B did the same move with a bejeweled version. A week after the suspended Milan Fashion Week, fashion's coronavirus "Patient Zero" was identified: Vietnamese heiress Nga Nguyen.
And then there's Naomi Campbell, recently spotted traveling in a full hazmat suit. One of the first fashion figures with a YouTube channel, her airport routine of sanitizing her plane cabin in August 2019 was the channel's most viewed video and is now referenced as a foreshadowing of what lay ahead for us. She also modeled a face mask on the runways of Marc Jacobs-era Louis Vuitton spring/summer 2008.
Compared to the west, masks are already more common on our side of the world, albeit serving different purposes. If you have a cold, you wear a surgical mask so you don't pass it around. You wear them as an air filter for your respiratory system during a commute in air pollution. After a beauty appointment, you wear a mask with oversize sunglasses to conceal your post-op face.
In Asian pop culture, black cloth masks are typically associated with Korean and Chinese celebrities gone incognito. But last year, Hong Kong pro-democracy protesters fighting against the now-withdrawn extradition bill wore them as a disguise, obscuring their faces from identification by the closed-circuit TV cameras installed throughout the city for surveillance and their potential arrest. Today, Off-White's USD220 cotton masks, also in black, are being sold to offer a "modern energy."
From the comfort of her home, actress- turned-fashion influencer Heart Evangelista took to Instagram to show her improvised respiratory protection with logomania: a bare Japanese filter mask was sewn with Hermès ribbons, recycled from the luxury brand's packaging. Fashion plates like doctors Aivee and Z Teo have taken it upon themselves to donate Personal Protective Equipment to frontliners in the healthy industry.
Fashion has been criticized for promoting hyper-consumerism, poor labor practices, and contributing to landfills. Coronavirus changes that. Stocks have plummeted, boutiques are closed. LVMH is one of the luxury goods conglomerates that have suffered a huge loss since the beginning of the year due to a reliance on Asian sales. This week, LVMH's perfume production line will start making sanitizers to supplement the shortage in Europe — for free.
The Met Gala, which has taken place every first Monday of May since 1948, has been postponed "indefinitely," according to Anna Wintour, the chair of the annual benefit at the Metropolitan Museum of Art. The fashion world heaves a collective sigh of relief for this much-needed pause. Maybe the resourcefulness that fashion is known for can do something about the durability and wearability of these precious masks.