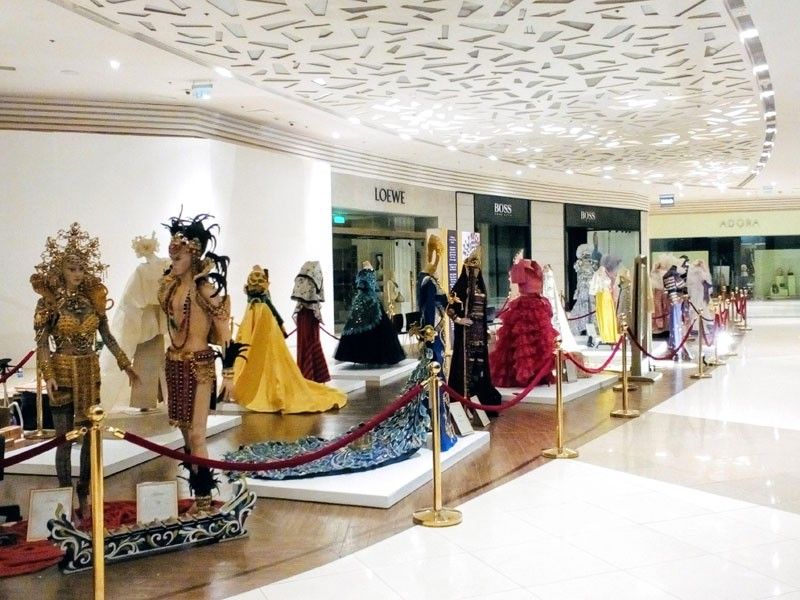 Obra Maestra at Shangri-La Plaza Luxury Lane starts with a tribal fashion by Edwin Uy
Zooming out from the terno: The evolution of Filipiniana
MANILA, Philippines — You will see ternos, the most recognizable and modernized of all Philippine fashion, by designers both established and up-and-coming in "Obra Maestra 2020: Homage to Heritage." But it also zooms out on the historical evolution of our national dress to include those from different parts of the country. The exhibition is on view at Shangri-La Plaza Mall only until tomorrow.
It's in line with National Arts Month highlighting the other iterations of the Filipiniana executed as wearable art — something typically mounted in museums, but thanks to the mall's support, it's right in the middle of it all, across some of the world's most luxurious fashion brands at the Luxury Lane, East Wing.
Conceptualized and directed by self-styled fashion and arts impresario Zardo Ayangco-Austria, the exhibition brings together Filipiniana from pre-colonial times up to the 1970s. Pieces from the bibliophile Mario Feir's extensive and exclusive Filipiniana collection are exhibited alongside the masterworks of who Austria describes as "the pillars of Philippine fashion": National Artist for Fashion Design Ramon Valera, "Fashion Czar of Asia" Pitoy Moreno, "The Dean of Philippine Fashion" Ben Farrales, and Camel Award of International High Fashion winner Aureo Alonzo (in 1975 in Italy, where Yves Saint Laurent was one of the judges). R.T. Paras and Pacita Longos are also in the exhibition.
The exhibition is stylized with the pomp and pageantry of the Queens of Carnival, referring to the annual Manila Carnival during the American Colonial era. At times named Philippines Exposition, held between 1908 to 1939, it was a fair promoting major American companies (and developed consumerism on modern Filipino society influenced by American models of enterprise and capitalism). But the main attraction really was the Queens of Carnival pageant that comes afterward, each representing regions and provinces of the Philippines.
Austria says it inspired him because it started the Filipinos' enduring penchant for beauty pageants — and the heyday of the Filipiniana in all its forms.
The exhibition was launched with a fashion show at the Grand Atrium of the mall. The participating designers include Steve de Leon, Renee Salud, Ditta Sandico, Delby Bragais, Edwin Uy, Jontie Martinez, Albert Figueras, Peter Lim, Jerome Navarro, Gerry Sunga, Ricci Lizaso, Edgar Madamba, Edgar San Diego, Lito Perez, Oskar Peralta, Richard Papa, Roland Lirio, Steve De Leon, Peri Diaz, Glenn Lopez, Jerome Navarro, Philip Torres, the late "Bad Boy of Philippine Fashion" Eddie Baddeo and (speaking of beauty queens) Joyce Penas-Pilarsky.
Austria describes it as "a tribute to the legendary muses of yesteryear: Chona Recto-Kasten, Chito Madrigal, Priscilla Sison and Imelda Cojuangco. While they represented ladies with charm and pedigree, today's Fashion Muses have an added edge: female empowerment."
* * *
Shangri-La Plaza Mall is at EDSA corner Shaw Boulevard, Ortigas Center, Mandaluyong. Call 8-370-2597/98 or visit shangrilaplazaofficial on Facebook and Instagram for updates.