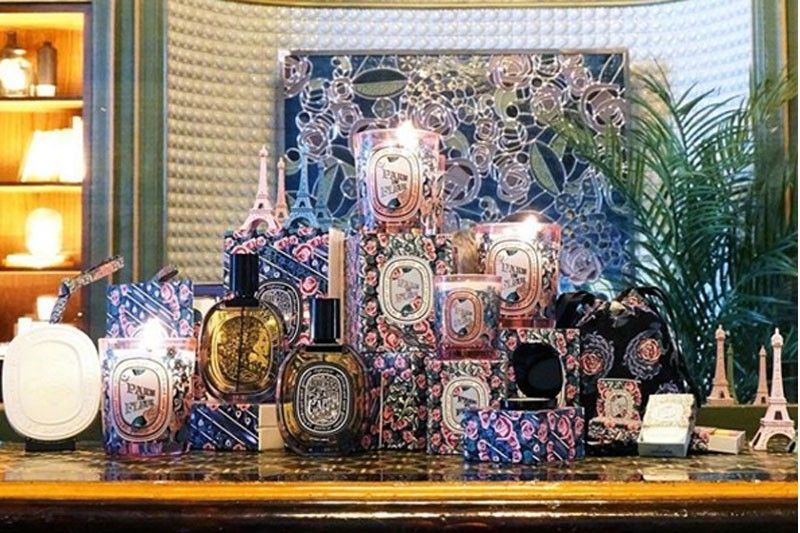 The collection includes an eau de perfume, a solid perfume, a candle, and a scented oval.
A new take on an old favorite
You didn't think you could fall in love again. It seems like it was all in the past. But with just a whiff, you are back where you started.
Could I compare the chypre to an old flame? No, it's more like one's first love. It sets the standard, teaches you all you need to know about your heart and your relationships. Correctly pronounced "sheep-ra," whether or not you recognize the word now, your nose knows this type of scent.
Chypre is one of the main accords, the more ladylike among the self-explanatory categories of fresh, floral, woody, gourmand and green or fougère. Chypre distinguishes itself as a complex combination of five notes, variegated olfactory facets.
In Diptyque's new Eau Capitale, it is the floral essence and absolute of Rose of Bulgaria, woody patchouli coeur from Indonesia, citrusy Italian bergamot, and a combination of ylang-ylang from Comoros and vetiver from Haiti making up a sensual, grown-up, almost animalistic base. It's distinguished from other chypre by its signature, an olfactory accident brought by the essence of pink peppercorn, timut pepper from Nepal. Eau Capitale is a chypre accord with 100 facets, the golden ratio of perfumery. Put together, it elicits an emotional response."Eau Capitale" by the artist Pierre Marie depicting an Art Nouveau visualisation of the chypre, appears on the packaging as well as a stained glass on Diptyque's historical shop window.
As a child, I always associated chypre with grownups: sophisticated, unapologetically chic. Diptyque breathes new life into this old favorite with their first take on chypre, a four-handed work created with the founders and perfumer Olivier Pescheux (the nose behind emblematic Diptyque fragrances Eau de Sens, Vetyverio and 34 boulevard Saint Germain).
Eau Capitale is named after the French capital that Diptyque calls home. The city of romance, Paris, inspired its look, designed by the artist Pierre Marie and depicting the Eiffel Tower and Art Nouveau universe.
Simpler perfume concepts have taken over the trend in recent years, and Diptyque is basically rocking the boat and catching the fragrance world by surprise with something so traditional that it is completely fresh. Chypre's return is like courtship: taking it slow in a modern world inundated with hook-up culture, dating apps, and all the manifestations of instant gratification. Something simple and uncomplicated isn't so bad. But there's a reason why gifting a pack of socks on Valentine's Day doesn't have the same impact or meaning as a big bouquet of red roses.
Speaking of Valentine's Day, which is only a few weeks away, Diptyque is offering a unique gesture for gifting that rewards patience. You can choose between a secret message or whatever that can fit inside a capsule. Said capsule goes inside a Diptyque candle of your choice. The recipient would have to completely use up the candle for the surprise of their lives. The best things are always worth the wait.