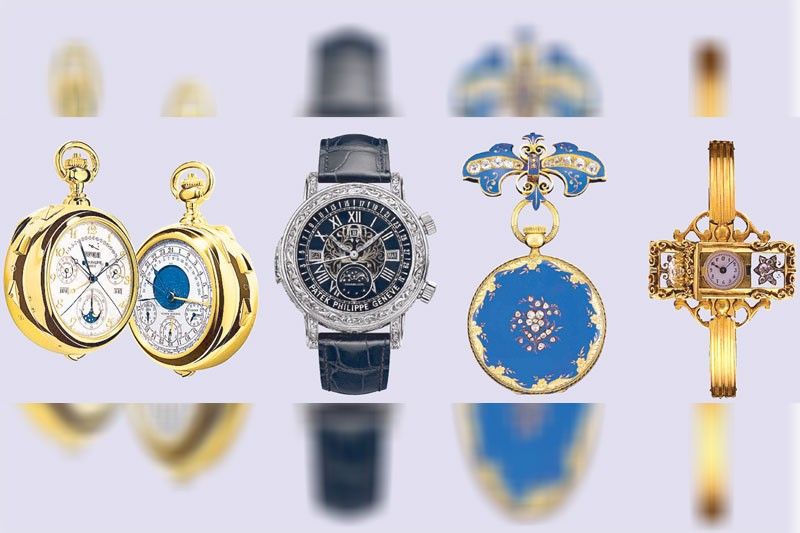 From Left: One of the greatest complications ever created, the Calibre 89, Sky Moon Tourbillon, Queen Victorias's watch, The first Patek Philippe watch
Best of 2019: Patek Philippe's grand watch art exhibition
David Milan
(The Philippine Star) - December 27, 2019 - 12:00am
After the massive successes of the previous Patek Philippe's Watch Art Grand Exhibitions in 2012 (Dubai), 2013 (Munich), 2015 (London) and in 2017 (New York), the fifth and largest exhibition of the historical Swiss brand was recently held in Singapore with a record-breaking attendance of 68,000 visitors over its 16-day run.
With two years in the making, the largest exhibition to date provided a rare and unique opportunity to offer the public and horology fans a special peek into the art of watchmaking and immerse them in the world of the last independent, family-owned Genevan watchmaking manufacturer.
Held in Singapore's Marina Bay Sands Theater, the 1,800-sqm space was transformed into 10 themed rooms that housed over 400 exceptional timepieces. Highlights include 120 historic timekeeping instruments from the Patek Philippe Museum in Geneva and some of the most complicated watches ever created— the Calibre 89 and the Star Calibre 2000.
The most highlighted in one of the 10 rooms was Patek's tribute to its host country/region, the Singapore and Southeast Asia Room. The brand created six special editions and an important collection of rare handcraft timepieces inspired by the mix of cultural and artistic expressions of Southeast Asia and Singapore. Coincidentally, it was also Singapore's Bicentennial. "The region is where we have the fastest development, and maybe one of the most important potential (markets)," says Patek Philippe commercial director Jerome Pernici.
This year's Grand Exhibition was the longest that Patek Philippe has presented. With a broad array of dome table clocks, table clocks, pocket watches and wristwatches that are exquisitely designed by artisans with the most elaborate rare handcraft techniques — engraving, enameling, wood marquetry and hand guilloche, reinforcing the brand's mission in preserving the art of watchmaking.
"We are always on a quest for quality because we believe it is an essential and worthy pursuit over generations. The main goal of having this Grand Exhibition is really to educate people, and to give a passion to newcomers and collectors," shared Patek Philippe president Thierry Stern. "The history and relationship between Patek Philippe and Singapore is long and storied from one generation to the next, and we had wanted to bring the Genevan manufacture here to Singapore. What we have created is a very unique exhibition. We were impressed by the turnout and the quality of visitors — many of them have a high level of knowledge of artisanship and technical aspects."
Upholding familial values that Patek Philippe strongly believe in, the Grand Exhibition hosted Family Days across two Sundays, providing watch fanatics educational opportunities to share their passion with their family and the younger generation.
Patek Philippe retailed a limited-edition commemorative catalogue that highlights the timepieces that were showcased during the exhibition. The funds collected will be donated to the National Museum of Singapore to support the preservation of the arts and heritage in Singapore.
"When it was announced that the Watch Art Grand Exhibition was to take place in Singapore, there was a sense of elation, but also a sense of deep honor and trepidation to host something of this caliber. Taking place in (Singapore's) Bicentennial year, Patek Philippe wanted to mark this edition with an event of extraordinary proportions," said Deepa Chatrath, general manager of Geneva Master Time Marketing LLP. "This exhibition was conceived as a tribute to a dynamic spirit of Singapore and its strong mix of collectors and enthusiasts based in the region. Our clients and the general public are all essential in conveying our message of long-term value, tradition, innovation and craftsmanship. We hope the exhibition has inspired new generations to work in this industry and to become future clients."
* * *
Patek Philippe has announced that the sixth edition of its Watch Art Grand Exhibition will take place in Tokyo, Japan in 2022.