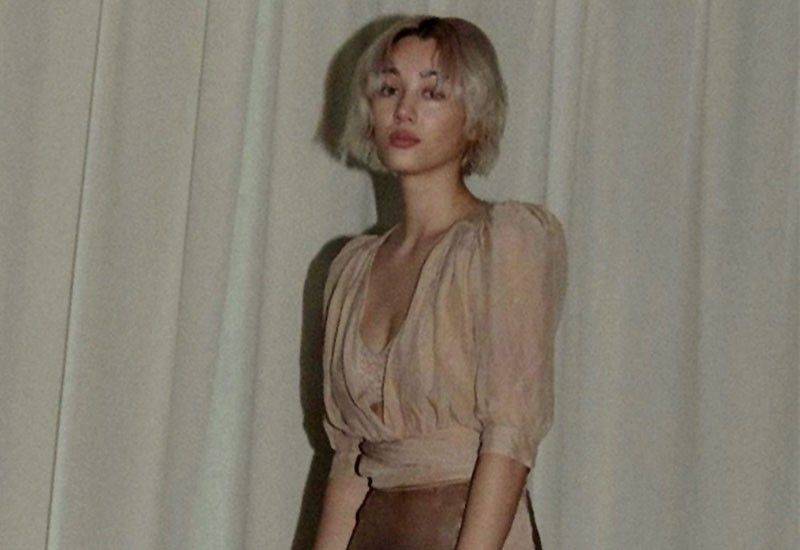 The Fore founder Kim Jones
Kim Jones brings experiential shopping to The Fore
MANILA, Philippines — Creative director and international fashion star Kim Jones' design collaboration platform The Fore approaches nearly two years of real collabs and promoting slow design with the opening of a showroom in a residence. Consistent with the brand's collections such as an ongoing collab with designer Vivien Ramsay and jeweler Pranca, there's an element of the unexpected in the way it is set up.
There is an ongoing showroom presentation that ends on Dec. 14. Today, The Fore launches The Linen Collection with manufacturer Telastory, the first of many as both experiment with local endemic fabrics.
Kim and I sat down on yet-to-be-unveiled collab furniture and talk shop.
Ystyle: You were doing ecommerce and popups with great success. Why put down roots in a showroom?
Kim Jones: I really wanted somewhere where we can slow down. When clients come here, they end up staying for two hours. It's quiet, it brings the outdoors indoors.
When we started The Fore, we really wanted to employ a customer centric approach. So it was really important for us to be on the ground. Talk to our customers, gain insights from them. What did they want to see? Where did they want to see it? How do they want to get to know us? What do they think about The Fore? Where can we go from here? And through that, we were able to find out valuable insights from the clients. They just respond so well to our pieces, they responded so well to our ethos. And I think with The Fore, we work best when we provide context to what we do, and it's in context of kind of our brand values and why we're doing what we're doing.
We wanted to focus on the story. So throughout doing pop ups or trunk shows and presentations, we were able to tell the customers about the story of our brands. This is not just another retail company. This is really about redefining collaboration and bringing slow design and more intentional design to the fore. Our clientele wanted a space where they could come and experience something tangible, something tactile.
We're digitally native and it was a lot of trial and error and understanding the customer journey, at least here in the Philippines. Our response online has been great. But those are the early adopters. They're the ones that just understand what we do from the get go. But there are other clientele who really prefer to touch the pieces, feel the pieces, talk to the team understand why this particular piece is the way it is. And we just felt it that was best translated through a showroom space.
Why a residence?
We really wanted to do it as a two-prong approach. We want to make slow design as accessible as possible, right. So that's why we launched on e commerce. But we understand the benefits of experiential retail so we really wanted clients to come in and because we're still in the first two years of our life, we can still afford to have one on one customer you know, interactions and relationships and build them. So we wanted to really leverage that while we still can. We all know the story of retail, which is why we decided on a residence we didn't decide on in a mall or in maybe another retail space. It's different when you come to a residence. It feels very comfortable. And where you can chat. You can have wine, you can have coffee, you can sit upstairs, you can grab a bite with us if you wanted to. You can come in and peruse the collections.
The interiors and furnishings also tell a story.
Our ethos is about redefining collaboration. And I think collaboration is a diluted word because there are a lot of people doing it. But we really wanted to focus on what true collaboration means and the substance and the service and the importance that it can bring within the new retail space. So everything you see in the showroom will be available for purchase. It's not just décor, so that our clientele can get kind of get a feel of who our partners are.
[Kim talks about upcoming collaborations.] For instance, the arch shelfing there that's made from detritus, naturally falling detritus on the foreign forest floors. And then our partner created through the engineer and the research scientists, they created a proprietary binding agent. So they were using something a resource that's readily available, and they were incorporating it into the design world. These are made from a proprietary material. All of the marbling is done by hand. So they're very focused on protecting, celebrating, and highlighting the local workforce. Most are made for export, so we wanted to highlight the incredible innovation that's right here in the country.
How do you find who to collaborate with?
It requires a extensive research and development phases. That's, that's definitely our edge. It really depends. You will be surprised how many people align themselves to our values. And so once they hear about what we're doing and that we're platform to explore more innovation and more slow design they're onboard almost immediately. It requires a lot of r&d which is why we're crazy to do it. If you wanted this in anything, we can do it. I think that just shows the sheer scale of the possibilities that we can do in limiting the damage that we're doing to the environment and for this to be the new standard in terms of design in the future in the Philippines and abroad.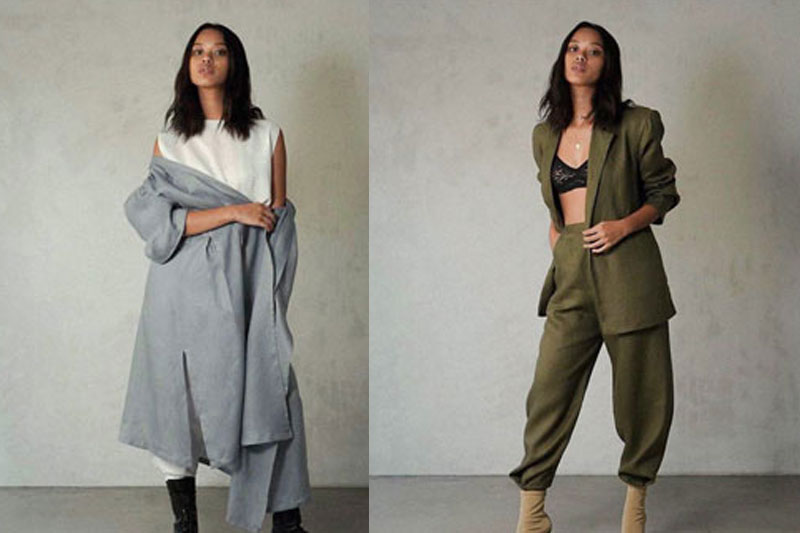 It's limiting to say that The Fore is a fashion brand.
We intentionally started slow. We're not about huge quantities. We're about Very, very intentional design. And we couldn't do that unless we were making mistakes and learning from it. We're a design company first and foremost. And we're the platform where collaboration lives. For you just to understand and to realize that you have to be here. That's the future of retail like, just in general, all over the world. I've spent a lot of time researching all over the world and the spaces that inspire me the most are really the ones where you can leave feeling like you gained something, you learned something.
What's so special about Telastory?
A young woman, her name is Hannah Newman, she worked in NGOs for the good part of the beginning of her life. She's from the States. No Filipino ties. But she moved a couple of years ago and decided that she wanted to launch the first sustainable factory, completely zero waste, and that's Telastory.They practice radical transparency. So they're particular in making available certain things that are typically hidden in the fashion and design world. And that's how much she gets paid, how much her seamstresses get paid. She tries not to make them work overtime. What's so special about her is that she finds that business is such a dignifying way to make change. Through business, you can do social good, and it's all about it's all related to the human element of design. It's all related to understanding that through financial independence, through education through craftsmanship, through fair wages, through just protecting the workforce, it's a dignifying and liberating way to treat your workforce. So we decided to partner with them. And it's going to be a long term partnership. But the first one I really wanted to partner with him and to brand it with them because it's so important to us to show our client as well the progression and the commitment that we're making to more slow design and more responsible design.
Tell us about the pieces in The Linen Collection.
The linen collection was designed designed by us, and it's all natural, breathable fibers. And then it highlights low impact dyes. It's also just really, really easy to wear. We've installed different hooks and attachments into the garments themselves so that you can manipulate the garment and the item based on how you want to wear it. The skirt, for instance, there are about four hidden hooks in there that you can you can rearrange depending on what length you want. The top is the same way we've installed different buttons and different fittings so that you can wear it as a more of a cropped. The blazer as well our dresses. Everything is designed to be as universally equipped as possible.
During the launch today, I will share personal styling insights as well as live tailoring with two seamstresses from Telastory.
The campaign features not models in the conventional sense but highlights creative personalities.
It's for all body types. We featured 11 people who we felt that should be brought to the fore. It's very personal. Hannah, the founder was one of our faces. We featured Audrey Pe, who is the founder of WeTech. She was 16 when she founded it. She works with different organizations all around the world to highlight and promote women in tech to encourage more girls and more young women to code and get into computer engineering. We featured hairstylist Suyen Salazar and makeup artist Sylvina Lopez who are challenging conventional definitions of beauty in their work. We featured my husband, Jericho Rosales. The Fore would not exist without him. He's been an incredible support. But he also on the other side, you know, he's an actor, producer, and he really believes in highlighting universal stories of the Filipino. Those are the stories that we should bring to the fore. There's a lot of substance, There's a lot of there's just a lot of heart to what we do and I think that also is the future of retail.