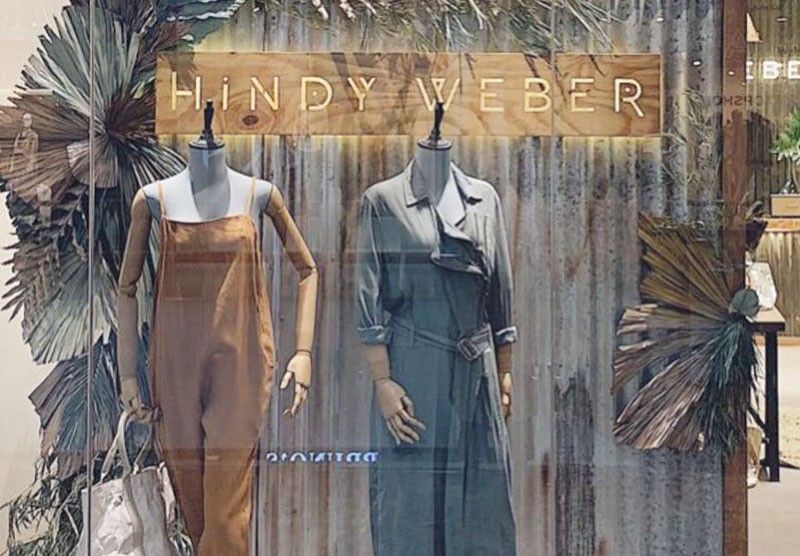 Hindy brought her farm to the mall with the use of rusty corrugated sheets, crates, baskets and dried leaves, and even the root of a tree that fell from a typhoon.
Hindy Weber's antidote to fast-fashion
MANILA, Philippines — What do the artist Olivia D'Aboville, photographer BJ Pascual, Philux's Steph Kienle Gonzalez and fashion designer Gabbie Sarenas have in common? These industry game changers and tastemakers in the arts and lifestyle all wear Hindy Weber.
Eight years in the making, it's the designer Hindy Weber of Rustan's Cult Femme fame's prêt-à-porter comeback, coming full circle since she uprooted from city life, raising wild kids and farming biodynamic food via Holy Carabao; her namesake slow fashion brand follows the same principles, free from seasonality and trends.
She zeroes in on her clientele: "Always chic, quietly confident, free of pomp, and smart as a whip. She loves fashion but is not a victim of it."
Now five months old, fine quality key pieces like her silk camisoles, organic linen pants, and hemp tees are not only selling like crazy but also go beyond allowing us to love local fashion more: we don't have to sacrifice style and our ethics.
We talk shop with Hindy on the occasion of her newly opened, super cute supermall popup.
YSTYLE: Is Manila ready for ethical fashion?
HINDY WEBER: Conceptually the market is ready, but not everyone is willing or able to spend for the value sustainable fashion gives. It's the same with organic food. Everyone is an environmentalist until they have to pay for it. And this is where we need the help of the government. I would hope that local sustainable brands would get tax breaks, at the very least. We limit pollution, protect the environment, provide livelihood to local workers — and yet the burden in on us. When you buy a T-shirt for P499 at a fast fashion brand, who do you think benefits from that? Do you think it's our countrymen? Does the sewer from Bangladesh or China even get much from that? Do you think it's the farmer who grew the cotton? These are questions we need to start asking ourselves when we spend our money. I'm not saying we categorically don't support fast fashion brands, but I would like to propose a new consciousness towards spending money on products and brands that are truly good for all.
New local brands typically opt to sell via e-commerce, fairs, or via small boutiques — why was it important to have your latest popup in a mall?
I launched my label in my small studio in Poblacion, Makati this past April. Then I had pop-ups in a farm cafe in Laguna and a trunk show in Rockwell's Glass House. All three events were received extremely well; I sold out 90 percent of my stock. In all the years I've worked in fashion, never have I sold 90 percent of my stock. Now if you ask a traditional retail merchandiser, they would probably say that selling out of your stock is not a good thing. But my business foregoes any use of traditional merchandising formulas. When I restocked my collection, I wanted to be in a place that was beyond my comfort zone, out in the big world, side by side with fast fashion, transcontinental brands. I wanted to provide the market with an antidote to all that. Working with SM Aura has been nothing short of amazing. They are so professional and extremely supportive.
How do the store's interiors connect with the clothes and help tell the story of your brand?
Practically everything is recycled, upcycled, compostable and reusable. Also, I brought my farm to the mall. I used rusty corrugated sheets, crates, baskets and dried leaves, and even the root of a tree that fell from a typhoon.
How did the farmers and seamstresses that you work with react, knowing how people love the clothes?
It's so easy for them to feel disconnected with the consumer but I try to bridge that gap. I have even shown them photos of celebrities wearing our pieces and they are very amused.
What are the challenges of creating ethical anti fast fashion?
Again, I'm not anti-fast fashion but pro-ethical fashion. (Laughs) There's a bit of a difference. I like to avoid dogmatic despotic principles. But to answer your question, the main challenge is the overall higher cost of production and fabric sourcing, which translates to higher price points for the consumer. Also, it's still not easy to go 100 percent ecological. The industry is not built to support this. So we just do our best wherever we can.
Has having your brand of essential pieces influenced your personal style?
My personal style has influenced the collection in that I am now at a place in my life where I don't feel the need to be swayed by trends. I also don't like too many prints. I look for fabric quality, workmanship, fit, comfort and pride. I like to feel pride in what I wear, even if it is the simplest pair of trousers.
Are there in-store exclusive items and color ways?
My entire collection is custom-dyed using non-toxic azo-free dyes. In this particular popup, I am also offering Uashmama paper leather bags and satchels, as well as Renegade Folk leather sandals.
Going against the seasonal calendar of fashion while allowing us to delight in updating our wardrobes, how often will you release new pieces?
Every month I will have new pieces but in limited quantities. However, I will also maintain the staples of the collection.
What's next for Hindy Weber Everyday?
Global exploration.
* * *
The Hindy Weber Everyday pop-up will be at the upper ground level of SM Aura until Sept. 29. Follow @hindyweber.every.day for updates.