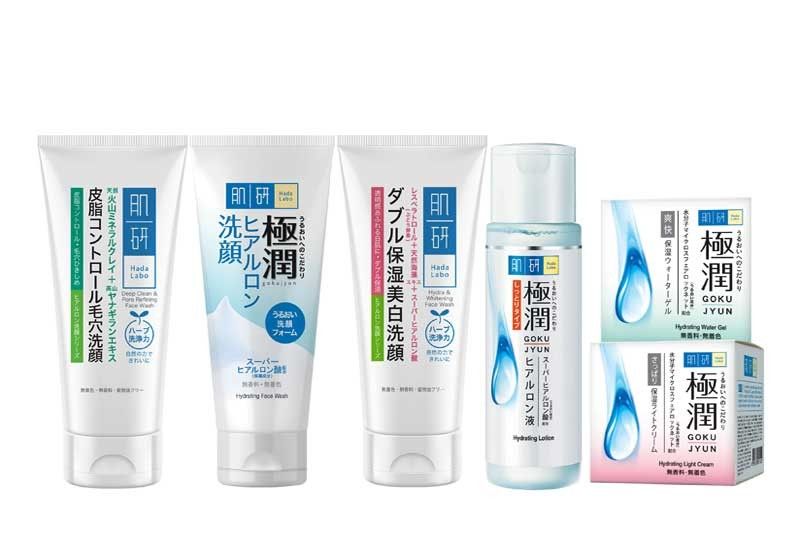 Japanese cult favorite skincare brand Hada Labo is bringing poreless, bouncy "mochi skin" to the Philippines.
Hyaluronic acid changed the game for skincare in recent years. Having the hero ingredient in your product means deep moisturization without pore-clogging, heavy-feeling stickiness, even making the skin more receptive to the active ingredients of the rest of your skincare. For companies, it is the buzzword that gets products off the shelves.
But what is it exactly? Mentholatum Asia Pacific R&D director Dr. Naelong Wang explains, "Hyaluronic acid is a naturally occurring polysaccharide (carbohydrate) in our body. It lubricates our eyes and joints. It is a powerful humectant (moisture-binding ingredient) that protects the skin by creating a barrier against microorganisms, aids tissue repair, and holds together the structural component of collagen and elastin. It is an extension for life from the day we are born until we die. But it decreases as we age, specifically after the age of 25."
So why hasn't it been turned into a skincare ingredient until recent years? "Producing it was so expensive and no one else can afford it except us," he says with a laugh.
Mentholatum Asia Pacific president Michael Sin says, "We have the heritage of a pharmaceutical company and we take the pharmaceutical concept wherein we choose a perfect ingredient and take away unnecessary additives, making a product that is simple enough."
The difference in their cult favorite hyaluronic acid product, Hada Labo Goku-jyun Hydrating Lotion, is that it combines four different sizes of hyaluronic acid — high molecule, mild molecule, super HA and nano HA. "The ratio of each size is able to penetrate a different layer of the skin and each serve a different purpose," says Dr. Wang, giving you the coveted Japanese beauty standard of bouncy mochi (rice cake) skin, their answer to K-beauty's glass skin.
Mentholatum's Hada Labo (which translates to "skin laboratory") democratized and simplified the idea of pharmaceutical-grade skincare since then. They are known for affordable, well-formulated products with no mineral oil, no colorants, no fragrance, and no alcohol.
Their Gokyujun range in white is finally in the Philippines. The 170 ml Hydrating Lotion retails for P685, yet it finds itself a place in the most advanced and luxurious regimens as well as the most Spartan ones.
"After I shave, I pat Hada Labo on the skin. I developed a habit of loving my skin," shares Sin.
I first discovered Hada Labo during a stop to a Watsons in Hong Kong years ago and saw that every girl in the line had purchased a bottle. Since then, I have tried many hyaluronic acid formulations, but I find that I would always come back to the Hada Labo Hydrating Lotion in red, the Gokyujun Alpha, the anti-aging variant soon to be available locally (along with the rest of the line, whitening Shiro-jyun, packaged in blue, and the premium line in gold, Gokyujun Premium).
Cambert Pilipinas head of marketing Jenny Arcellana had the same dilemma I did: "I've been a user since 2014. I have hoarded in Japan and had to buy online or pabili when someone is traveling. We are the last Asian country to launch Hada Labo. Other regions have 80 SKUs," she says.
"Watsons is the perfect partner for our health and beauty product and its accessibility to consumers," she adds.
According to Mentholatum, the Hada Labo Hydrating Lotion has been the top facial lotion in Japan for 12 consecutive years, and reached over 55 million units of sales in Japan. It is one of the top three drugstore skincare brands in Taiwan, Singapore, and Malaysia.
In the Japanese skincare routine, lotions tend to be a milky, watery product used before the moisturizer and after the toner — comparable to an essence in multi-step Korean routines. For those who prefer a simpler regimen like me, I find that the lotion already soothes my skin after cleansing while adding a light layer of moisture, so I go straight to sunscreen.
Aside from the white Gokyujun Hydrating Lotion, Hada Labo is now carrying five other bestsellers from the Gokyujun range exclusively at Watsons.
There are three cleansers. The Hydrating Face Wash is a fragrance-free, gentle and balanced skin pH formula that contains double hyaluronic acid for better and long lasting moisture on the skin. Hydra & Whitening Face Wash is formulated with brown algae extract, a natural seaweed extract that helps replenish skin with minerals and vitamins to draw water into skin more efficiently. It has the antioxidant resveratrol to make the skin become brighter and fairer. Oily skin types can opt for the Deep Clean & Pore Refining Face Wash, formulated with Japanese green tea extract that helps control and remove excess oil, and Bentonite clay to effectively absorb dirt and impurities from pores.
There are two moisturizing formulations. The Hydrating Light Cream is refreshing and lightweight while giving skin an instant surge of suppleness and non-greasy comfort thanks to aloe vera and other moisturizing natural botanical for deep nourishment. It also helps prevent moisture loss while boosting the skin's hydration level through Aqua Oil Volume Matrix technology. A more breathable, watery gel texture choice is the Hydrating Water Gel that is enriched with ceramide, forming a moisture-protecting shield.