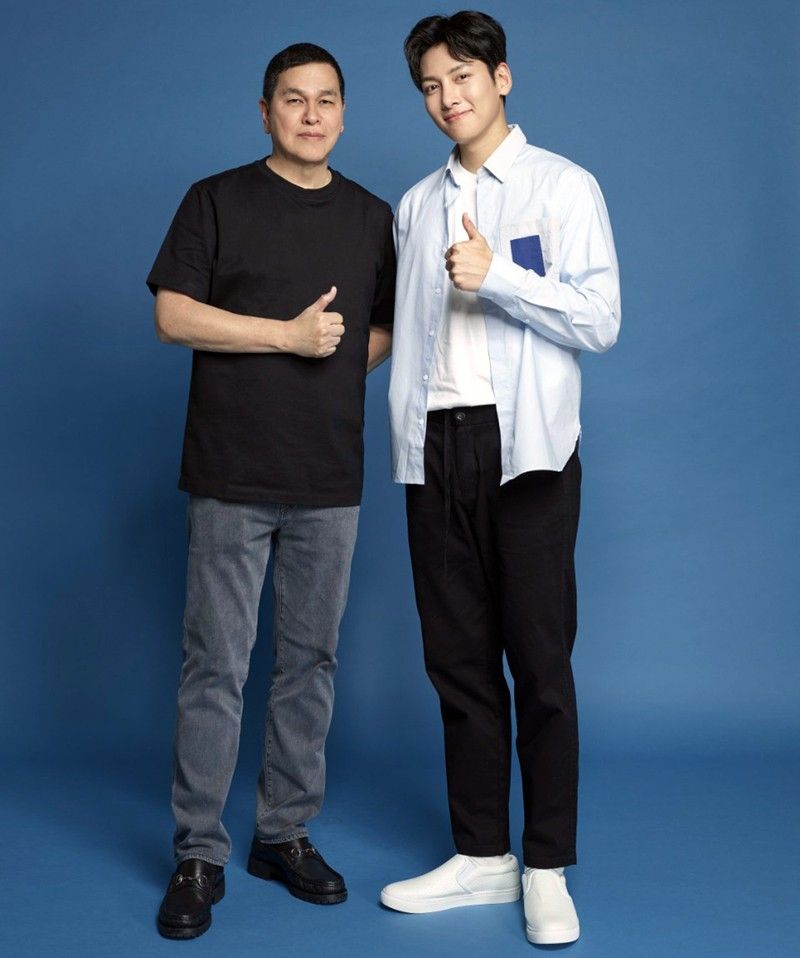 Ben Chan, the Godfather of K-pop and K-drama fans, with Hallyu superstar Ji Chang Wook: K-Pop has become a culture in itself, and given how immensely talented today's Korean actors and performers are, how can the world not take notice?
Ben Chan: This is the first time in the Philippines that a male celebrity is endorsing a female scent. Korea breaks cosmetic conventions this way.
'JCW is good looking, talented and charming. He's very close to his mom, which makes his Filipino fans more drawn to him,' says Ben Chan, the Godfather of K-pop and K-drama fans in the Philippines.
MANILA, Philippines — When retail icon Ben Chan posted on his Instagram account last July 10 a photo of him standing beside the image of Ji Chang Wook in Seoul, he simply captioned it: "My new friend. #JCW."
That short caption and photo garnered 5,240 likes and elicited 665 comments from among Ben's 224,000 plus followers.
Such as:
"He went to Korea na! Kakausapin na yata si Ji Chang Wook... Push na po yan dito sa Pinas, Sir Ben. I want to see him on EDSA Guadalupe and in person... Can't wait, please make him a Bench endorser...
Waaah! Bring naman po! Huhu... Juskopooh, eto na siya talaga... Love po namin si Wookie!... Ang pusoooooo koooooo... Taray ng Bench... Inisa-isa na niya talaga! Oppa collector!... Bring him to Manila, ninong @bcbench!... Begging you, Sir!... Waah! Maloloka ako!... You're the man, Senor @bcbench ... You're our angel, please send him here...Sir @bcbench, 'wag nyo naman po ako pakiligin dahil matagal ko na pong pangarap na makita si Wookie."
Ben pioneered in promoting "Love Local," but he is also a citizen of the world, always in the loop for the global pulse. Filipinos have been looking at Hollywood for over a century, but now they're looking at Hallyu — the Korean wave. All eyes are on Asia now as the center of the entertainment universe. K-pop and K-drama are gaining huge audiences worldwide, a phenomenon that makes us Asians smile — and watch.
Philippine STAR: Having brought to the Philippines 6 Korean superstars —Dong Hae in 2012; Si Won in 2012; Lee Min-ho 3 times in 2012, 2013 and 2015; Park Shin Hye in 2017; Park Hyung Sik in 2018; Park Seo Jun in 2019– you are now revered by K-drama fans as their Godfather who has the power, or should I say Fairy Godfather who has the magic wand, to make their meet& greet dreams come true. What made you eye Korean stars as Bench endorsers?
Ben Chan: From the beginning, Bench has always gravitated towards working with Asian talents. I guess you could say we feel a strong connection with our neighbors. Our very first global brand ambassador was then MTV Asia and Channel V VJ, Nonie Tao, who we signed back in 1995. Since then, it has just been second nature for us to have Bench represented by personalities who have put Asia on the map—something we have always hoped to do through our brand.
What do you think of the K-wave happening not only in Asia, but in the US and Europe as well? Why are Korean talents now so hot worldwide?
I think it was only a matter of time before the rest of the world discovered the appeal of Korean talent and culture. Korea is one of the few countries in Asia whose government actively supports the entertainment industry, and when you take a good look at the multitude of talent and creativity they have, you can see the impact that that support makes. K-Pop has become a culture in itself, and given how immensely talented today's Korean actors and performers are, how can the world not take notice?
It seems you're one step ahead of other retail brands. Now Korean stars are being invited as front row guests /endorsers by European luxury brands.
I am, more than anything, flattered by that observation. I suppose you could say I've just had my finger on the pulse of Korean pop culture ever since, because it's very unique and because the potential has always been there. And now, seeing how much it has blown up, all I can say is that it was inevitable. Korean stars have become this sought-after for good reason.
Having met Ji Chang Wook, what are your impressions of him? How was your encounter with him?
He's a regular guy with a superstar status. Ji Chang Wook had just been discharged from mandatory military service a few months back, and I feel that his experience there must have been a humbling one. He's the type to go out of his way to smile at people or to politely say hello—he's warm and not at all intimidating. I truly can only say good things about him.
What made you decide to make JCW a perfume rather than clothing endorser?
He is, in not so many words, versatile. I feel that as an actor, he can take on any role, and that applies to how he represents Bench as well. Much like our scents, Ji Chang Wook embodies different personalities. He can be sweet, masculine, romantic, playful—you name it. He's a good fit for So In Love and Sure Blue, which are two of our bestselling scents, as well as our new EDT, Live Life with Flavor. We also opted to make him the face of a more feminine scent (So In Love) because women adore him, and it is our hope that more of these women are captivated by the scent he's endorsing.
This is the first time that a male endorser is endorsing a female scent. Korea breaks cosmetic conventions by having male models represent primarily female products or brands, but this practice isn't something we've seen here in the Philippines. This feels like the perfect time for us to venture into that--getting a male celebrity to be the face of a feminine product. While Ji Chang Wook is a perfect fit for more masculine scents such as Sure Blue and the brand new Live Life with Flavor EDT, he's also a good match for So In Love, which is a bestseller that women are naturally drawn to.
What is the strength of JCW's appeal to the fans, Filipinos in particular?
He has a very active fan base here in the Philippines. They love him, and when you think about it, how could they not? On top of his good looks and talent, he's very charming and personable. He's also known to be very close with his mother, which I believe makes his fans feel even more drawn to him.
What's next in store for K-drama fans?
I don't want to give too much away, but let's just say the future's looking good. They won't be disappointed.