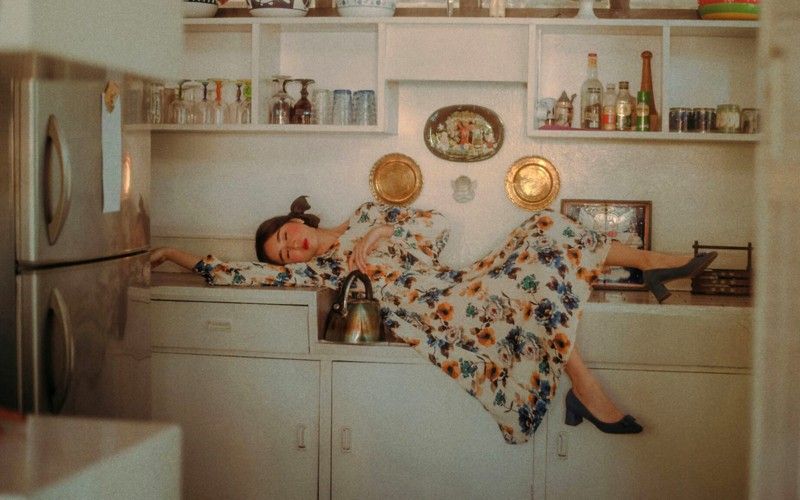 Tricia Gosingtian is out for a quiet revolution, a silent rebellion to the standards set by an extroverted world.
"In the middle of it all, I suffered from both physical and psychological problems. Someone like me with ugly thoughts could not possibly produce beautiful things, I thought," Tricia Gosingtian explains.
Tricia Gosingtian is out for a quiet revolution, a silent rebellion to the standards set by an extroverted world.
Armored by her clothing line Hinhin, the first wave Filipino fashion blogger creates true "influence," draws deeply from her personal experiences, and continues to pave the way for mahinhin girls like her — and encourage those who may have been afraid to unmask and embrace their reservedness, to accept the gift of a nurtured inner voice, and give them the courage to go out into the world.
It's stunning what a limited line of vintage silhouette dresses and separates in dreamy prairie prints and ladylike muted solids have stirred up. As identities among the young have come to be shaped around brands, Hinhin offers an affirmation of Old World tastes, released as "Chapters," as well as a place of belongingness. Rounding up Tricia's vision, in the online store is a treasure trove of stories told by other mahinhin girls who have also carved out their own path without compromising who they are. That can be you, too.
In today's YStyle, we check in on Tricia Gosingtian to discuss her creative journey.?
YSTYLE: What's the meaning behind the name Hinhin?
Tricia Gosingtian: Growing up, I'd get "Ang hinhin mo naman." from everyone. I guess part of it had something to do with how I always presented myself (my love for billowy floral dresses and ribbon-everything didn't help), and how quiet I am most of the time. I may be a person of few words, but in my head I'm actually constantly thinking about things!
Being described as mahinhin was something that I've only learned to accept later on in life, as I used to see it as a weakness and a disadvantage. As a millennial, the pressure is real to fit in and act a certain way in order to get yourself out there. There are countless formulas and motivational videos floating around the Internet, from people who have "made it" or seem to "have it all." It felt strange that I was "that" person for some of my followers, but in reality, I'm just barely holding it together.
I'd just quietly nod at other people's suggestions on how else I can grow in my line of work, but a lot of them clashed with my initial reasons for sharing my life through blogging and photography. Before I knew it, I found myself constantly apologizing for who I was because I felt like I wasn't enough, that I needed to be better, to try harder, to be just like everyone else. If only I was just more outgoing, I thought. If only I just had more public speaking skills. If only I wasn't so awkward.
But I've come to realize that my path has always been different, and that it's okay. I just need to impress myself. I just need to be kind to myself. I can be hinhin all I want, and that's okay.
In this fast-paced world that loves noise and hype, there is room for a brand that can potentially stage a quiet rebellion.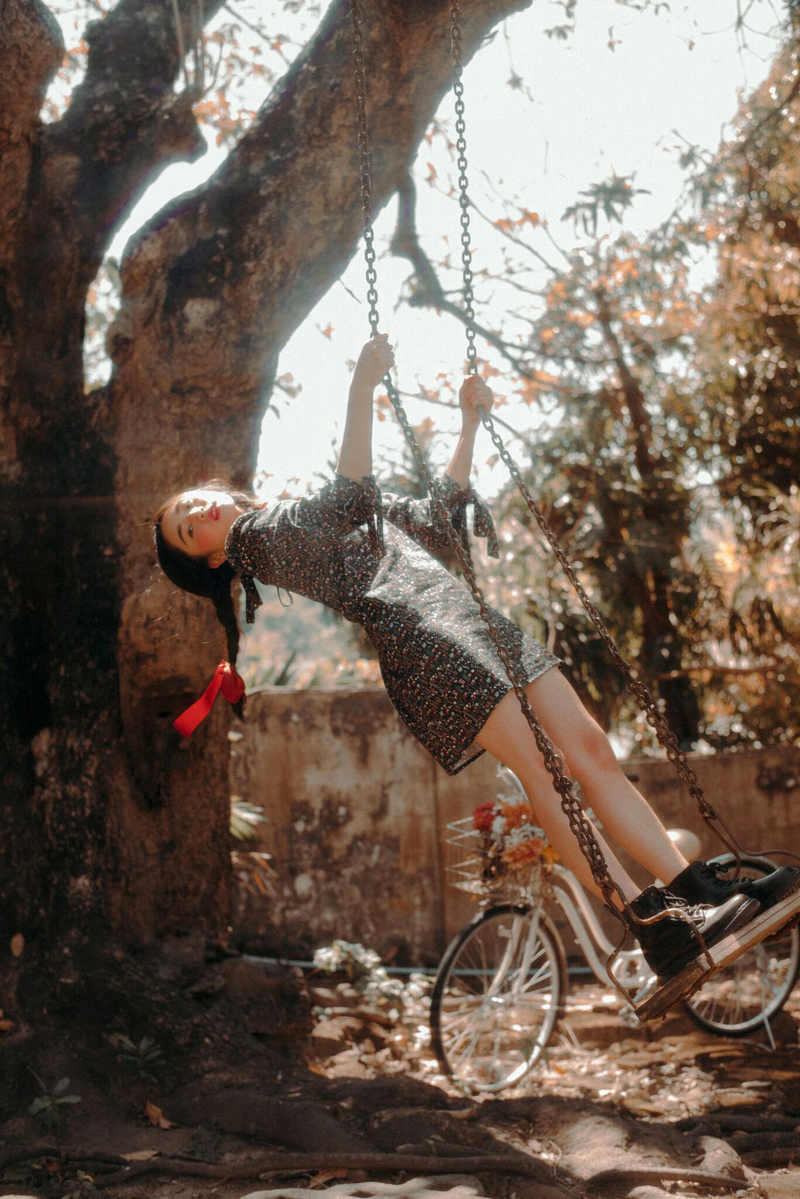 ?What is the story behind the conception of your brand? When did you start playing with the idea of starting your own line?
I've always wanted to start one, but I felt like I was the last person in the world who deserved it. Every so often, I'd get flashbacks from 2011 – being called out publicly, canceled, and ghosted even before these words became everyday Internet lingo. Every time I would do something or meet anyone, I'd be so crippled by my past — I'd lock myself up in bathrooms in the middle of work-related events, go for weeks without reaching out to anybody, and trash-talk myself 24/7. I remember checking my Health app one time, and seeing an average of only 20-40 steps a day.
It was this bizarre state of not wanting to live yet not wanting to die, this strong feeling of wanting to change and get better, but also knowing that even the attempt might not change anything at all. It was an invisible burden that I had to carry with me every waking day, and I pressured myself to be 100 percent on top of each thought, word and action. I was always trying to educate myself so I wouldn't be that ignorant kid from 2011 anymore, but a nagging voice in my head would often whisper, you'll always be that kid.
Time has a way of playing with me, it seems. On one hand, I believe great ideas and concepts take time, and the process often requires some level of intentionality, accountability, and responsibility. The initial idea of starting Hinhin came in 2017. I had to ask myself every day — Who am I? What is the point of living? What truly makes me happy? It took me more than two long, arduous years to settle issues within myself. It took longer than expected. And feeling and going through things alone wasn't new — after all, I started on social media earlier than most, and also moved on from blogger life earlier. Somehow, I never seem to be on the same timeline as my peers.
In the middle of it all, I suffered from both physical and psychological problems. Working in an environment where appearances are everything, it was a nightmare. My whole body was covered in allergies (contact dermatitis) for four to five months, and I had to make it seem like I had it all figured out, at least online. I also found out I had spinal compression and disc problems after flare-ups that rendered me unable to walk for weeks. Sciatica felt like hell. I suddenly couldn't move, and my world came crashing down (thus the post-apocalyptic theme of the brand's first collection). What about my OOTDs? What about my travels? What about my photography? What do I do now that I'm temporarily crippled? I started thinking the worst about everything.
Someone like me with ugly thoughts could not possibly produce beautiful things, I thought.
I withdrew from social media for a while. Offline, I started an introspective journey to make sense of my existential dread. I started going back to basics. I stripped myself from distractions (and sold a lot of my things!), and lived my life normally, as if I had zero followers. This was, after all, how it all started 15 years ago. I started reading books, watching anime, and playing video games again. I started going out without pressuring myself to take pictures unless I really wanted to. I realized that more than a glamorous external life, what was really important for me was a rich inner life.
In the midst of everything, I still kept dreaming of cute clothes despite my allergies. Because I'm also maarte like that. Unfortunately, I couldn't find the perfect dresses to hide my chest, arms, and legs. And so I started Hinhin. It was my little secret. I had a full rack of modest prairie-style dresses that I had custom-made for myself, and I was wearing them day in and day out, like some sort of uniform-armor that gave me +100 bravery and +100 happiness stats. I would wear them everywhere while doing the most mundane things.
These clothes are literally the physical manifestations of my dreams. Nowadays, I dream about people wearing these dresses on the first day they decide to show up and participate in life again.
I'll always be that kid from before, but I also have a multitude of worlds in me that have learned and can't wait to express themselves.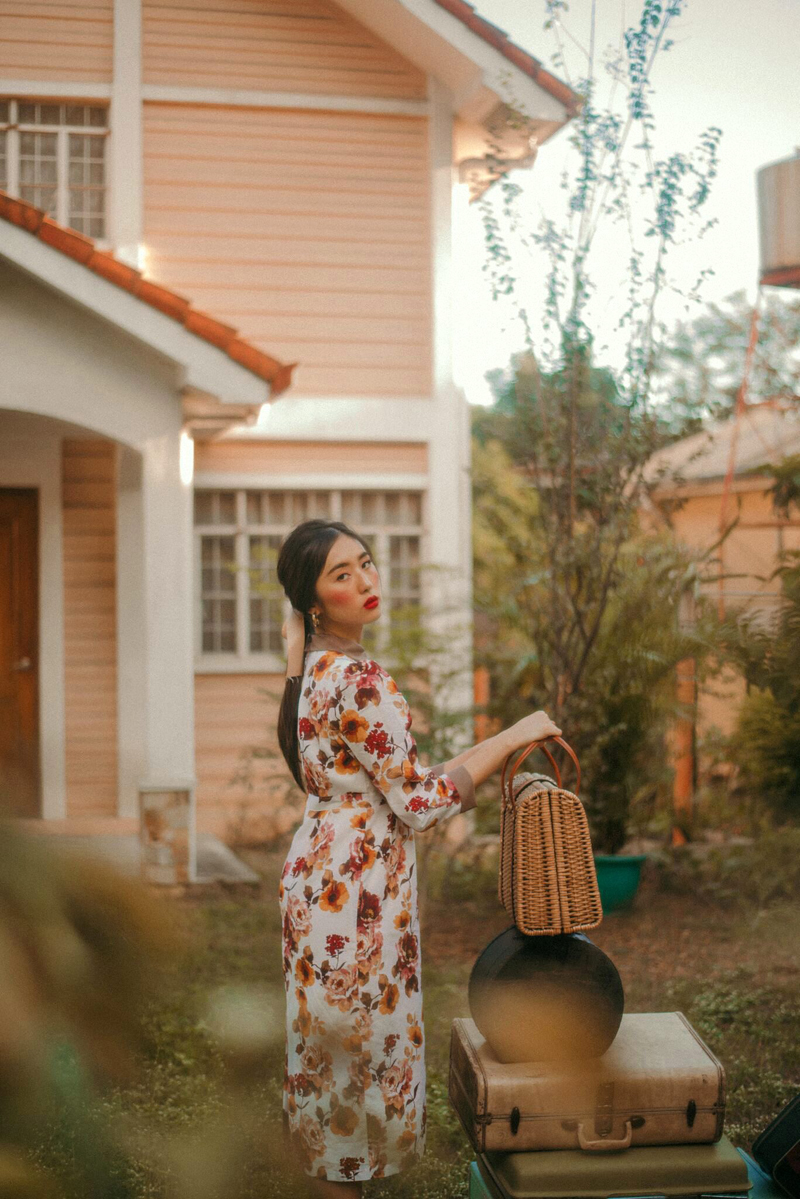 How did you choose what kind of silhouettes, themes and fabrications for your collection? What was the design process like? Please walk us through your creative journey.
The inspiration for the collection came from many different sources – 1950s movies, Junichi Nakahara illustrations, Studio Ghibli and book heroines, and photos of Old Manila, to name a few. If my Asian-inspired style and love for all things vintage had a baby, it would be Hinhin. I road-tested all the products in the first collection for a year, and I managed to trim it down to the designs and silhouettes that I found myself returning to.
I wanted to create pieces that could "say the most with the least." All you have to do is wear them, and the combination of the item and the wearer is enough to create an unspoken statement. "I'm a whole universe" kind of vibe.
It's all a very personal thing for me — I personally source most of the fabric abroad. This is why I can only make limited stocks. I only have limited luggage space, ha-ha.
Design-wise, the fabric comes first, then I literally stare at it for a few minutes! It sounds funny but I feel better for the fabric like this versus sketching first and then assigning whatever fabric I have to the sketches. I really want to give the prints justice. The final dresses already exist somewhere in my head anyway – it's just up to me to set them free by producing them.
What's next for Hinhin? What are your aspirations for the brand?
I already have a story for Chapter 2, and some items are already in production! But of course, executing it might take a while again, ha-ha. Promise to take care of my spine in the meantime.
I'm thankful for everyone who has been patient with me on this journey. I'm hoping to mount projects that aren't just product-focused but have more meaningful conversations involving our multifaceted quiet girl customers.
The thought of interacting with people face-to-face still scares me, but I'm glad social media has made it possible for me to transcend my feelings like this. Being able to connect in this quiet way is why I'm still hanging out online (sometimes with a one-hour-daily limit for balance!), and why I will probably stick around for years to come.
* * *
Hinhin is available online at hinhin.com. For more information, check @hinhinworld.