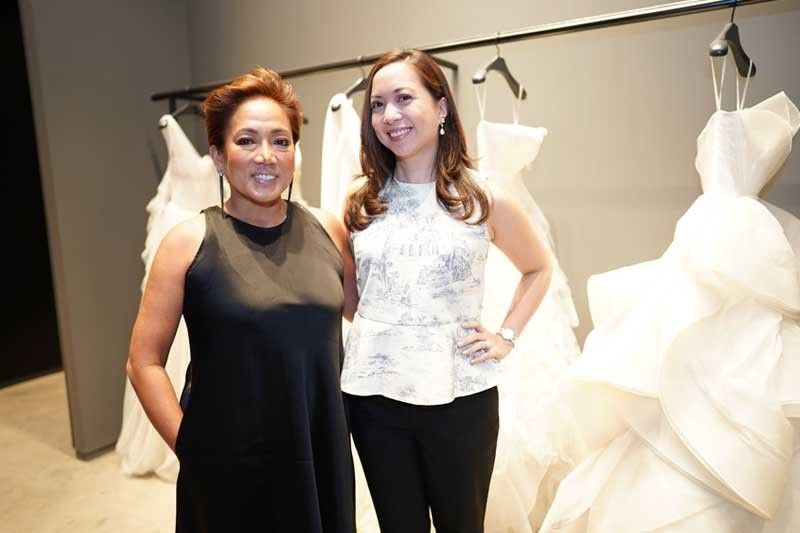 Vera Wang Manila managing partner Valerie Villar Zayco (right) on Michi: "When Michi and I first met up to discuss this possible collaboration, she won me over with her drive, her passion for fashion and her overall zest for life."
Michi Calica Sotto returns to bridalwear with Vera Wang
In the film Bride Wars, a panic-stricken Kate Hudson squeezes into her Vera Wang wedding gown after a bit of weight gain in a scene that goes down in chick flick history as the rebirth of Bridezilla. She quotably yells out, "You do not alter a Vera to fit you, you alter yourself to fit Vera!"
To my relief, Vera Wang Manila bridal specialist Michi Calica-Sotto dispels this as a myth: "There's a Vera Wang for every size. In fact we go all the way to size 43." The boutique carries a total of 45 designs.
The Vera Wang Gang, as Vera calls them, includes many famous brides, both fictional and real. On TV, Gossip Girl's Blair Waldorf wore the Esther to her royal wedding. Ivanka Trump also wore the Esther, but without the sleeves on -- proof that no two Veras are actually alike. Locally, Isabelle Daza is the first Vera Wang Manila bride in Helena, walking into the store when it first opened in 8 Rockwell three years ago. Toni Gonzaga wore the Gemma, which she had to fit and purchase from the now-defunct Hong Kong store. Hillary Duff also got married in Gemma. The cover of this month's British Vogue features newlywed actor Idris Elba and model Sabrina Dhowre in a Vera. The handcrafted perfect fit and artistry that goes into every gown speaks for itself.
"There's something about the way it's held together. You don't fidget or keep having to pull up your gown. You don't get that with a Vera Wang," says Vera Wang Manila managing partner Valerie Villar Zayco. Each gown is aptly displayed to become the centerpiece in an art gallery-like, stark gray and concrete-designed store.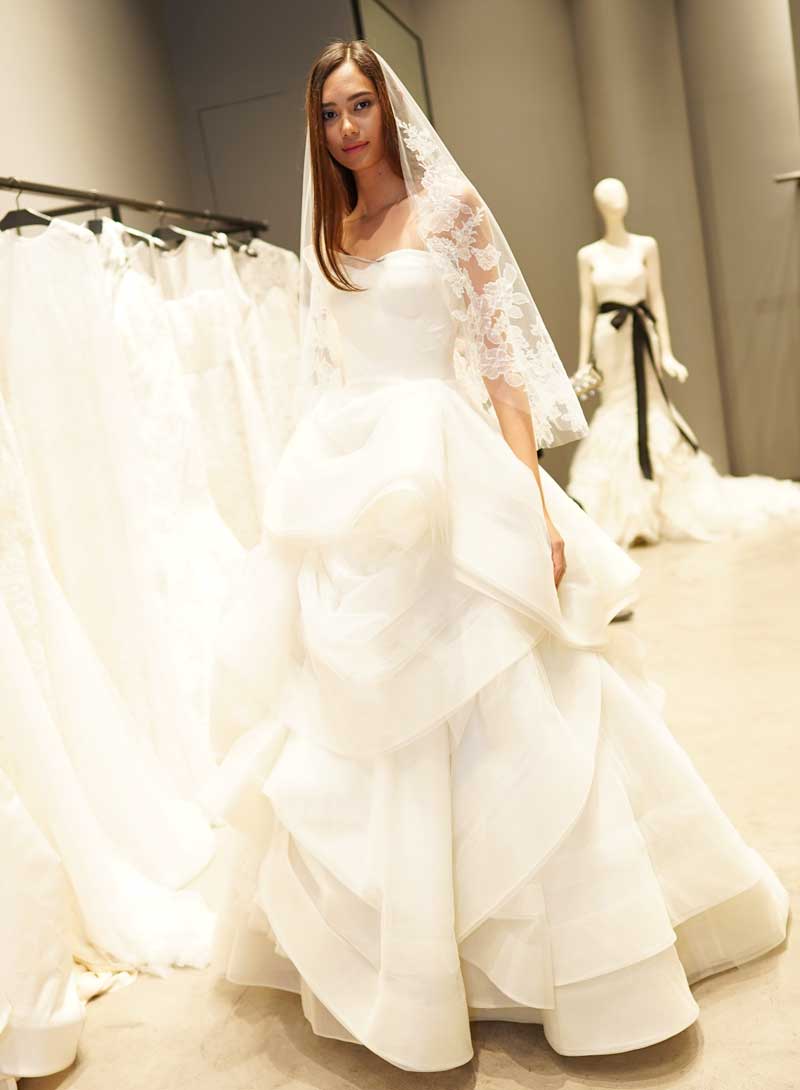 The best-selling design Katherine.
For new Vera Wang Manila brides, Michi brings three decades of fashion design expertise as a mentor to the bridal consultants and a friend to the brides. Sporting a golden tan fresh from one of her adventures out at sea, this time from the seven-kilometer Philippine Deep Paddle Games in Siargao, she radiates a balanced and inspired energy from being out in nature — an antidote to all Bridezilla symptoms.
"When Michi and I first met up to discuss this possible collaboration, she won me over with her drive, her passion for fashion and her overall zest for life," Valerie shares. "An educator, a tri-team swimmer, a stand-up paddle instructor, a real estate broker, a licensed lifeguard, a Madrigal Singer, a wife and a mother! What is not to love?"
"I went on a hiatus," shares Michi. "Manila's so small and casual exploration talks with Valerie turned into a reality. Like many opportunities in my life, this is how it happened. Now I'm back in the bridal industry."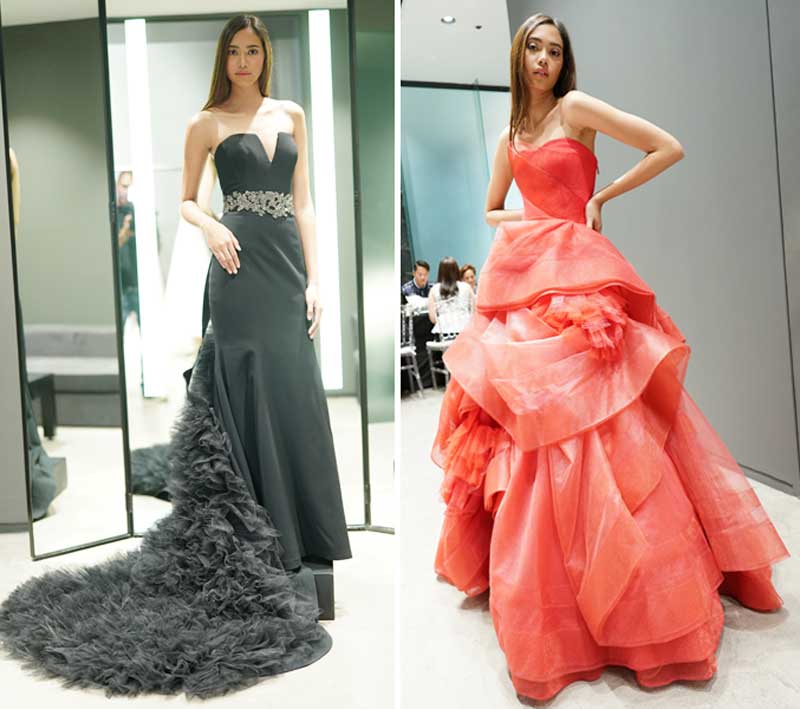 A Vera Wang wedding gown can be in white or colored, such as black (in Jocelyn) or red (in Katherine) for Chinese wedding tea ceremonies.
Michi walks us through the process of getting your Vera Wang gown: "It begins with a call or an email setting an appointment. We email an info sheet, get to know them a little before they come. We also ask them for their budget. Some brides leave it blank, but it's important to include it to set expectations."
A Vera Wang wedding gown ranges from P250,000 to a million and can be white or colored, such as red for Chinese wedding tea ceremonies.
Appointments for first fittings typically — and ideally — take place eight months before the big day, allowing leeway for any size adjustments as each gown is completely handmade for every bride's unique measurements and specifications in New York for six months. Be prepared for a one- to two-week waitlist for your appointment in Vera Wang Manila.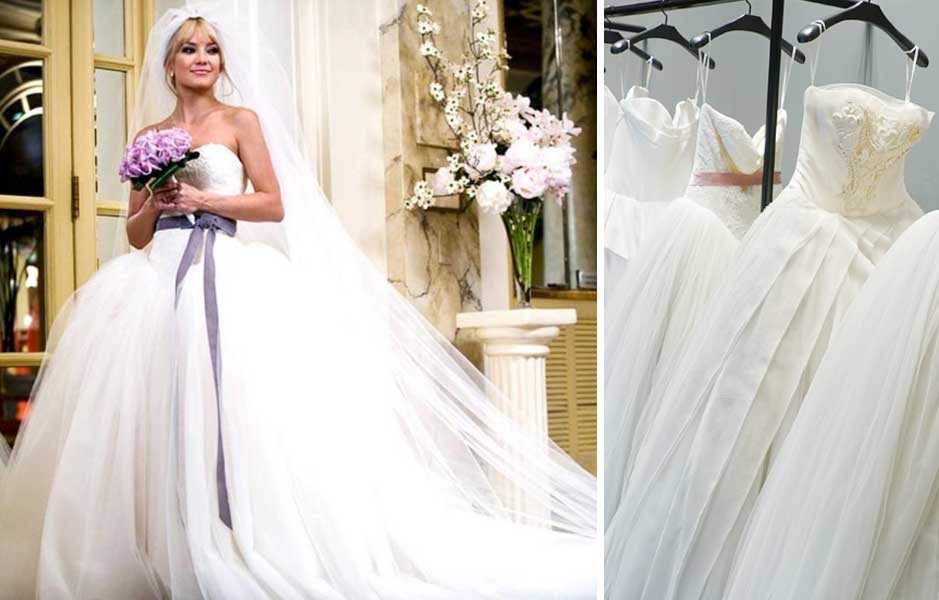 Kate Hudson wears the famous Bride Wars dress. Its twin is in Vera Wang Manila.
Michi continues, "When their fitting day arrives, I personally sit them down. The fitting room is where I converge with bridal consultants Sam and Ed and lead the bride to her best choice. We don't go straight to the racks. I get to know them and what their wedding will be like. I bring them in front of the mirror to understand their bodies. And then, I ask, 'Do you want the specialists to surprise you? Or do you want to choose your gown?' More often than not, they say, 'Michi, you're the specialist, surprise me.' We then do styling options with belts and veils. It's a wonderful time for the family. The mother comes with them, sometimes so does the mother-in-law, their siblings and cousins. Sometimes there's a FaceTime with a sister in Canada or New York and she wants to see. For us, it's very heartwarming. This is the biggest day of a woman's life and we want them to have the best choice."
She continues: "There's too much pressure on modern brides today who have to follow tradition as well as new traditions that require so much attention to detail like prenup shoots."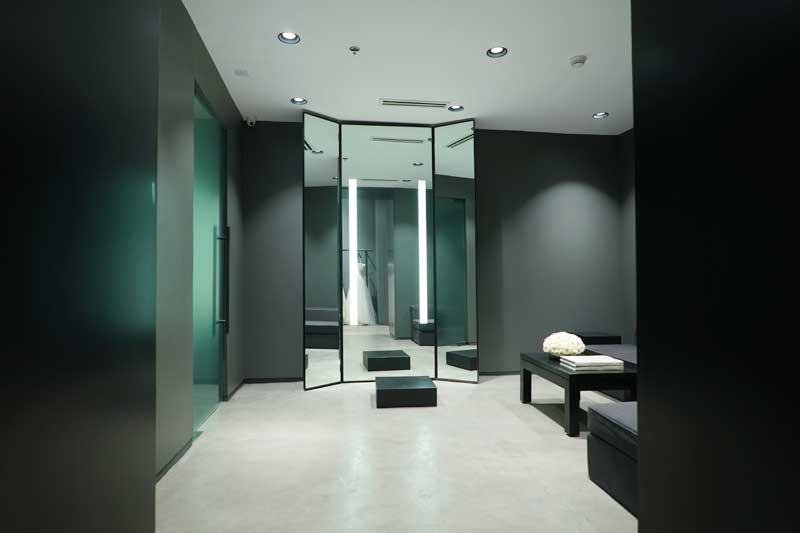 Every consultation with Michi and the Vera Wang Manila team begins in the fitting room located at 8 Rockwell, Makati.
The craziest request they've received involves a superstitious belief that prohibits a bride from trying on her wedding gown before the day itself. Brides would ask them to take out a piece of the meticulously handcrafted dress or to try it on without the lining, which just changes the fit altogether. Michi and the consultants work around this by removing a small piece of the lining so that, technically, it is still not the exact final gown.
I squeeze her for juicy Bridezilla stories, but there are surprisingly none. "We get different characters, some are a little more complex but they're all just looking for the best gown. When they wear a Vera, they smile," says Michi.
* * *
Vera Wang Bride is at 8 Rockwell, Makati. Call (02) 804 5071 or email philippines@verawang.com for appointments. Follow the Vera Wang Manila official Instagram account @VeraWangManila for updates and inspirations.