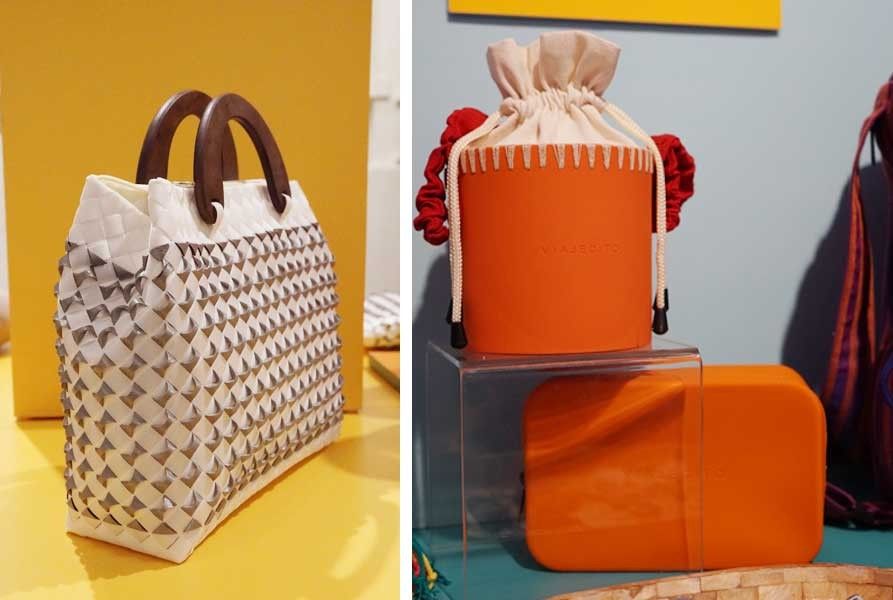 (Left) Handwoven handle bag by Maco Custodio. (Right) Bucket bag from Viejecito
Back to the future at the 69th edition of Manila FAME
DTI-CITEM's Pauline Suaco-Juan: 'We look back at the cultural and design foundations that built and paved the way for our artists today and celebrate a legacy of Filipino design excellence.'
The country's premier design and lifestyle event Manila FAME is back. From April 25 to 27 at the World Trade Center Metro Manila, Pasay City, the biannual event held every April and October returns with the theme "Heritage Reimagined," bringing the focus on iconic and forward-looking collections under Manila FAME from its over-30-years run.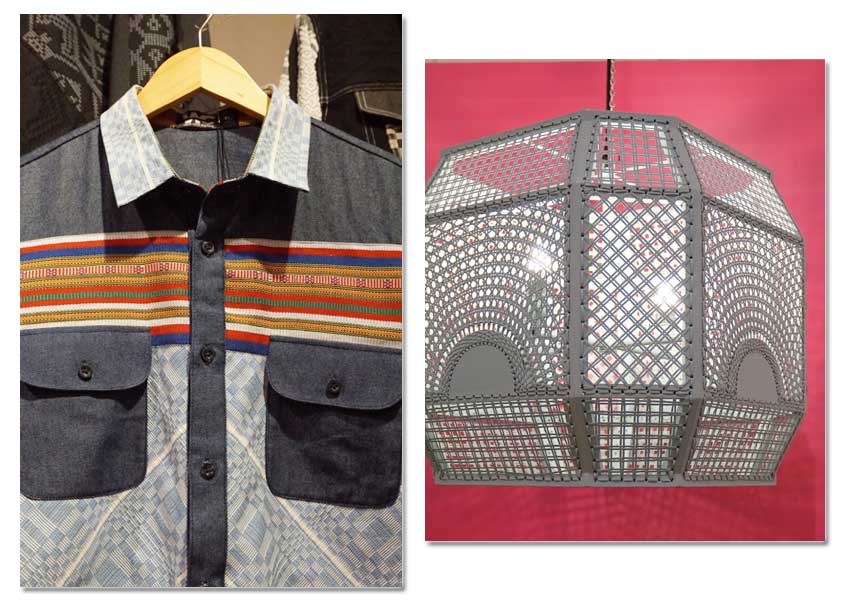 (Lef) Handwoven jacket by Wear Your Culture. (Right) South Sea Veneer solihiya lamp designed by Nix Alanon.
"We look back at the cultural and design foundations that built and paved the way for our artists today and celebrate a legacy of Filipino design excellence," explains Pauline Suaco-Juan, executive director of the Department of Trade and Industry – Center for International Trade Expositions and Missions (DTI-CITEM). The recent nostalgia over past trends and the revival and reinvention of iconic design pieces — it is a going back to the future.
As the trade fair has expanded from welcoming international and local buyers to visitors outside of the industry, enticed by the open window of social media through the years, what this edition's theme offers is a reintroduction and a reminder — of our design and cultural heritage as well as the materials endemic to us, the bounty of nature that we make the most out of. What "Heritage Reimagined" can show us is how Filipino design is unique in its place in the world. And as it grows, it grows stronger in its rootedness in our identity and values.
"It is through this resurgence of design sensibilities that we will redefine and showcase our heritage of Philippine design. Our goal is to highlight the most iconic styles and elements of past products and reintroduce them through modern interpretations," says Suaco-Juan.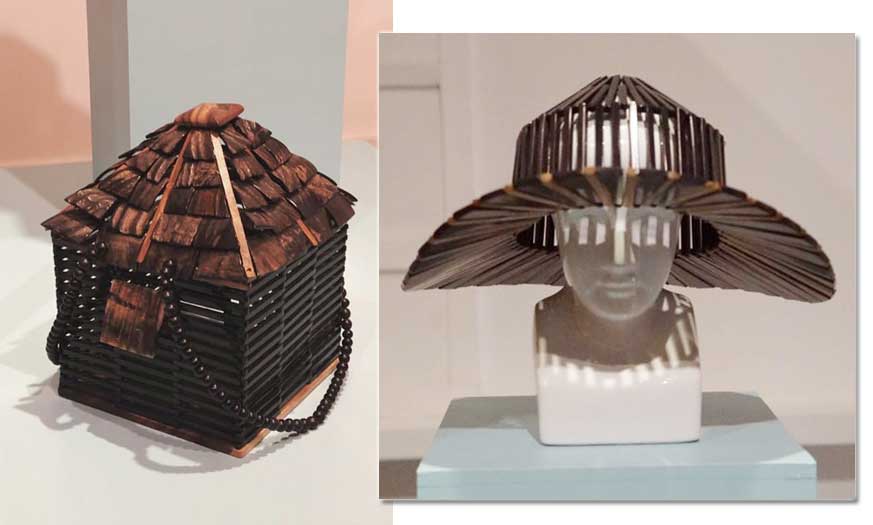 Kara de Juan bag and hat designed by Andre Chang.
One of the longest-running trade shows in the Asia-Pacific region and the only trade event in the Philippines approved by the Union des Foires Internationales (UFI), the Global Association of the Exhibition Industry, Manila FAME has positioned itself as the country's best venue to showcase Filipino design talents, raw materials, craftsmanship and service; it allows the experience of our trademark hospitality with the introduction of the latest in furniture, houseware, fashion, gifts, and the recent addition of beauty and wellness.
The showcase features more than 300 home and lifestyle brands. Here are five highlights to look forward to:
Design Commune
CITEM called on design, fashion, editorial and entrepreneurial forces within the creative community to sit as consultants for this edition's Design Commune. Most of them are new to this role and therefore offer a fresh perspective to Manila FAME.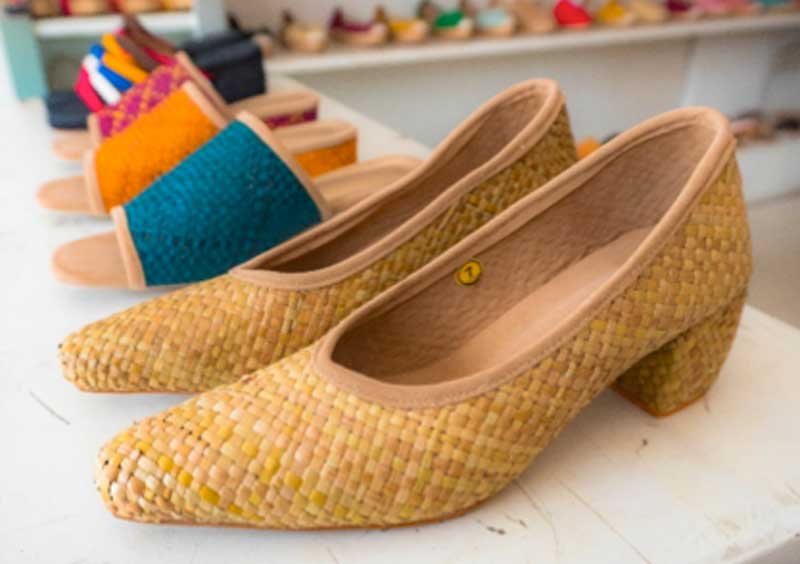 Ai-she footwear designed by Andre Chang.
Leading the thematic showcase of "Heritage Reimagined" is creative director Vince Uy, known for his work with Preview (alongside former editor in chief Suaco-Juan), under the Design Commune special with its fourth run in Manila FAME. It will feature products from 115 Philippine brands and manufacturers that have undergone product development and curation to meet the aesthetics and demands of the international market.
Product development designers in this edition are industrial designer Stanley Ruiz for home and lighting; interior designer Nix Alañon for furniture and lighting; stylist André Chang for fashion; and lifestyle designer PJ Arañador and leather accessories designer Maco Custodio for the home and fashion sectors of the Artisans Village.
Fashion E-Tailer
Following the launch of Touchpoint last year, Manila FAME levels up its online promotion initiative with the introduction of Fashion E-Tailer special setting.
This edition will feature some of the country's rising online fashion entrepreneurs and designer commercial brands showcasing the latest trends in both made-to-order and ready-to-wear (RTW) fashion.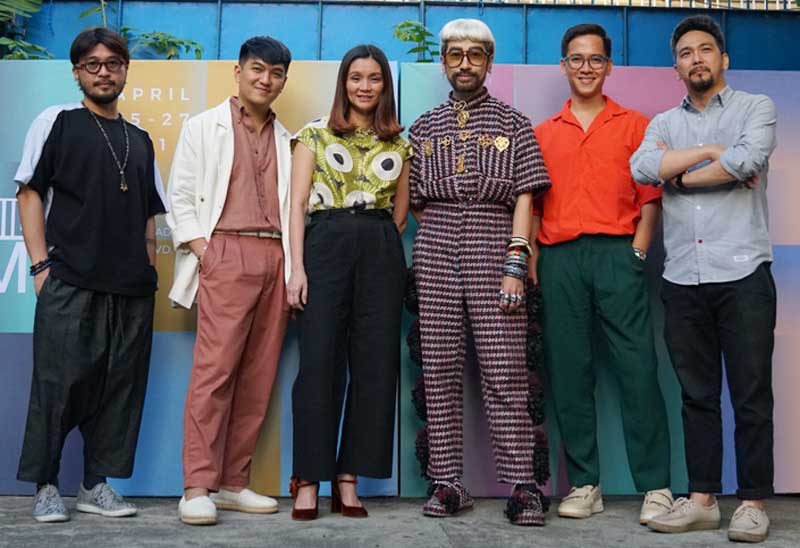 The Design Commune: CITEM executive director Pauline Suaco-Juan (third from left) with Maco Custodio, Vince Uy, André Chang, Nix Alañon and Stanley Ruiz.
Participating online fashion brands are bag and accessories makers Nomadic Tendencies, Quiddity Leather Goods, HaloHalo, Simple Sentiments PH, Tropik Beatnik, Baúl, and Viajecito; AVA Online Group Inc., Factory, Toqa Fashion Studio, Anika, Randolf, Basic Movement, Coral Swimwear, Neon Island, Proudrace and R-U-A for apparel; and shoe makers Stride Collective and Annie and Lori.
Create Lab
The CREATE Lab is a new feature designed to empower creative professionals. From creating a personal logo, using stop-motion, to creative business processes, it aims to provide participants with a sneak peek into the rich creative experience and networking opportunities that the next edition of CREATE Philippines will offer.
Great Women Project
The Gender Responsive Economic Actions for the Transformation of Women (GREAT Women Project) will feature arts and crafts from women entrepreneurs that have undergone product development workshops to enhance their business management competencies, skills, or innovate existing products and expand markets through Manila FAME.
Artisans Village
Manufacturers from Antique, Marawi and Zamboanga and Albay will be presented this edition. Manila FAME's Artisans Village will showcase products that highlight each province's distinctive raw materials and production techniques. Live demonstrations of how these materials are crafted and fashioned into end products will also further elevate the event.
* * *
Learn more on manilafame.com. Follow Manila FAME on Facebook, Twitter and Instagram for updates.