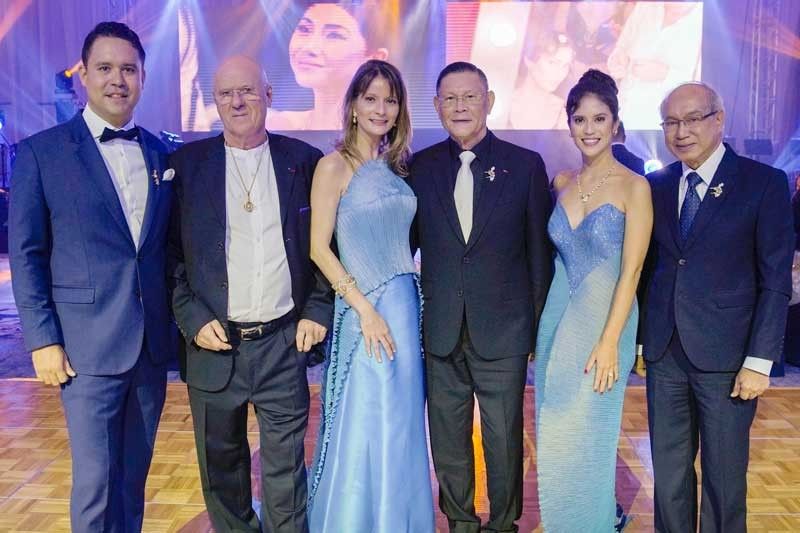 Jacques Christophe Branellec, Jacques Branellec, Gaelle Branellec, Manuel Cojuangco, marketing manager Marion Branellec De Guzman, and Abelardo Mondoñedo
Men wear pearls at Jewelmer gala
Jacques Branellec: "We are a Filipino brand. Our core is Filipino even if we have some French influence. We are proud to promote the best of the Philippines."
MANILA, Philippines — Jewelmer's radiant 40-year journey is one paved in gold — emanating from the regal luster of the homegrown international luxury brand's very own cultured golden South Sea pearls. Even the men couldn't resist; a unique achievement, unaccomplished by most international jewelry brands.
Of course, the founders Manuel Cojuangco and Jacques Branellec wear them best, respectively as a Philippine archipelago brooch and a pearl pendant almost the size of a jackstone ball, grasped by claws just as large. Executed with graphic metalwork, all the gem's dainty, ladylike associations are debunked.
"For 40 years, a lot of people would say we've been very lucky, but more than lucky, we have been very blessed. We have been recipients of a lot of grace and it is by this grace that we got to this point," shares Manuel, Jewelmer's group chairman during his opening remarks with Jacques, moved to tears of joy.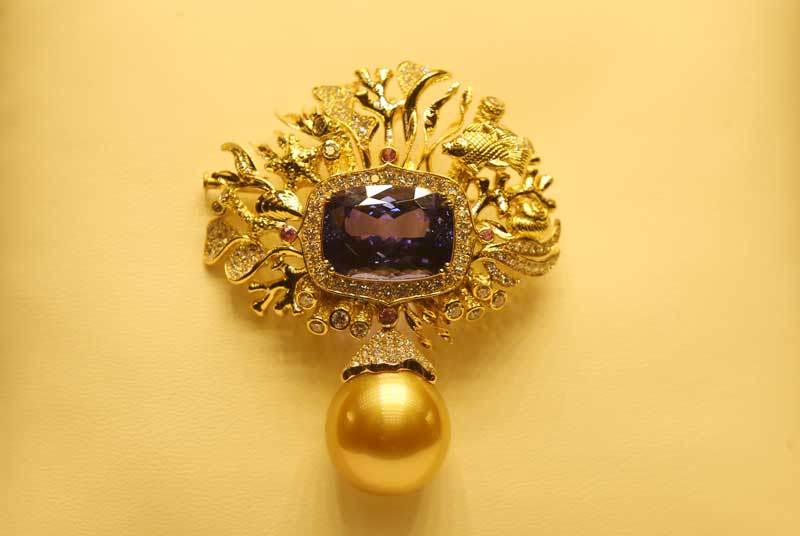 La Mer en Majeste: Tanzanite and golden South Sea pearl surrounded by golden corals and fishes.
Guests arrive aglow in their own Jewelmer pieces — some inherited, some acquired to mark a milestone in life; some simply to call a thing of beauty their own — Filipinos taking pride in wearing something of their heritage because of Jewelmer's quality and design.
Jacques, who is group president and CEO points out, "We are a Filipino brand. Our core is Filipino even if we have some French influence. We are proud to promote the best of the Philippines."
The creative direction has been to highlight the golden South Sea pearl by keeping it tonal. On view at Jewelmer's celebratory exhibition and gala "40 Years of Luster," for example, the high jewelry necklace Les Classiques' interplay with uniquely-shaped keshi adds visual variation opposed to the golden South Sea pearls' inherent smoothness. Featuring pieces dating back to 1979, the golden South Sea pearl mingles only with precious yellow gold and diamonds with utmost clarity and brilliance, such as in the poetic, sculptural Jasmine, where the deep gold South Sea pearls bloom within Mother of Pearl petals in a garland of white diamonds. The Jewelmer Miss Universe headpiece, a golden crown with arcs of a Mindanao vinta illuminated by a cluster of the golden South Sea pearls, is an iconic piece in our fashion history that famously adorned beauty queen Maxine Medina, the nation's pride in the 2016 Miss Universe pageant. It brought the Philippine national gem (declared by president Fidel V. Ramos in 1996) before the eyes of the world. For the latest collection of high jewelry, creative director Gaelle Branellec paints a bigger picture with the golden South Sea pearl in full, living color.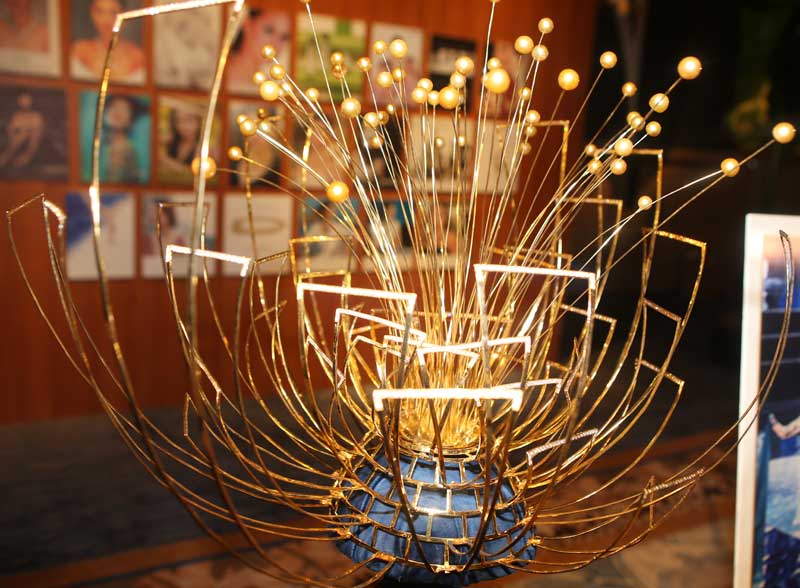 The Miss Universe: Mindanao vinta-inspired crown with a cluster of golden South Sea pearls worn by beauty queen Maxine Medina to the 2016 Miss Universe pageant.
"What we're trying to build and be known for is quality since the beginning, but the definition of quality has evolved through the years, with different precious gems that have come in the market as well as fashion. The latest collection is really to highlight the craftsmanship and forward-thinking design of Jewelmer, at the same time sticking to our roots of organic inspirations from nature, inspired by the different environments we see in Palawan," executive vice president and deputy CEO Jacques Christophe Branellec tells The STAR. "Jewelmer has been mostly about combining diamonds and gold. One distinguishing factor of the new collections is we've added more color. We added a lot of precious gems to marry with the pearl."The Miss Universe: Mindanao vinta-inspired crown with a cluster of golden South Sea pearls worn by beauty queen Maxine Medina to the 2016 Miss Universe pageant.
The commemorative 40 Rays collection is a combination of the golden South Sea pearl, diamonds, and gold that is seen throughout the brand's history, but its boldness in artistic design, a pendant depicting the pearl's life-giving energy, feels fresh.
The rest of the collection is a dynamic juxtaposition of the luster of the pearl with vividly-hued gems. La Mer en Majeste captures the excitement of the deep blue sea. Look closely and you see tanzanite is surrounded not by a golden, diamond-studded wreath but by intricately sculpted waves, seafoam, or delicate corals teeming with life, illuminated by the golden pearl. With the same theme is the limited edition Jardin de La Mer collection of 40 pendants. Candy-bright pink sapphire and blue apatite complement the golden South Sea pearl in Riviera, dangling from a playful cowrie shell necklace sculpted out of white gold in the Gorgeous collection. An intensely red (and very rare) andesine stone is crowned by a one-of-a-kind South Sea pearl in a riviere of diamonds called Elixir d'Amour from the same collection. It simply signals passionate romance.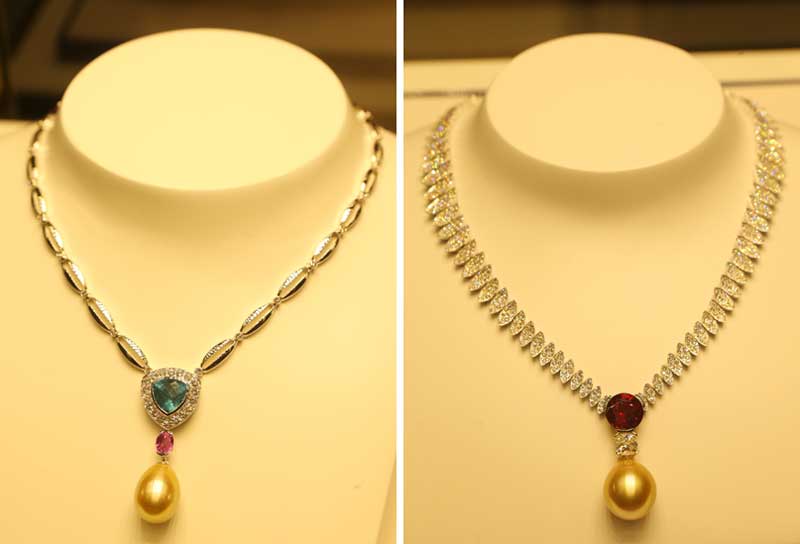 (Left) Riviera: A playful combination of pink sapphire, blue apatite, and golden South Sea pearl with white gold cowrie shell necklace. (Right) Elixir d'Amour: Andesine stone and golden South Sea pearl in a riviere of diamonds signal romance
Marketing manager Marion Branellec – de Guzman says, "We're trying to break the myth that pearls are only for your grandmother and big ballroom events, but also your mother, your sister, your baby. Even your husband can wear pearls."
Affirming this direction is the unveiling of a new brand identity designed by Isabel Gatuslao. The octagon emblem symbolizes the eight farms while its inner outline represents the mantle of the Pinctada Maxima oyster that gives the pearl its golden color. The lower part of the J mimics the precise movement used to pull out the pearls from oysters, "making it definitive of the brand cause that can only be unique to Jewelmer," Isabel explains. In the new boxes and bags and throughout Jewelmer's stores worldwide, the emblem floats over a rich blue like an oyster in the sea.
Marion says, "It's a logo that expresses the modernity and the values of the brand while paying respect to the heritage and authenticity of the original logo. It conveys where the brand is at."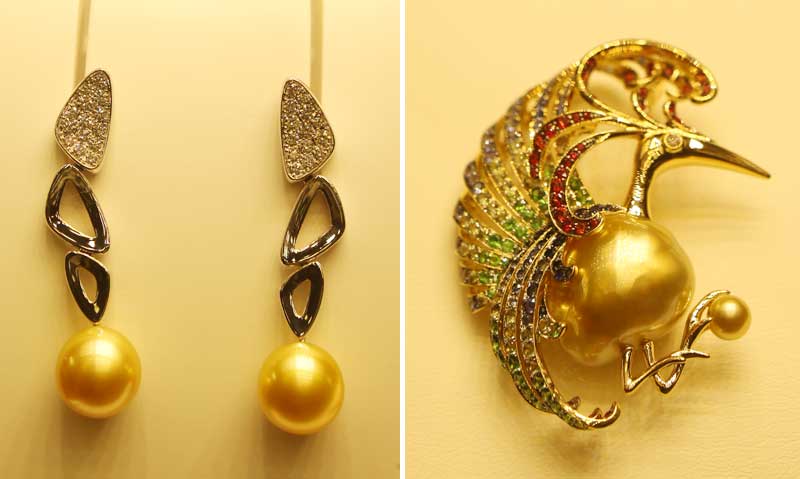 (Left) Waves: Also part of the La Mer en Majeste collection, these earrings are inspired by waves as they reach the shore. (Right) Pamana: Believed to be a messenger of good luck, the gem-encrusted Sarimanok presents a golden South Sea pearl.
* * *
Visit jewelmer.com, facebook.com/jewelmer or @jewelmer on Instagram for boutique locations and updates.