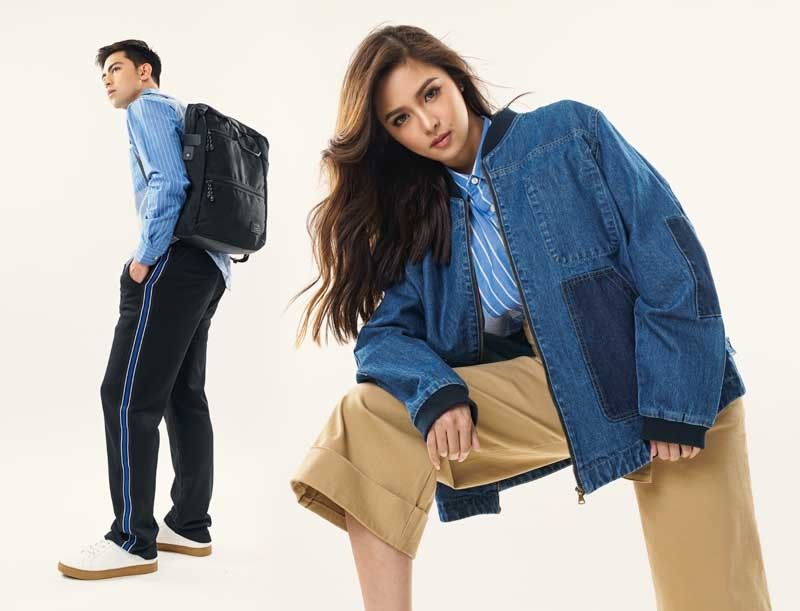 Comfort is essential: Rafe x Bench is all abot boxy silhouettes in cotton shirting, denim, and sport jersey.
Can I tell you… Rafe x Bench is back and now in stores
The New York-based, Bacolod-born accessories designer of "happy bags" RAFE New York, Rafe Totengco's second foray into apparel in collaboration with local-global retail giant Bench will officially be launched today, the first day of the sprinag/summer 2019 edition of Bench Fashion Week as the closing segment of the show.
The campaign stars Kim Chiu, Derrick Monasterio, and Benchsetters Rhys Eugenio and Juliana Gomez as the faces of the collab.
Rafe's Instagram, @rafenewyork reflects his fascination with architecture, art, and the diverse cultures he encounters in his travels. It's a passion that is rightfully expressed in his namesake maison's minaudieres and clutches — conversation-starting, highly collectible objets d'art, made in the Philippines.
The same can be said about his debut collab with Bench in 2016, marking Rafe coming full circle who had been an apparel designer in Manila before he first arrived in the Big Apple. With the Empire State and the Chrysler building motifs, he was in a New York state of mind.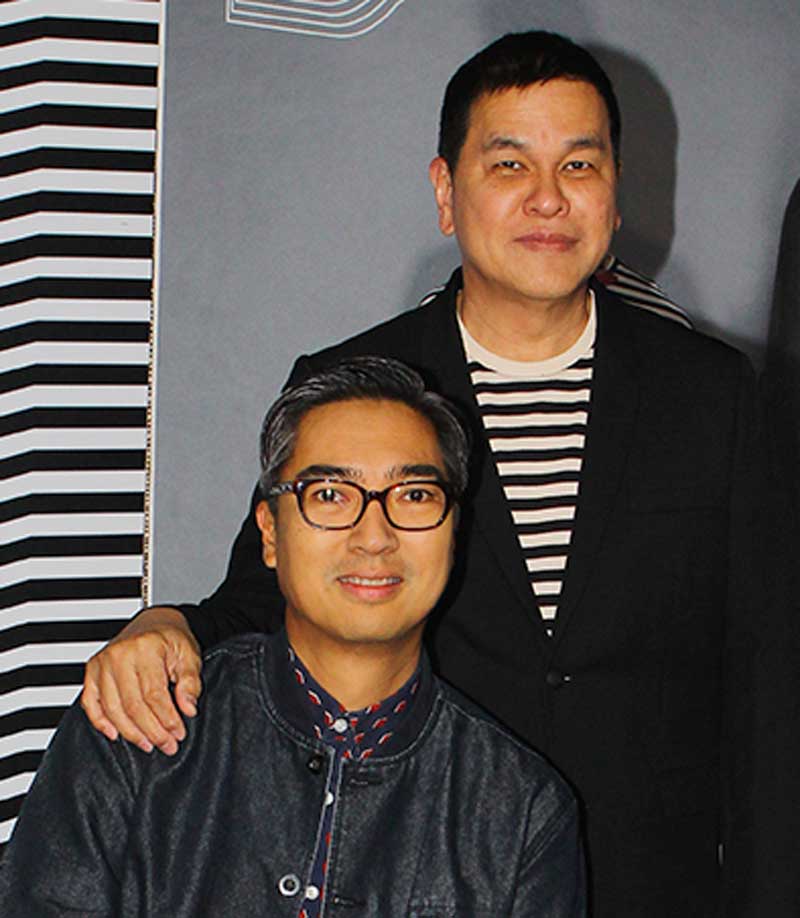 Rafe Totengco on collaborating again with Bench's Ben Chan: "We both felt that it would be good to do the collaboration after a few years so there would be some absence of the product in the market. After all, absence makes the heart grow fonder. "
For this collection, Rafe takes us to a vacation in Siargao, a teardrop-shaped island northeast of Mindanao flocked by surfers the world over for its Cloud 9 surf break -- equal parts majestic and intimidating -- crashing into lush, untouched botanical life on the shores, but it's the bucolic vibe that makes them fall in love and keep coming back.
It's what Rafe conveys in the 26-piece collection. Laying back under the shade of mature gumamela shrubs -- the local hibiscus that blooms all over the island -- when the Philippine Sea is calm on a bright, sunny day. He translates this into a banana yellow gumamela and sunny blue sky floral print, "gumamela camo prints," as he calls them, hand drawn and then digitally enhanced by Rafe himself. The print is all over an off-shoulder top for women and a woven shirt for men. The words are spelled out with gumamela illustrations on a zip-up clutch and striped tees.
The stripes are back. This time, in navy and in every orientation and size -- horizontally on tees, vertically on the sides of pants, and mixed big and small on woven shirts for both ladies and gentlemen. Denim blue is reinvented in jeans, jackets, and bags. Canvas is interpreted into fanny packs.
Like a trip to Siargao, the Rafe x Bench summer is not just about lazing around as the dog days go by. The island entices with so much activity as well as connecting with fellow tourists and locals and we see this collection as being fit for that itinerary, or lack thereof: relaxed silhouettes in breathable, low-maintenance fabric in a palette that's easy to mix and match. It will take you from catching waves to hanging out at the designated bar of the night.
YStyle catches up with Rafe for details on the collab and more as he returns to Manila for Bench Fashion Week.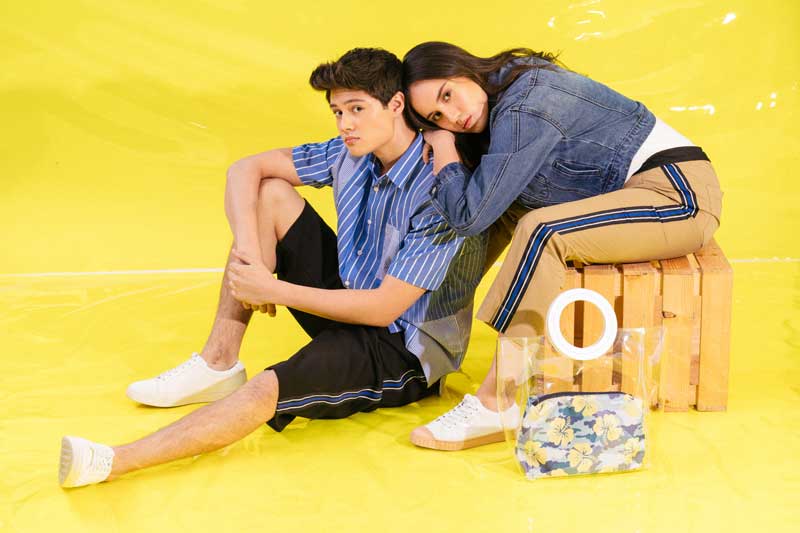 The Siargao-inspired collection features Rafe's customzied "gumamela camo prints" in tops and bags.
YSTYLE: Your last collab with Bench, #rafexbench was in 2016, a New York-inspired collection. Three years have passed since -- what urged you to collaborate again now?
RAFE TOTENGCO: Ben (Chan) and I enjoyed that first collaboration so much that while we were having dinner after the show we had hinted at doing it again. Now if you know Ben, as well as anybody does, he's always on the move and always forward-thinking. We both felt that it would be good to do the collaboration after a few years so there would be some absence of the product in the market. After all, absence makes the heart grow fonder.
Let's go back to 2016 in Siargao, when it wasn't as popular it is now and you visited it. What drew you to the island? Can you tell us about your stay there -- and have you returned since?
I was looking for a location to shoot my spring/summer campaign and I found out that I had friends from Bacolod who moved there and opened Sandy Feet Siargao. We loved our time there and it reminded me of Boracay back in the mid-'80s. I loved seeing all these surfers from all over the world and Filipinos as well. The island had a really nice chill vibe to it. Unfortunately, I haven't been back since.
What did you love about Siargao, and how did you express it in your second Bench collab?
I loved the relaxed vibe and the mix of people. We visited the neighboring islands and ate freshly-caught fish. I was mesmerized watching the surfers riding the waves and go back out over and over again. It was bliss.
May you talk us through the collection -- silhouettes, the color palette you worked with, and notable textiles used?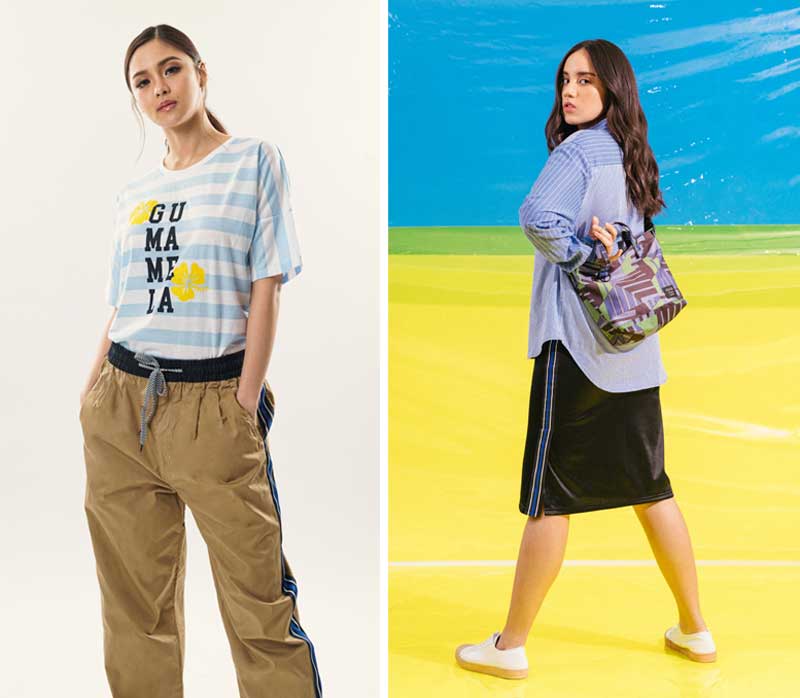 Rafe x Bench campaign stars Kim Chiu, Juliana Gomez, Derrick Monasterio, and Rhys Eugenio as the faces of the collab.
I kept the silhouettes relaxed and boxy while using cotton shirting, denim and some sport jersey for extra comfort. These are clothes you don't need to worry about and if they're a little wrinkled it will be fine. They are good base materials that wear well over time. I also made use of polyester because they work well for some sportswear pieces in the collection. The palette consists of black, navy, denim blue and khaki with pops of yellow. There are two floral pieces in the collection (a polo for men and off-shoulder blouse for the ladies). All graphics were done initially by hand then digitally.
Hero pieces from this collab -- can you give us a top three?
I would wear all the men's pieces but if I had to name my top three, it would be the track jacket, the patchwork shirt and the pleated trouser with a sport stripe on the side.
It makes us proud that you have always been proudly Filipino at Rafe. But how does your home New York inform your work?
New York is a melting pot of cultures and ideas; that's why I love it here. There is so much inspiration coming at you from every direction it's impossible not to be influenced. You have to be ready to absorb it all.
How do you react to inspiration when it strikes?
I take a lot of photos wherever I go and I file them into albums on my phone. Fortunately, we have the cloud to store all of it.
What is your design process like?
The process is always the same for me. I begin with the deadline, knowing what worked the previous season and asking myself what could be a new way to do something familiar. And then it begins...
Celebrating over two decades in the fashion industry, how has your brand RAFE New York evolved?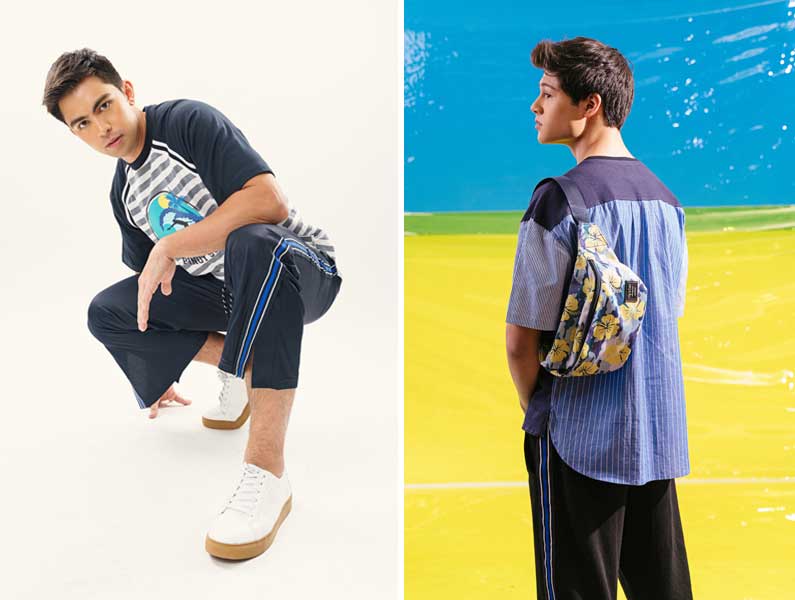 I have focused on women's handbags as my niche. I have nurtured a select and loyal customer base who consistently buys my designs every season. I'm doing something that makes someone smile and happy. That's easier said than done these days and I'm good with that.
What are your thoughts on the changes in the fashion industry?
Buying patterns have shifted especially with e-commerce making more convenient to shop so stores have to keep engaging and enticing the customer to come out and into their stores. Collaboration capsules and celebrity and influencer events keep the customers entertained and cash registers ringing.
As the designer of "happy bags," how do you stay happy?
I love what I do and I do what I love. How could I not be happy?
It's summer -- what's a very Rafe way to enjoy this anticipated season?
Every year I go somewhere I've never been. I'm planning a trip to Greece this year. I was obsessed with Greek mythology in my youth so this is long overdue. Otherwise, I escape Manhattan every weekend to my house in the North Fork for some quality R&R. The energy of the city is intoxicating but I need a tranquil setting to recharge my batteries.
* * *
Rafe x Bench is now available in Bench stores nationwide. Follow @benchtm, @rafenewyork, and #rafexbench for updates.
Photos by Shaira Luna and Andrea Beldua
Styled by MJ Benitez