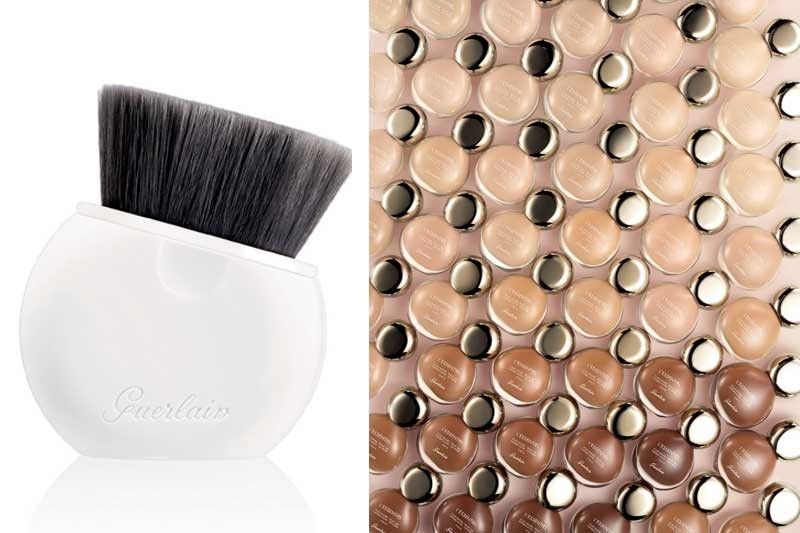 Guerlain L'Essentiel retractable foundation brush and twelve shades of the Natural Glow Foundation 16-hour wear with SPF 20 is now in Guerlain boutiques.
Guerlain L'Essentiel: A natural beauty
MANILA, Philippines — French luxury skincare and makeup brand Guerlain has come up with what was once deemed impossible: a foundation that creates a flawless but natural-looking complexion; something that hydrates and allows the skin to breathe. Something that gives high performance results with formulas that respect the skin's balance with skincare benefits and protection.
"People are more concerned about the environment. We are more health conscious. It ties into that. This is Guerlain — the brand of kings with almost 200 years of experience – wanting to do their share," says group brand manager of Luxasia's prestige division Jon Lee. Luxasia distribute Guerlain in the Philippines.
Harnessing the power of nature is in Guerlain's DNA. Their luxury anti-aging lines Orchidée Imperiale is sourced from orchids while Royale Abeille is from the royal jelly from bees. "Now we have a line of makeup that does that. It's more than riding on a trend," Jon say.
This also means they have a lot of experience in ensuring the hypoallergenic quality of their products.
"Guerlain will never say it is 97 percent natural because natural means getting the plant directly from the tree. Everything needs to be processed with the least amount of mechanical processes possible," says training manager Jaclyn Cayetano.
Guerlain's L'Essentiel provides a 16-hour glow with a natural finish using 97 percent natural origin ingredients – mineral pigments and marine and plant active ingredients. A duo of extracts derived from red algae and tara gums lets skin breathe and protects from pollution. White cocoa bean extract moisturizes skin and protects it from harsh blue light, found in everything from mobile phones to television and computer screens. Probiotics and prebiotics are not only excellent for our gut. Outside, it balances skin and reinforces its barrier. These artificial ingredients have been chosen in good conscience to guarantee the sensory qualities and impeccable, long-lasting hold. Yacon juice maintains acidity of the skin (skin is naturally acidic, ideally with an acid level of 4.5 to 5.5 pH).
"What keeps the integrity of those natural ingredients is the 3%, where the 16-hour glow comes in," says Jaclyn.
A flawless make-up finish is a question of skin and style. To meet every desire, L'Essentiel offers a silky smooth texture with buildable results and coverage ranging from lightweight to medium, without ever losing its luminous natural glow that is easily achievable with the L'Essentiel retractable foundation brush. Boasting a comfortable second-skin texture, L'Essentiel hugs skin with a seamlessly lightweight finish that lets it breathe.
Day after day, L'Essentiel diffuses its skincare active ingredients to the heart of the epidermis. Skin tone is more even, pores are less noticeable and pigmentation marks minimized. Even without make-up, bare skin is meant to be more beautiful and luminous with each passing day. Skin receives a beauty boost, offering an ideal make-up base.
Twelve out of 30 shades are now available, divided into three undertones cool (most of your veins are bluish and purplish), neutral, (combination of green, purple, and violet), and warm (green). Test the shade during the daytime for makeup wearable in broad daylight without looking like a mask. One pump is sheer. Two for medium to full coverage to get a look that comes naturally to you.