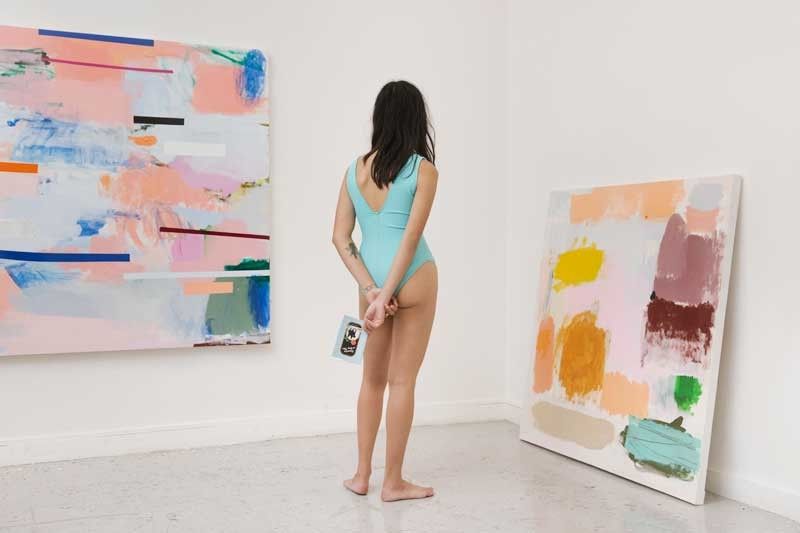 Áraw founder Carla Sison on the collab: "The objective has always been to highlight the Filipina woman's natural beauty. Drawing inspiration from the past and adaping them to a modern lifestyle to create pieces that are comfortable, accessible and forever wearable." (Rokeby one-piece)
Áraw Rises With A Swimwear Line
Carla Sison and Kimi Juan collaborate on a collection inspired by tropical living.
MANILA, Philippines — When one plunges into summer, one thing is certain: it's time to refresh your summer wardrobe with the latest offerings. Enter: Áraw Swim. The homegrown label known for its tropical-inspired basics is finally launching its swimwear line on March 18 in collaboration with travel photographer Kimi Juan. Áraw's founder Carla Sison tapped the creative to create a four-piece collection each in two colorways that marries their love of timeless silhouettes and tropical tones much like the artist Luis Lopa's affinity with vibrant hues.
YStyle talks to Carla and Kimi on the inspiration and the decision to start a swimwear line.
YSTYLE: Carla and Kimi, what drew you to each other?
CARLA SISON: Kimi was one of our first muses upon launching Áraw. Her lifestyle has always resonated with the ethos of our brand and she embodied the Áraw girl. She's so natural while embracing her Filipina features. I've never had to use makeup on a single shoot! She also presented the Philippines in such a beautiful way with her travel photography, allowing us and others to appreciate and be proud of the country. That's something I wanted to do with my brand and particularly my store Tropa: a contemporary insight into what's happening in the Philippines that translates internationally.
KIMI JUAN: Áraw is a brand I really looked up to and still do in terms of style and the value it brings to the industry. I was always attracted to the uniqueness and attention to detail that Carla gives to the pieces she creates, which is definitely what I look for in a brand. Each collection she releases really portrays a unique style that represents the Filipino culture in a different way, which is what makes us similar.
When did you first start working together?
KIMI: I remember getting a text message from a good friend to do a shoot for a brand I'd never heard of before at the time. I had come from Siargao and had an intense sunburn that was peeling and I was quite ashamed of it, but went to the shoot anyway. Carla was so accepting of my peeling tan that she decided it would be sort of the "star" of the shoot as it is something we experience a lot living in a tropical country which is what Áraw is all about — embracing what is it to be Filipino — and I really felt comfortable in my own skin.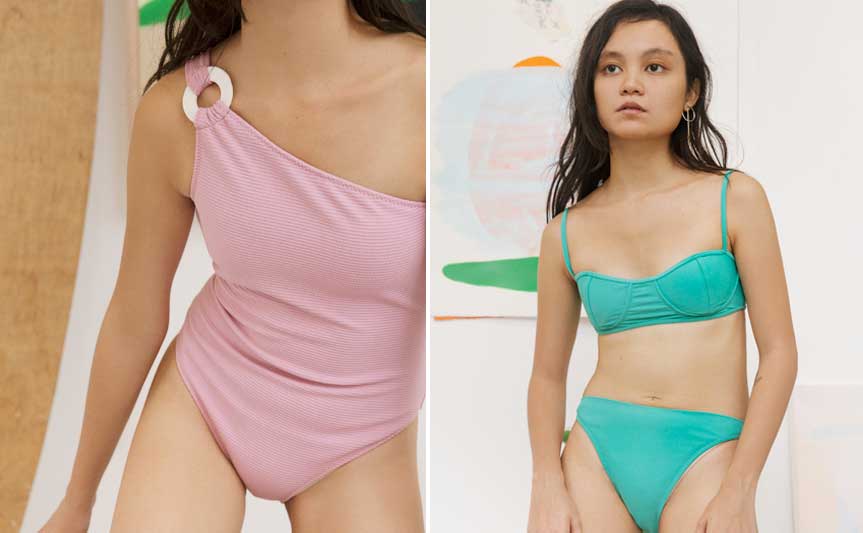 (Left) Isla Asymmetrical. (Right)Balance of old and new: As seen on the balconette-bra bikinis (Siesta set) and widestrapped one pieces.
What was behind the progression to expand Áraw with Áraw Swim? How is it different from Tropa's swimwear offerings?
CARLA: I've always thought swimwear fit in with the Áraw brand since our focus is on creating "tropical staples." Swimwear is a beast of a category, though, with so many local and international offerings that I never had enough time to really focus on it. That's why whenever I'd look for swimwear brands for myself and the store I would just ask Kimi. Who better to know the best of what's out there than the sun and beach goddess herself?
It's different from Tropa's swim offerings in the vintage influence and bright colors. Áraw has always played with colors, inspired by the street, nature and the province. Tropa is also a little sportier where Áraw is more feminine.
Swimwear is something that I've always seen as doubling as apparel, worn as bodysuits or tops with high-waist bottoms and blouses. I love when you can just throw on your shorts and feel dressed enough to dine. Áraw Swim goes especially well with all your existing Áraw pieces — obviously.
How did this collaboration come about?
KIMI: Carla was always telling me to start my own swimwear brand, but I didn't really know what I wanted to do and how to make an impact so we decided to do it together. We agree on almost everything and basically share the same thoughts on the brand and it all worked out, because we sort of fill the gaps with each other.
When people create something new, there's usually a problem-solving aspect to it. Was there something that always bugged you about what's already available in the market that you tried to address with this collection?
CARLA: I wouldn't say there's a problem, there are a lot of great swimwear designs out there, but I'm so particular with my taste that I could never find just what I was looking for. Which is how Áraw began too. I was looking for minimal styles with updated details, in flattering fits and colors. Also, something you could feel quite secure being really active in. An asymmetrical one-piece has been done, but we added the shell ring which I've included in previous collections and a cut-out back that isn't too revealing and looks quite elegant.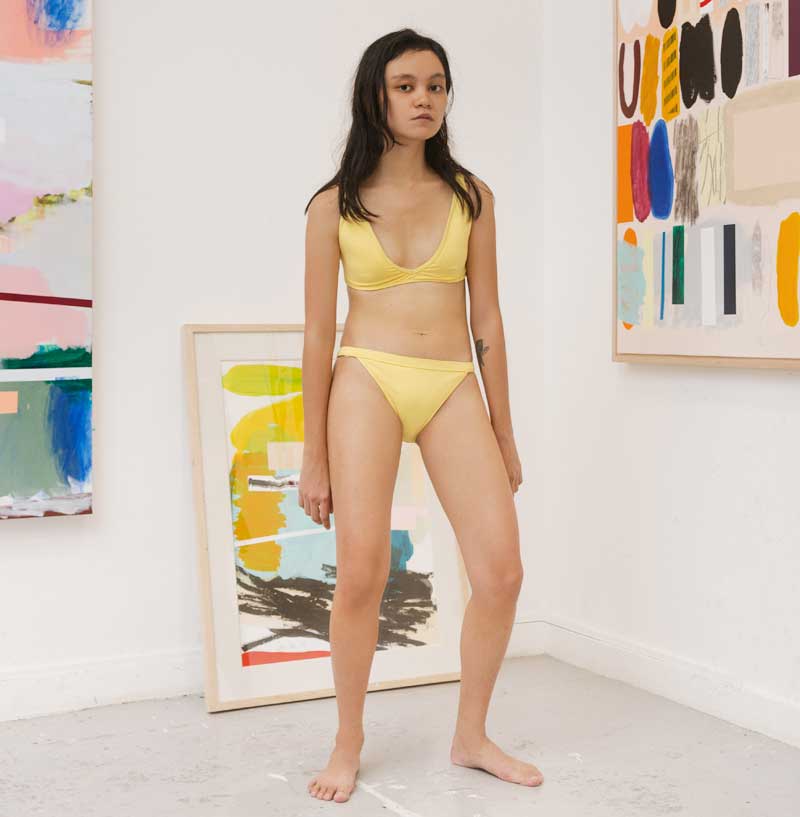 Laro set.
Can you share with us what inspired the designs?
CARLA: Some of the styles are swim versions of our favorite Áraw apparel silhouettes. The buwan Rokeby one-piece is a version of the split Rokeby crop. It's cute because it can be worn this time as a bodysuit with Áraw bottoms. All the colors have been picked from favorites in past collections. Ones that we thought would suit Filipina skin tones in particular.
What's unique about this swimwear line?
CARLA: The Áraw objective has always been to highlight the Filipina woman's natural beauty. Drawing inspiration from the past and adapting them to a modern lifestyle to create pieces that are comfortable, accessible and forever wearable. This is applied to Áraw Swim and I still think it's what will make the swim line unique.
We also thought long and hard about how to make the line uniquely Filipino which is slightly hard to convey without getting too native and literal. We didn't want to put just sand and palm trees. I think we translated it in our marketing, choosing the Lake Island resort in Rizal for the lookbook that already had all our colors everywhere; the sun-faded monobloc chairs, rattan furniture, colored tables and bougainvillea everywhere. It went perfectly with the collection and Kimi and Thomas were able to capture it so beautifully.
Photos by KOJI ARBOLEDA
Modeled by ALYANA CABRAL
Shot on location at LUIS LOPA'S STUDIO