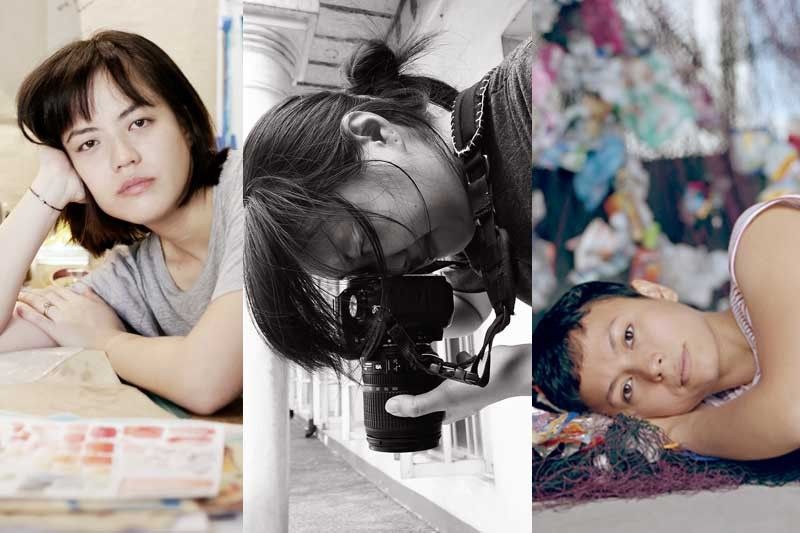 In Their Own Words: Art Fair 2019's Liv Vinluan, MM Yu & Olivia D'Aboville
Martin Yambao
(The Philippine Star) - February 22, 2019 - 12:00am
MANILA, Philippines — Art Fair Philippines 2019 opens today in Makati. This year's edition is looking to set itself apart with a standout lineup of commissioned artists — ranging from legends and icons, to young contemporary talents — for 11 special exhibitions. Inside a section of the fair titled "ARTFAIR/PROJECTS," the exhibits will showcase pieces exploring the themes of place, memory and identity.
Joining the lineup is Karen H. Montinola Grant recipient Liv Vinluan, with her piece "Nung Gambalain Yung Sayawan (The Disruption of A Dance)," a structural piece made out of vellum and suspended on acrylic stilts. With "Everything, Everywhere, Everyone" contemporary artist and textile design Olivia D'Aboville returns with a sculptural pieces made out of 100-percent recycled plastic. Painter and photographer MM Yu restages her ongoing exhibit "Subject/Object," a continuing series that reframes the mundane in different artist-led spaces.
For this week's special Art Fair edition of YStyle, we spoke to the three women for deeper insights into their special exhibits.
* * *
Art Fair Philippines 2019 runs from Feb. 22 to 24 at The Link, Parkway Drive, Ayala Center, Makati. The Philippine Star is the official newspaper partner of the Art Fair. For more information, visit artfairphilippines.com.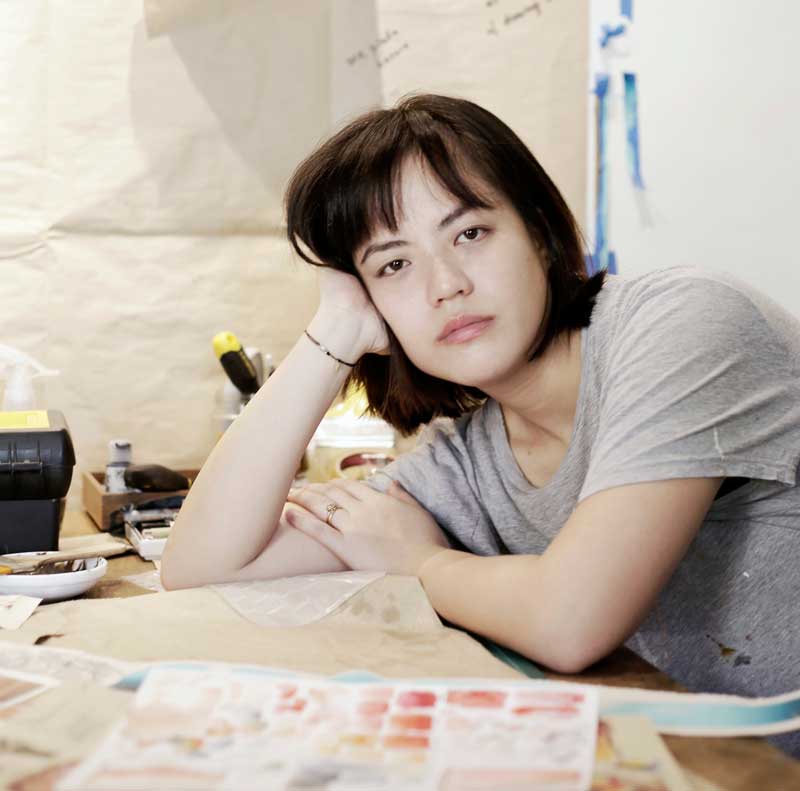 Liv Vinluan: "You can't really discuss history and identity as a Filipino without discussing the concept of family." Photo by REGINE DAVID
Liv Vinluan
Karen H. Montinola Grant Recipient
"Nung Gambalain Yung Sayawan
(The Disruption of A Dance)"
YSTYLE: Can you speak about your decision to pursue a three-dimensional structure for your special exhibit? What inspired you to pursue sculpture?
LIV VINLUAN: For AFP 2019, I kind of noticed my thinking process went the other way around—I had the general sculptural form in mind first, and somehow, I also had this visual in my head of an unraveling spool of thread. Floating, unraveling, unfolding — I had these ideas of movement I was tossing back and forth. I knew that I also had to do a bit of a mental survey of all the work I've done in the past. Continuity and the non-linearity of timelines, not only as stories, but in an actual physical form, was something I've been toying with for some time now.
In the context of your previous exhibits, vacillating from watercolor to soft sculpture and back, from an outside perspective "Gambalain…" feels like a culmination of all your combined disciplines. Would you say the form of your previous exhibits inform your newest work?
Yes! I would like to think that "Gambalain..." is the hybrid offspring of all the past work that I have done. It was taking something from here and there and conjuring up some weird, looping alien. Several of my past works had been in a form of endlessness, very long, or very big things. I think I wanted to take it up a notch and finally make it, quite literally, never-ending. The combined platform of the fair and receiving the Karen H. Montinola grant made it just the right time and place to do so.
When I was installing, a gallerist dropped by to visit and asked if it was going to move! And I thought that was quite interesting because here we have this completely stationary thing that still managed to convey that it possessed inert energy. It was idling but had the capacity for action.
You've noted in interviews that in conceptualizing your piece, you took inspiration from the behavioral climate of art fairs. How did this manifest in your piece?
It's always an assault to the senses, going to fairs. The work, the installation, the lighting, the white walls—I really just wanted to arrive at something that was streamlined, cleaner, simpler and quieter. You go to these events and everything, just everything grabs your attention and it is undeniably very overwhelming. There was a sense of quiet and simplicity that I certainly wanted to arrive at. In theory, it is a very simple piece of work—a 30-foot long piece of paper propped up by stilts and suspended with rope in the middle of a white room.
You describe your piece as a structure meant to be viewed with no beginning or end, with sketches drawn on both sides of the vellum. Can you speak about how this idea relates to your exhibit's intent?
To me, successfully illustrating "the never-ending," and history repeating itself meant that that piece had a quality of contained chaos. I decided not to have a uniform orientation (i.e. horizontal, vertical or slanted) for all the markings on the paper, and because of that I also had to be careful because that decision can also transform the work into a confusing hodgepodge medley. I hope people can come in the booth, look at it from (literally) all angles, and it can still make sense to them.
And lastly, can you elaborate on the subjects or the narrative of your sketches? Where did you draw from?
Hmmm, there's really no organized story to it. Because of the scale of the piece, I had to do the work in segments. I would finish about two or three feet, leave it, then come back to it and scribble something beside it a day or a week later. There's quite a bit of text in pencil in it too.
I thought, "well, you can't really discuss history and identity as a Filipino without discussing the concept of family." So throughout the production of the piece I realized that it had also become an exploration of the concept of family. Particularly the Filipino family, and how central it is to how we move and how our culture operates. There is a fully rendered drawing of a fictional, family tree somewhere in that work. Trees, I think, also effectively illustrate the passing of time. You cut it down and the rings it has reveals its age. And because this work was about looping timelines and history repeating itself, I felt it right to include that particular imagery.
* * *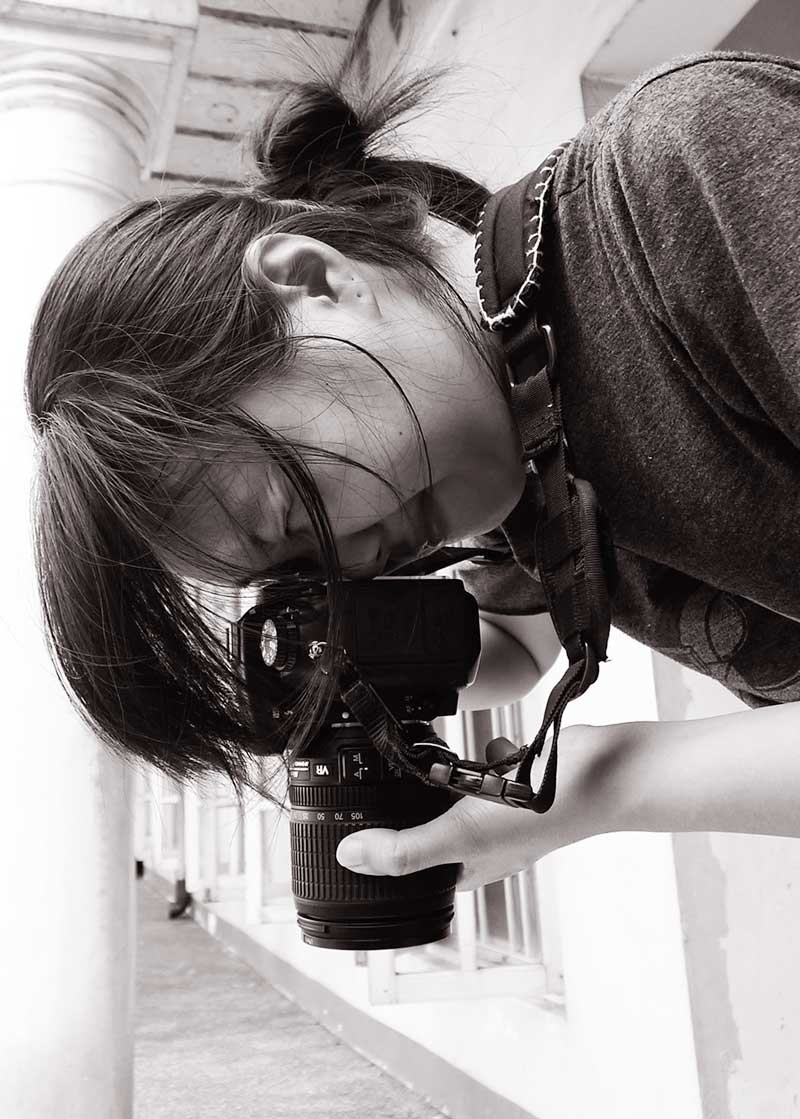 MM Yu: "Their spaces, random objects found in these spaces and their actual artworks — either unfinished or finished — are like portraits of the artists themselves." Photo by SOLER SANTOS, Produced by DAVID MILAN
MM Yu
"Subject/Object"
YSTYLE: About your special photography exhibit for Art Fair Philippines 2019, "Subject/Object"—can you speak more about the importance of consuming the work without words or added context?
MM YU: I often have difficulty with words. I am often not articulate, but photos for me can present what I want to say. I like to take all kinds of images that can construct narrative and meaning in one single frame.
?From its initial debut to its upcoming showing at Art Fair 2019, has your intent for "Subject/Object" evolved? Did you shoot new spaces and objects?
I first exhibited the work in 2009 in Mag:net Gallery and then in CCP. The photos were taken from 2000 to 2009, and then now in 2019 since I have now added to the series featuring more artists I have had the chance to document. The work is still unfinished.
Based on the wordless narrative you establish in "Subject/Object," can you speak on the connective things you've found across artists and their different spaces?
Their spaces, random objects found in these spaces and their actual artworks — either unfinished or finished — are like portraits of the artists themselves.??
And lastly, if you have any recommendations for the viewer to consume "Subject/Object," what would it be?
They can read my photos according to how they see it.
* * *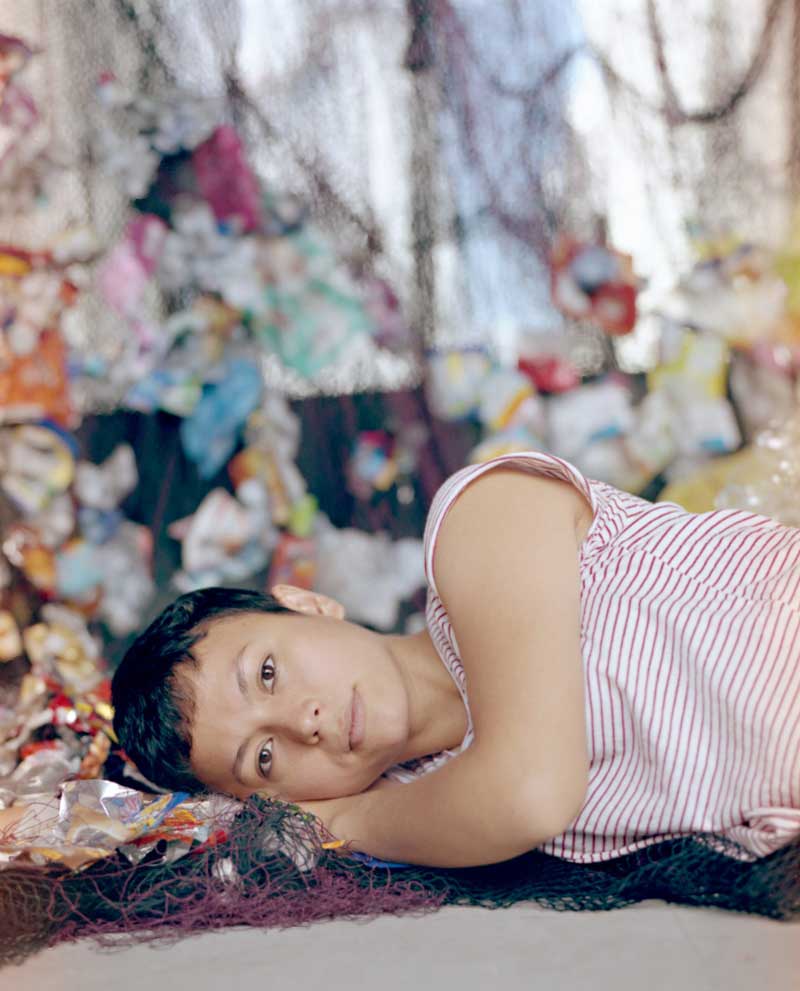 Olivia D'Aboville: "We live in a plastic world. Our generation's decisions and actions will determine the future of humanity and the planet." Photo by RALPH MENDOZA
Olivia D'Aboville
"Everything, Everywhere, Everyone"
YSYTLE: For "Everything, Everywhere, Everyone" at Art Fair Philippines 2019, you've gone back to your original medium of plastic sculptures for your exhibit. Having transitioned into textiles for majority of your recent work, what motivated you to use plastic again?
OLIVIA D'ABOVILLE: Everyone is talking about climate change, it's the biggest threat in our history and the cries of the youth are getting more attention. The plastic issue is part of this crisis, a more tangible one since the concept of climate change is still abstract to many. However, citizens are scared and concerned, people want action from plastic manufacturers and the food industry, and action from the governments. We want change. The discussion is on and I felt I wanted to voice out my concern as well and hopefully raise awareness through my work.
In your oeuvre, you're known for a transformative approach when it comes to your sculptures — reconstructing plastic and textiles into beautiful shapes. For your special exhibit, what was your thought process in showcasing plastic, less as imagined sea creatures, and more of literal debris?
I used 100-percent recycled plastics for these new works, also recycling older works into new shapes (Coral Flowers into Coral Stress). I wasn't entirely sure of what the outcome would be when I started working on the project. The concept started with "Catch of the Day," a labor intensive "tapestry" of cut plastics knotted on a nylon fishnet I got in Bangkok in 2010 or 2011. I had four artisans patiently cutting various packaging, sando bags, single-use sachets into large confetti and knot them on the net. It took them about 300-plus hours each. The work now has a huge value when you consider the effort it took to make, despite being made of low-value material. That was the first piece I wanted to create and the rest came progressively.
The type of plastic also changed with some key encounters I made in late 2018 that influenced the direction I would take for the show. My dad introduced me to the founders of The Plastic Flamingo, a French NGO created by husband and wife François and Charlotte Lesage. They arrived in Manila in August 2018 and their goal is to help combat the plastic pollution by creating shelters made of recycled plastics. Their local partner is Envirotech Recycling Inc. in Davao and they collect the unwanted plastics, the ones no one recycles (PET bottles are the main type to be recycled, others are too difficult since they are made of various layers of different composition). After collecting, they wash, shred, melt and mold them into planks. I used those planks for two of my works: "Anthropocene" and Untitled.
As compared to your use of textiles and dyed silks in your other work, do you attribute different meaning to your pieces when you use plastics as "reclaimed" material?
I'm a textile designer and advocate for handwoven Filipino textiles. I'm very fortunate to work with two cooperatives of weavers that supply the silk and abaca textiles I use. But transforming used plastics into something that can have value is also something I'm interested in also. The message is important, but so is supporting local weavers.
In relation to the main piece, can you speak about your thought process behind the framed nets?
I got the nets from a fisherman in Puerto Galera. I found them so beautiful! The hues of purple bleached by continuous exposure to the sun and sea salt. In paradox to their beauty, discarded fishnets account for about 10 percent of marine debris. They pose a huge threat to marine life. I wanted to highlight the fishnet, like specimens. They provide us with food but cost the life of many more animals than the ones we eat.
If you had to distill your piece into a single message, what would you want your audience to take with them?
We live in a plastic world. Our generation's decisions and actions will determine the future of humanity and the planet.