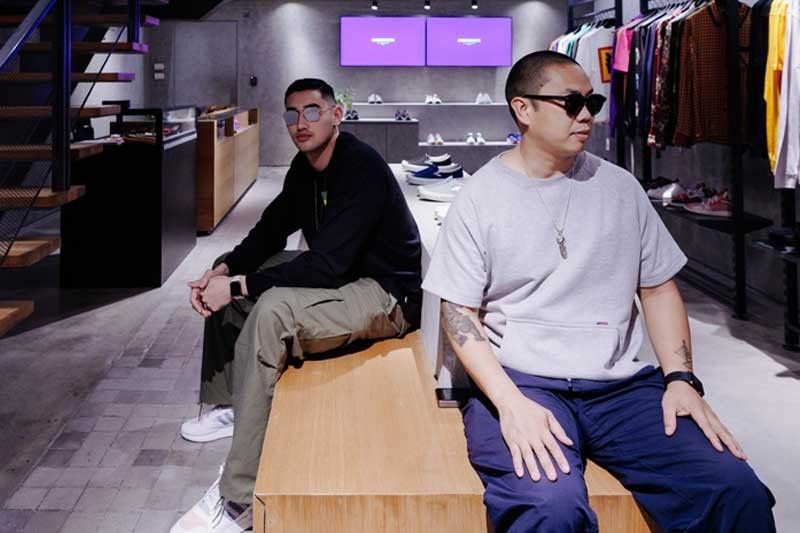 Commonwealth's Michael Concepcion and Omar Quiambao in the Power Plant Mall store.
Photos by PATRICK DIOKNO
Commonwealth takes a big step with Adidas
Commonwealth ends the year on a high note with a collaboration shoe with Adidas Consortium. It's a new take on the ZX 500 RM, one of the sportswear firm's best-selling silhouettes with the lifestyle boutique — their first shoe together — and it is in stores today.
Commonwealth was started by Omar Quiambao and Larry Incognito in 2004 in Virginia Beach, then expanded to downtown Los Angeles and Washington, DC. In October 2015, he partnered with retailer Welcome Worldwide's Mike Concepcion for its first international location and has since opened three strong store locations in Metro Manila; a total of six across the globe. Collaboration and cultural connection is essential to the company.
"Being a good retailer means you know how to talk to your audience, not designing a product. Sometimes they hire outside designers or have the brand do it. But for us, we do it all in-house. We come from creative backgrounds and are able to express our point of view through the project," he says.
"It being in the Consortium collective, it will be sold in the best stores around the world from Paris, New York, Tokyo — every account will have that shoe. It's a testament to our ability to story-tell and show where we're from. It's opening a door for a lot of good things to happen. It's showing the world that this market is ready," Mike says.
The shoe is distinct for its sheerness in white and aquatic pastels: the all-white upper is synthetic suede with translucent monofilament mesh underlays and TPU welded overlays. The heel and the navy blue, green and light blue Three Stripes are embroidered. The colorway references coastal living in Commonwealth's home base in Virginia Beach, Los Angeles and Manila. The silhouette, which kick-started the ZX range in 1984, originally with an EVA sole unit, has been swapped with cushioning by a full-length Boost midsole with a durable rubber outsole. It has a co-branded insole with Consortium tongue labels and Commonwealth's woven label on the lateral ankle. The accents on the tongue tab and heel are in coral, the Pantone Color of the Year 2019. It will come with three sets of laces: blue, orange and white with a diamond pattern.
Commonwealth is releasing a Friends and Family colorway in January 2019 and, for this interview, Omar is wearing the purple and navy shoe with a bold white detail. "Purple is the color of Commonwealth," Mike explains.
YSTYLE: How did this collaboration come about?
OMAR QUIAMBAO: The conversations started in Paris. We go out there buying for Market Week. The Adidas Consortium group is pretty exclusive, working only with a tight number of retailers; and even within that group, not everyone does a project with them. We got into casual conversations and it went from there. They liked our point of view and how we're positioned in the Philippines and the US.
MIKE CONCEPCION: There's something special about our brand in the sense that we're both international. We exist on both coasts in the US and we're also international. Tapping into the Philippine market caught their attention. A lot of brands want to invest in this area of the world. It's an exciting time to be here.
What was the thought that went into the design and materiality of the shoes?
OMAR: We wanted to build on the story of our shops being on coastal cities. Inspired by the transparency of water, we used meshies. You can see Mike's socks through the shoes. Even with the leather, we weren't going to use fish skin, but went with the synthetic suede upper that's super easy to clean versus white leather.
MIKE: It was finding an opportunity to bring our interpretation to an already great silhouette and create something unique. I think we did that through the specific materiality that we decided to work with. It's not very common; it hasn't been used in this version of the shoe. Ultimately, we also wanted to be a somewhat accessible design that can be widely appreciated. No biases, it's the most comfortable shoe I own. It works out for the Philippines as a tropical country; it's the perfect summer shoe. I don't know much about for DC.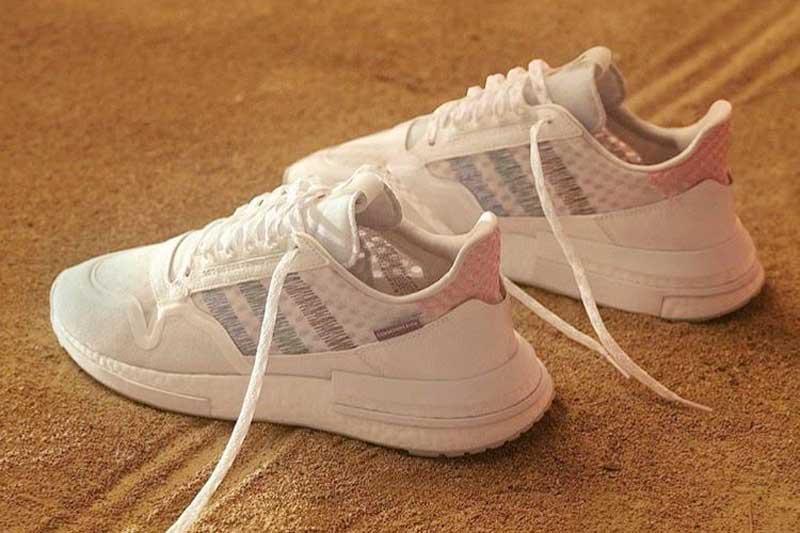 The Commonwealth x Adidas Consortium ZX 500 RM shoe.
OMAR: For sneaker heads, seasonality goes out the window. When we like a shoe, it doesn't matter when it comes out, we get it. We either wait for the right time to wear it, or you kind of miss out.
It's in white. Will the white shoe trend still go strong in 2019?
OMAR: Always. It's always going to be a go-to.
MIKE: It's definitely our top seller, but this is us, doing our version of the white shoe.
In recent years, e-commerce posed a threat to retail, yet Commonwealth has continued to experience growth. In October, you opened the third — and largest — Commonwealth store in Manila in Rockwell. What's your secret?
OMAR: The trend and movement has been to shop online, but for us, it's very much about the shop experience. For our market and demographic, the store is the chapel. It's where we go to meet. Even when people know there are only 50 shoes available, there will be a line of 200 kids. They know they're not getting the shoes but they come in and meet individuals into the same things and build a community around it. It's about having a place to congregate and share ideas and conversations. One of our cornerstones is authenticity. Starting in 2004, we were not just participants in the culture — we helped to create it. People know we're not going to just jump onto a trend. It's not a secret, but it's all about being authentic.
MIKE: We're very open about our approach, whether it's the staff we choose to hire and share the lifestyle we're communicating — it's an experience that's very different from retail here. There's an opportunity to hang out and just be in the store and have a good time. We spent a lot of time with the design. In Rockwell, the shape is just a square. We thought of how to push it a little bit. Have a mezzanine, have these areas with different programming and flow that would be interesting in a mall space. We are going online next year and see how that goes!
How does this approach inform how you do the buy for the stores?
OMAR: Not even just the stores. We look at it in a worldwide perspective. Even if another store carries the same brand, the pieces we bring in and the outfits we visualize and how people we wear it will be different. If one brand has a lot of jackets, we don't buy any of those jackets. We'll bring in all the bottoms or graphic tees that fits our point of view.
How different is the market in each city?
OMAR: With social media, a general style comes across our marketplace, but factors like climate and even certain local styles and fits will range. We have the largest brand selection here in the Philippines out of our locations and a lot of that has to do with exclusivity or territory. There are a lot more shops in the States to choose from; here, it's concentrated so we take advantage of that.
* * *
Commonwealth is in Power Plant Mall, Rockwell, Makati; Greenbelt 5, Ayala Center, Makati; and SM Aura, The Fort.