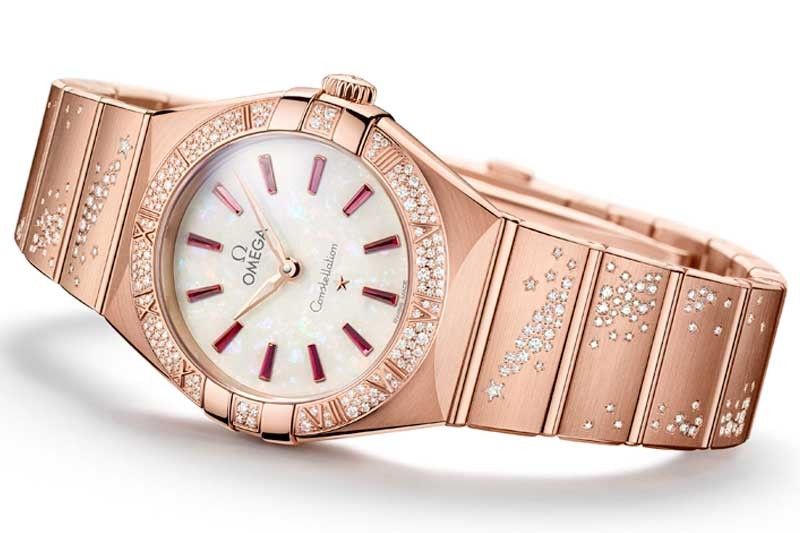 The Constellation Manhattan Jewellery collection in 20 mm Sedna gold with an opal dial, ruby digits, and all-over diamonds unveled at the Iconic Ladies Evening in Shanghai.
Omega Shoots For The Stars
Omega revamps Constellation Manhattan with new details worthy of four of the brightest stars in the universe: Nicole Kidman, Cindy Crawford, Alessandra Ambrosio, and Chinese superstar Liu Shi Shi.
SHANGHAI, CHINA — If there's a luxury heritage brand that's seizing factors written off as challenges in the current retail landscape as its strengths — millenials, the Chinese market, and social media — it's the 170-year-old Swiss watchmakers Omega. The revamp of the brand's symbol of precision in watchmaking, Constellation Manhattan — for the first time in nine years — exemplifies how they're doing it.
"We are a watch brand that's about achieving something. They say, 'I deserve that watch,'" says Omega CEO Raynald Aeschlimann. "Luxury is when emotion overtakes reason. The future of luxury is about investing into something real: price, exclusivity, and design. Luxury is about real value and substance. The details should make you proud. Even if we sell it with emotion, what you have on your wrist is the highest quality you can get for that price and that design."
There are a whopping 101 ladies/models models in the 2018 Manhattan Collection. Trying it on for size during the worldwide press product preview in Shanghai, I appreciate the thoughtfulness that went into moving the bracelet button to the middle of the link so it doesn't rub against my wrist. Listening to the needs of its market — women make up half worldwide, and in China, ladies make up the bulk of it and they choose to wear the Manhattan — an option to expand the bracelet by two millimeters has been added to make room for the inevitable puffiness that comes with living in high temperatures and higher humidity levels. Coming in May 2019 is the Constellation Manhattan Jewellery collection. In the evening, it's the Omega Iconic Ladies Evening launch event, and Omega's four ambassadors Nicole Kidman, Cindy Crawford, Alessandra Ambrosio, and Chinese superstar Liu Shi Shi wore the 20 mm model in Sedna gold — Omega's proprietary precious metal used in the place of pink gold or rose gold — that's literally a piece of fine jewelry, from its Australian white opal dial, gold bezel, to a smattering setting with diamonds down to its bracelet depicting constellations, and 12 special baguette-cut ruby indexes to complement their red dresses. It also comes in diamonds, sapphires, and emeralds.
"The role of Constellation within the Omega family, is that it's like the one that's the most like a bracelet and a piece of jewellery. Even though I have other Omega watches, like sometimes I like to wear a Seamaster or a chunkier watch, the thing about the Constellation is, it is really timeless and it's very feminine," says Cindy during a presscon earlier in the day. She helped make the final design choice for the 1995 Constellation collection in her first year as brand ambassador.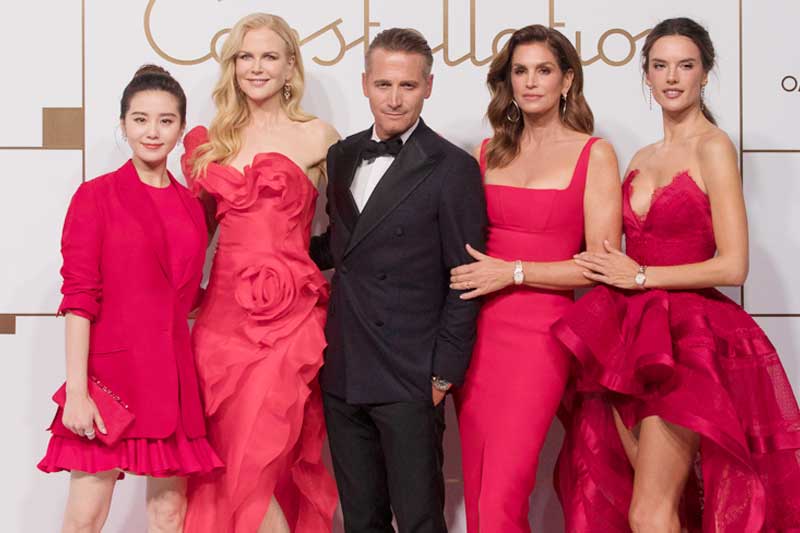 Omega CEO Raynald Aeschlimann (center) with Liu Shi Shi, Nicole Kidman, Cindy Crawford, and Alessandra Ambrosio at the Iconic Ladies Evening event launching the new Constellation Manhattan.
As for being the longest-serving ambassador, she says, "I think in the fashion industry, sometimes there's a shelf life and I love that Omega has embraced me becoming a woman and not made it so focused on okay, she's a young, hot model."
"I tend to always wear them because they're sort of a cross between gorgeous vintage jewellery and also then you have a watch hidden somewhere in there," Nicole says of her Constellations. "I think when you look at the history of watches, a lot of times, for a long time women weren't allowed to wear watches because they weren't allowed to know the time. When you know time, you control your time, you're controlling your destiny and that's obviously why they weren't allowed to wear watches then. I really try to wear a watch to keep it separate from a phone because I think that that's a really important part of just us controlling our work-pleasure ratio."
"I'm always on time, especially since I became an ambassador for Omega. I have to be," Alessandra says. Omega is a witness of world records as the official timekeepers of the Olympics.
"Chinese women are very restrained but also firm, very much like the Constellation. It also has classic design, elegance and a precise calibre," says Xixi, who started a C-Wave much like the Korean's Hallyu wave with the 2011 period drama Scarlet Heart.
Raynald describes the ladies, "They have their own careers and represent the feeling you get when you own the Constellation.
As one of 18 Swatch Group brands, Iconic Ladies Evening is one of the first major events mounted by Omega since the mother company left Baselworld Watch and Jewelry Show six months ago -- a shock in the industry as Omega was an anchor brand, always present on the main floor of the trade show. "A new world has started. We can now do a much more local, much more detailed launch. We have 50 lounges around the world so you can touch the product. This is a paradox, but I want as many people to wear it," says Raynald.

Cindy, Nicole, Alessandra, and Shi Shi in one of 101 models of the 2018 Constellation Manhattan.
Omega has been at the forefront of meeting the challenges of "a new world," as Raynald calls it, before this big move. "When I see my son on Instagram, my wife gets angry, and I say, 'Honey, this is the way he informs himself.' He constantly sends me emails about what's happening and sometimes we queue for three hours in front of a Supreme shop on a Tuesday morning," he shares. "All these days of advertising — I'm very strong about having us on your publication — but with social media, you can touch someone even while they're on a train. All of us want to be inspired and they can see in real time who the brand is. #SpeedyTuesday (the exclusively online event where Omega and Fratello sold a new timepiece first in January 2017 followed by July this year) is the best example. We reached our community with social media. We are a rich company in terms of what we have to say. We are that close with our customers. We have their heart, not only their wrist."
We break down what makes this Constellations Manhattan face lift so special.
* * *
In the Philippines, Omega is in 6750 Retail Arcade, Ayala Avenue, Makati and The Podium, ADB Avenue, Ortigas. It is also in Lucerne Solaire Sky in The Shops Solaire Resort and Casino, Paranaque; Le Temps in Newport Mall, Resorts World, Pasay; L'Aterlier The Fort in Shangri-La at The Fort, Bonifacio Global City; and Lucerne Cebu in Paseo Marina, Ayala Center, Cebu.