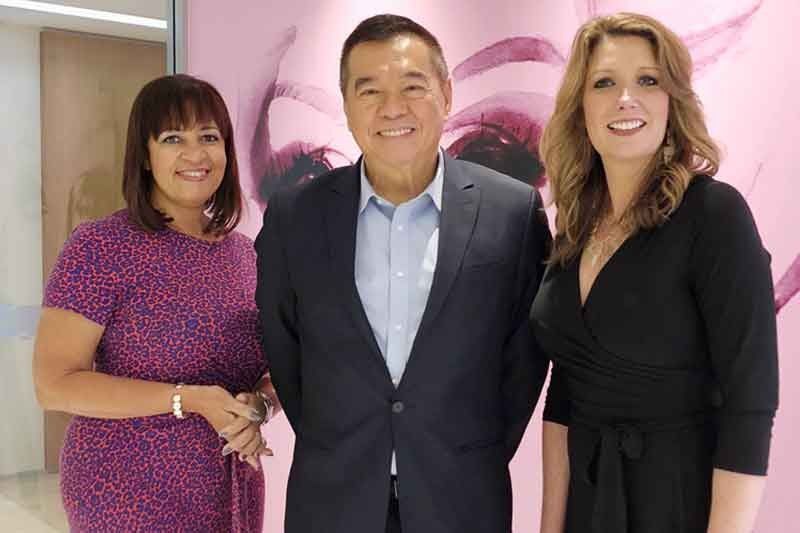 Mary Kay chief marketing officer Sheryl Adkins-Green, Asia Pacific Region president KK Chua, and chief scientific officer Dr. Lucy Gildea
Mary Kay looks at the future of skincare
SHANGHAI, China – A machine that can show you your skin's underlying issues before they are already a concern — it comes in the unassuming form of a sleek, palm-sized pod that its proprietors, beauty company Mary Kay, call Skin Analyzer and it saw through my makeup. I thought myself to be a wise sun worshipper, tanning with a low SPF oil to avoid burns and prevent sunspots and fine lines in my aging future, but it turns out, I already had those inevitable concerns, visible now that my skin's surface was magnified 50 times on a smartphone screen via the app it comes with. They will be seen by the naked eye in a few year's time. It may feel like it — especially the day after a Dirty 30's salubong — but we don't get old overnight. The appearance of aging creeps up slowly, gradually — and then, boom. Getting to try Skin Analyzer before it arrived this month to Mary Kay Philippines' sales force, the Independent Beauty Consultants, showed me what damage I can prevent now.
Skin Analyzer assesses skin's moisture, sensitivity, pores, oil, elasticity, and skin tone. As part of the consultation, it allows you to compare your skin with women your age. I only have the impeccably groomed Chinese market to be compared to, and my spotty complexion didn't fare so well next to the evenly-toned, rosy white 29-year-olds out of the 600,000 who also had their skin examined. I had to decline the option of sharing my results on social media.
Evolving direct selling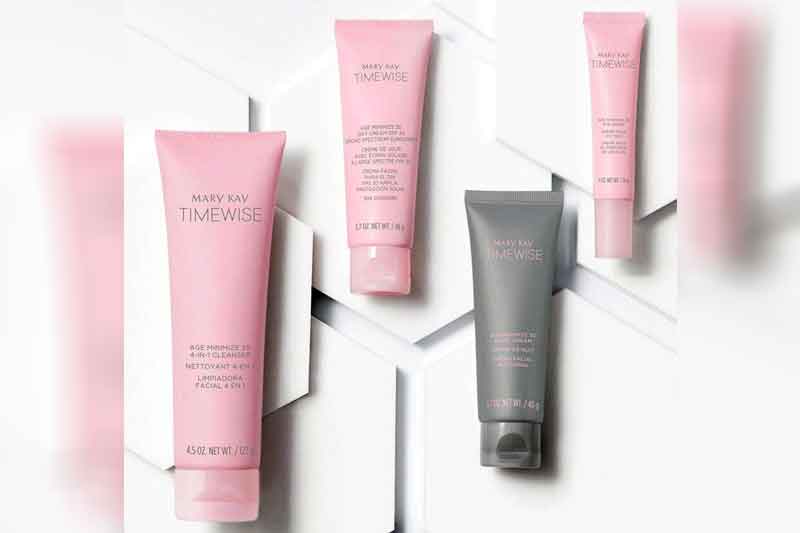 Preventing aging: The new Mary Kay Timewise Miracle Set 3D contains patent-pending Age Minimize 3D Complex made of encapsulated resveratrol, vitamin B3, and an age-defying peptide.
The company started by women empowerment icon Mary Kay Ash just turned 55. In the digital age of instant gratification, the Skin Analyzer is just one of the ways it's revolutionizing direct selling. Asia Pacific Region president KK Chua tells the STAR, "We're a 55-year-old strong company. We are beginning to use the mobile phone, big data, and artificial intelligence to help us in our selling and in learning about skin. I think (as a direct-selling company) we're even better than e-commerce. A lot of people say 'Hey, direct selling is passe.' I say, find me a computer that can emit fragrance then I can sell through the computer — but even then, it can never replace the human-to-human touch."
"We like to talk about Mary Kay being more than makeup. I like to think we're in the confidence business," says chief marketing officer Sheryl Adkins-Green. "For some women, the products make them feel confident, but more importantly Mary Kay Ash was all about self-empowerment. You didn't need anyone else's permission — certainly not a man's permission — and she was that proof."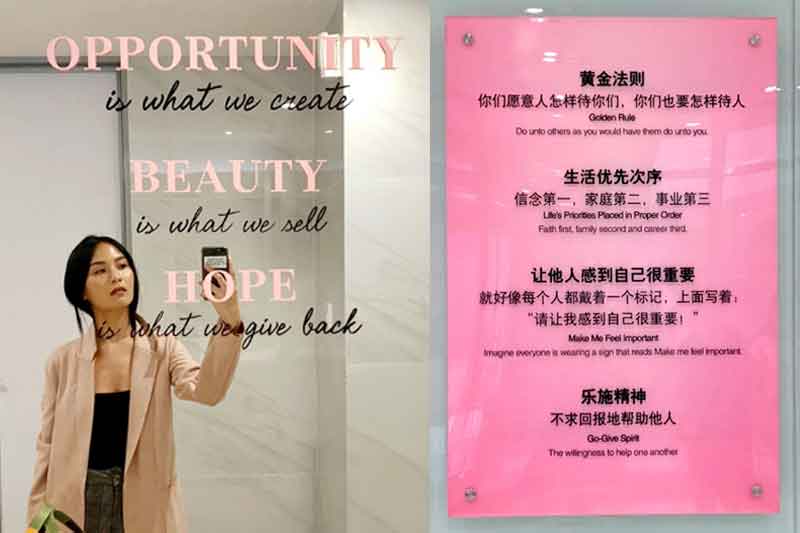 Words to live by: Inside Mary Kay Shanghai's restrooms (left) and in the Mary Kay factory plant in Hangzhou.
Mary Kay was 45 when she started her namesake business, a single mother of three stuck for decades in another direct-selling company that didn't recognize her efforts nor compensate her equally with her male colleagues. Starting Mary Kay was about allowing a woman to achieve as much as she could through effort without being held back by the politics of a typical office in the '60s while allowing her to spend time with her family, thus Mary Kay's direct-selling, multi-level marketing company structure. To this day, the Independent Beauty Consultants are at the core of the business. They receive income commensurate with how much they sell and the people they are able to bring into their team. To be the national sales director is the highest recognition for every country. The Philippines has Nanette C. Mission, with a star to her name in the Mary Kay Walk of Fame in Hangzhou, China, and a pink luxury car, in the tradition of the Mary Kay Pink Cadillac career car in the US. The company rewards top performers with luxuries. It could be a designer handbag or an all-expense-paid trip to Rome, Italy.
Having good products that resonate with customers helps, of course. "One of the factors of Mary Kay's success is we spend the time to talk with real women. As a global company, we're able to anticipate what women want because we have an independent sales force and we leverage that input as we develop a global portfolio," says Sheryl. "We're able to understand K-beauty trends from our strong business in Korea. We also have a strong color business in Brazil. Our Independent Beauty Consultants help us keep our fingers on the pulse of not just what celebrities want, but what real women want and need."
Anti-aging made easy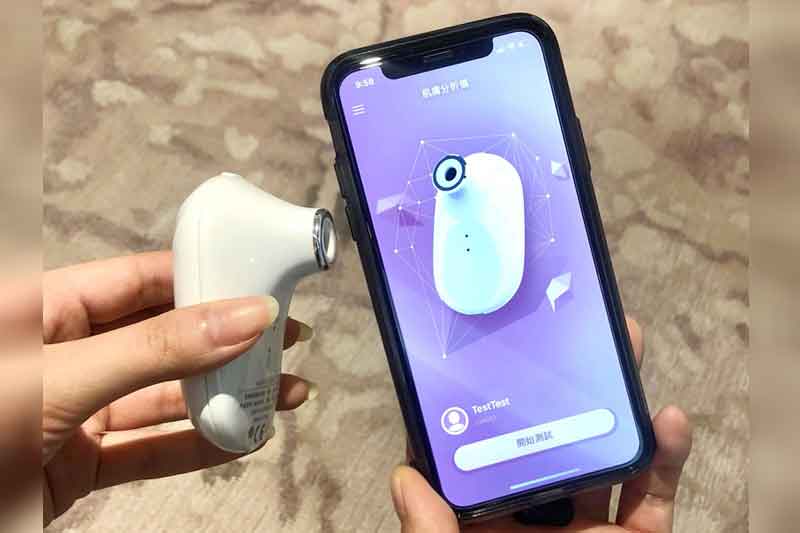 An eye on the future of skincare: A first look at Mary Kay Skin Analyzer.
It is based on this insight that Mary Kay upgrades their already-simplified, three-step anti-aging line Timewise, a favorite among busy Filipinas. Enter Timewise Miracle Set 3D, which stands for Defend (against environmental elements), Delay (signs of aging), and Deliver (anti-aging benefits).
"It took five years of research conducted on 5,000 women with a wide range of skin types and ethnicities, looked at 150 ingredient combinations and over 200 clinical and safety studies to design this formula, and one of the things we learned about skin aging is that only 20 percent of premature aging is actually due to the natural aging process. The rest is due to living your life — the unavoidable environmental and lifestyle factors that actually contribute to the load of premature skin aging. There are internal factors like diet, stress, what you eat, how much sleep you get. From an external standpoint, we're exposed to environmental triggers that are microscopic, things like particulate matter, car exhaust, and smoke," chief scientific officer Dr. Lucy Gildea explains.
Lucy is determined to secure Mary Kay's status as an innovator in the cosmetics industry. She adds, "We hosted a symposium on the impact of pollution on skin health at the prestigious International Investigative Dermatology. It was the first time that it was brought together in that forum in the scientific industry. We partnered with a researcher at Columbia University where we demonstrated that one of the core active ingredients in this regimen actually improves and downregulates the genes that are upregulated in the context of pollution."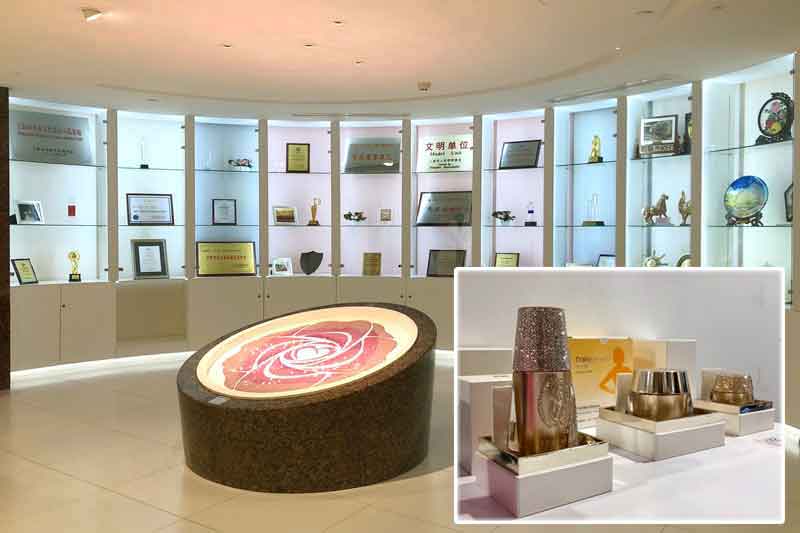 Shine bright: The awards room centerpiece made of Swarovski crystals and an embellished version of the China favorite Youthfinity line and their nutraceuticals Daily Benefits.
She's referring to the patent-pending Age Minimize 3D Complex made of encapsulated resveratrol, an antioxidant that also helps promote even skin tone and support the skin's natural collagen; vitamin B3, a brightening antioxidant; and an age-defying peptide to support the skin's natural collagen and elastin. Created without the buzzier yet potentially irritating anti-aging ingredients like skin turnover-inducing retinol, Lucy says, "Timewise 3D is suitable for those with a concern that anti-aging products are harsh for their skin. You need a product like Timewise 3D for daily use because this is nourishing. There are things that retinol alone can't provide for you but you can supplement with retinol."
Like its predecessor, TimeWise 3D is a three-step regimen available for normal-to-dry and combination-to-oily skin. The cleanser is now a 4-in-1 cleanser that removes all impurities including makeup and tones at the same time. The day cream comes with or without SPF30 (I recommend with, for added sun protection with no white cast or greasiness whatsoever), then there's the night cream and eye cream. They all melt into the skin almost instantly to give that feel of suppleness you can only get from hydration. It's a sensation that makes me want to keep using it until I can see results. Lucy guarantees they have studies that prove I can see them in four weeks time, ahead of the usual eight to 12. Down to the products, it's all akin to what Mary Kay wanted in the beginning — to make things easier for women.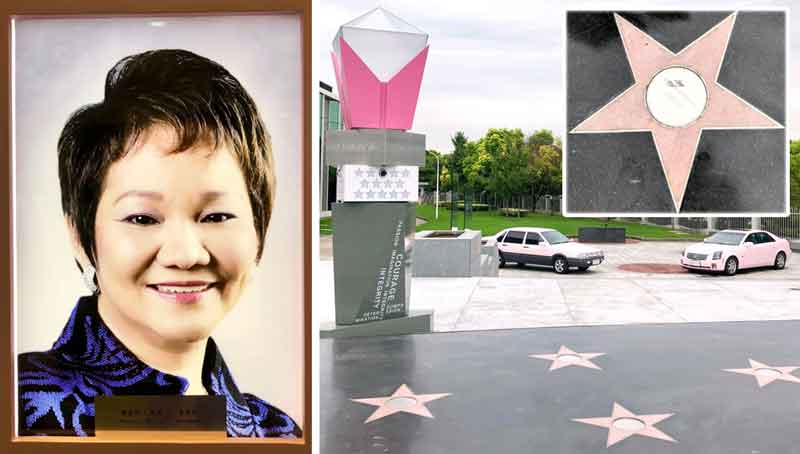 (Left) Filipino pride: National sales director Nanette C. Mission with her pink star. (Right) Think Pink: The Pink Cadillac and the Mary Kay Walk of Fame.
* * *
Visit marykay.com.ph or contact Mary Kay Philippines on Facebook and @marykayphl on Instagram to find a beauty consultant near your location.