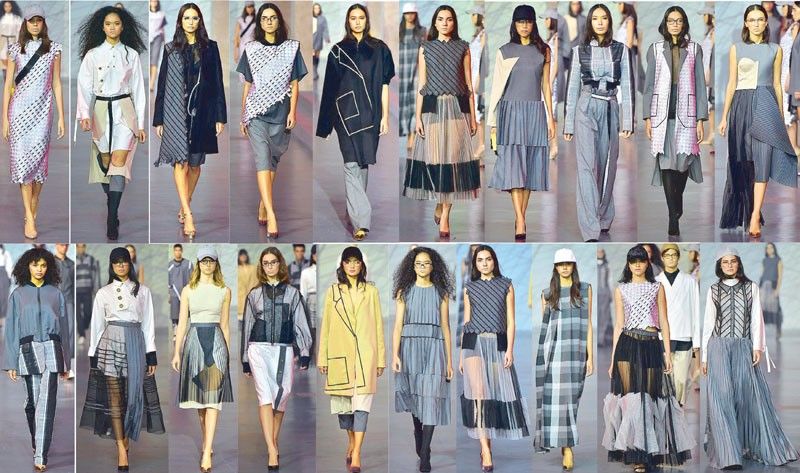 Ivarluski Aseron
Photos by Walter Bollozos
Ben Chan: 'Ivarluski Aseron and Dennis Lustico helped define the style of their design generation.'
The retail giant Bench can afford to rest on its laurels and simply enjoy its leadership in the market, but it does more for the industry it is part of by supporting its growth — for the past, present and future of Philippine fashion. The three-day Bench Fashion Week Holiday 2018 opened with a collection from designers Ivarluski Aseron on the first day and Dennis Lustico — his first show in three years — on the second. On the third day, Bench Tower's Playground runway belonged to promising up-and-comers in the Bench Design Awards — an opportunity in itself — with the reward of presenting internationally in Amazon Fashion Week Tokyo next month. For the upcoming Ternocon, it's about adapting our unique fashion heritage to modern-day Filipiniana.
But let's go back to the present — and these are the two designers who are paving the way. "Ivarluski Aseron and Dennis Lustico helped define the style of their design generation," Suyen Corporation chairman Ben Chan explains. "Ivar's expert skills in tailoring allows him to play, break and make new rules to create pieces that are at the same time simple and complicated, masculine and feminine, modern and timeless. We chose them because we thought it would be a good idea to showcase their expertise to the new market, including our new design talents from Bench Design Awards who will benefit from learning from their expertise and experience in creating collections. It is very exciting to see designers such as Ivar and Dennis juxtaposed with young, emerging designers from Bench Design Awards. It is a story of exciting potential from the new generation and a master class in design from the established designers such as Ivar and Dennis."
In this YStyle roundup, we allow the designers to talk about their inspiration and the process that informed their latest collection — and this era in Philippine fashion design history that they are creating — in their own words.
Ivarluski Aseron
There's a bit of the wild and crazy in me especially when it comes to aesthetics.
When I was in my teens I would arrange things in my bedroom to be a bit off, like the placement of some decor or even my bed. Until now, I still have that habit. I was always drawn to something that's a bit off and has unique details. I was guided by that idea in creating the pieces in my collection.
It's a deviation from the usual or expected not only in design but also the way some materials were used and in the way they are placed in this 25-piece collection. I used wool, crinoline, cotton, and my own labels to create the woven pieces. I did a lot of pleating, weaving and book leaf techniques or details.
It took my team and I three weeks to create the collection. That doesn't include the conceptualization period.
The most challenging pieces were those with counter-pleat details and the woven labels because they were time-consuming and difficult to make.
I want to see the pieces in this collection worn by women or men who are confident and can hold their own.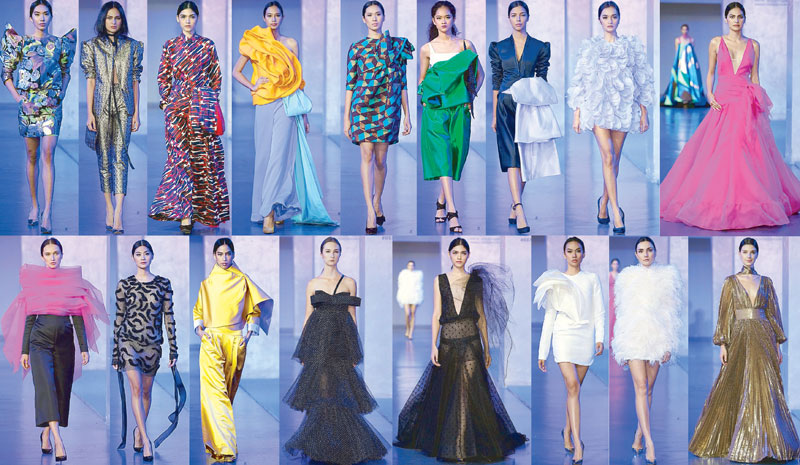 Dennis Lustico
My wish for Madame D to have a longer role in The Grand Budapest Hotel made me decide to call my collection "The Imagined Life of Madame D." The collection was born out of fascination with the character Dowager Countess D (Madame D) played by Tilda Swinton in Wes Anderson's film. She is an 84-year-old wealthy royal who was having an affair with the hotel's concierge. She was tragically murdered right after she left The Grand Budapest and thus the whole story of the film began.
I want it to convey luxury, Old World glamour, grace, sophistication, ease and refinement — all in modern and sexy silhouettes.
This time, I had the freedom to use beautiful fabrics that I accumulated from my past travel sourcing. We used duchesse satin, silk organdy, silk brocade, poly-moirè, silk gazar, crepe silk, silk georgette — a wide variety of materials since all outfits are different from each other.
There were two fittings done. We started third week of June, particularly the pieces with beadworks. We started all pieces with toile, fitted them with a model before cutting the actual fabrics and have a 21-piece collection ready for final fitting by Aug. 24.
The "Leech Dress" took nine weeks to finish with three people doing it full-time. It's a short, nude see-through number, fully hand-beaded with black micro-cut beads as a foundation, layered with black maxi-bugle beads that resemble the shape of a leech.
All ladies who have a penchant for drama and glamour — this collection is for them.