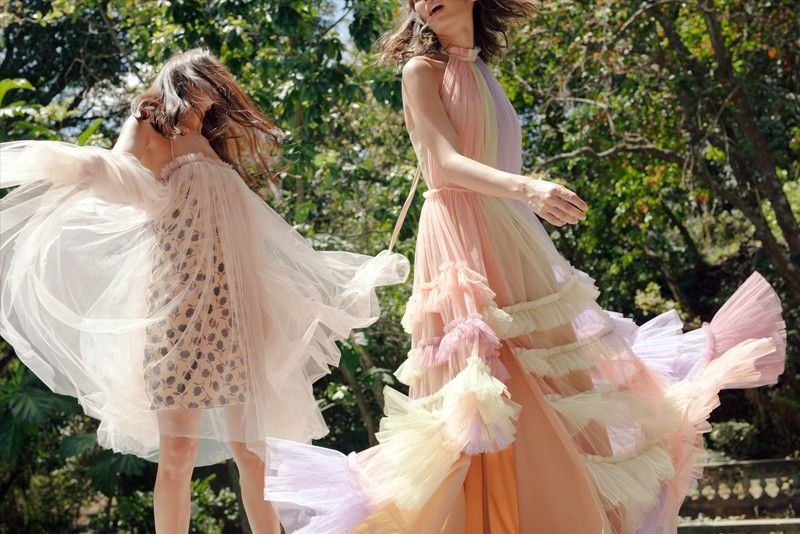 RSVP is a one-stop style studio offering women a personalized alternative to the traditional 'occasion dressing' experience.
Call it luxury on a borrowed basis ­— and all at approachable price points.
I have a room full of clothes, yet there are still occasions where I find I have nothing to wear. Every weekend for a month there's a couple tying the knot to themes as outrageous as Bollywood or as vague as formal. More frequently in my line of work there's an international or regional fashion event where brand principals and their global celebrity ambassadors are pulling out all the stops. My work has brought me anywhere from a medieval palace ball with a matching dress code ("but make it fashion") to an exclusive jewelry exhibit launch shimmying with Academy Award winners and taitais dripping with fine jewelry.
Now, there is no requirement for lifestyle journalists to epitomize the beat they cover. To make a spectacle of oneself can be misconstrued as self-promotion, still frowned upon even in the "influencer" age where writers and editors represent the brand; but even if you look at things in a more general sense, regardless of the industry you work for or wherever life takes you, wearing an ensemble that makes you look like your best self can only improve your experience of things.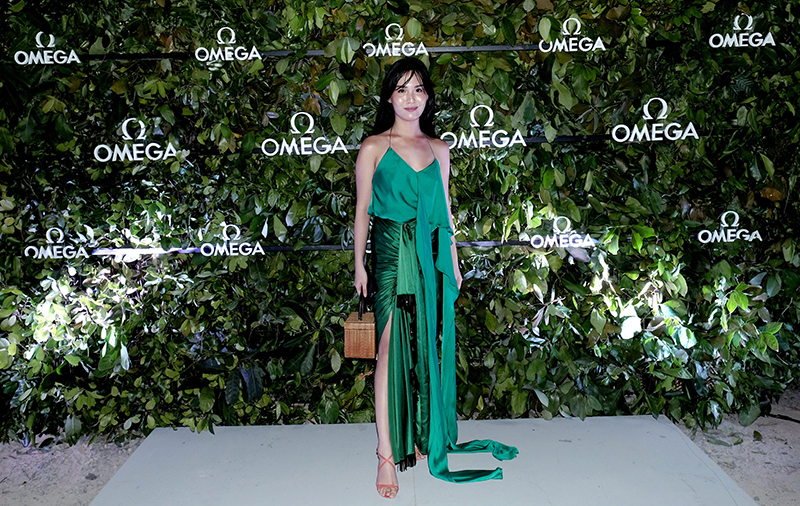 The author in Martin Bautista from RSVP.
Last month, I got an assignment with only days of notice to the Omega Seamaster Aqua Terra regional launch in Amanpulo, Palawan. We should bring our style A-game, it was implied, and no one was taking this lightly. I dropped by a few designer RTW boutiques and on-theme pieces in size zero had been pulled out (industry term for loaning pieces). Borrowed finery, once available primarily to be loaned to celebrities and society swans in exchange for exposure or as a friendship perk, is an essential.
Without top resources, I didn't have the clout that these celebrities have; and yet that work trip felt like a Cinderella moment for me — and it's all thanks to RSVP.
Designer fashion in a sharing economy
If you're thinking RSVP is our local answer to Rent The Runway, it is anything but. They describe themselves as "Manila's first luxury eveningwear rental service that reconsiders 'occasion dressing' into something easy and personal for every woman." Founders and in-house stylists Cara Sumabat and Maica Salud got their light bulb moment one wedding-packed month. Not exactly fashion newbies, they're fashion consultants and luxury retailers, and also the familiar names and faces behind bag and home accessory venture Halohalo (not to mention true-blue fashion gals off-duty).
"We live in Manila where someone you know is probably getting married every other weekend. The old thinking goes: new wedding to attend, new dress code to think about," says Salud.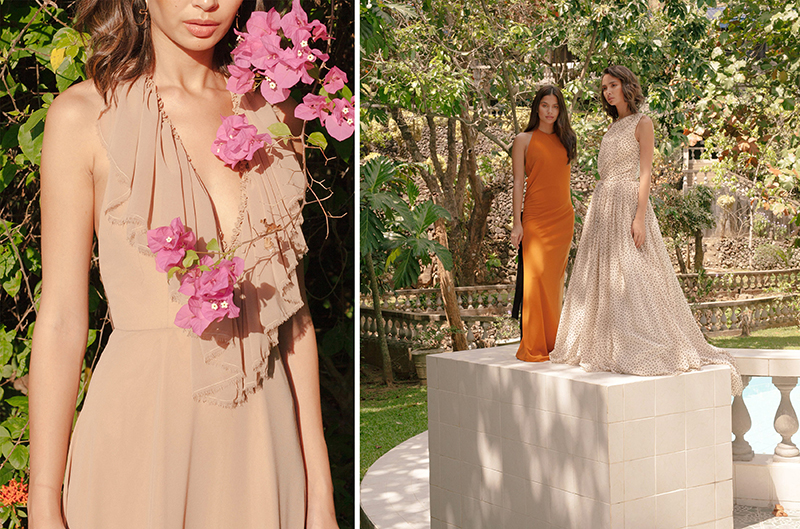 RSVP holds an edit of contemporary designers including pieces from Martin Bautista,
Vania

Romoff

,

Sassa

Jimenez and Stacy Rodriguez.
"It's not even about the money, the cost of having a dress made, but it's your time, going to a minimum of three fittings for a dress every single time," adds Sumabat.
"It becomes unsustainable," she continues. "It gets to a point where you have too many events and your closet can't keep up, or worse, you're suddenly stuck with too many dresses you can't see yourself wearing again."
I, for one, am in love with a style moment but am tired of the clutter that comes afterward. Dress looks can't exactly be repeated yet are too precious to alter and repurpose. RSVP affords me variety and luxury access at a price that feels right (ranging from P4,000 to P6,000 per rental, depending on the make of the garment), and allows me the full experience of wearing a designer gown without the hassles of ownership.
Nothing to wear?
Setting an appointment on their website, I not only give my measurements and dress code they'll be working with (white, resort, nautical) but also answer a quiz of my personal style. Truthfully, I was going for "tropicale glamazon" but I felt funny writing that down so I decided to go objective and carefully enumerate silhouettes I prefer. On the day of my appointment, I learned I could send them pegs (images of looks on your mood board) and I recommend doing this. The more honest and open you are in your expectations, the more relevant their curation will be. They carry a wide selection of designer gowns, in-house collections and pre-loved pieces from sizes 0 to 12 to suit every occasion. (RSVP commisions designers, too.)
Stepping inside the studio feels like settling into your fashion fairy godmother's headquarters. It's a sun-lit space decorated in muted pastel tones and adorned by orchids and big leafy plants. There's a couch for an extra pair of eyes. There's a bar cart stocked with rosé and G&Ts, useful for those with nerves that need soothing.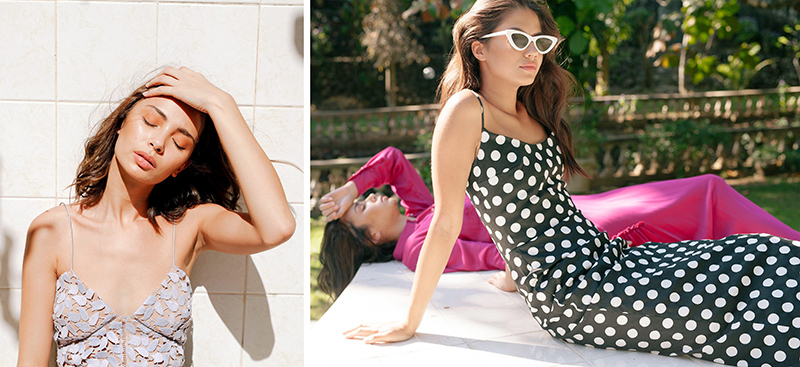 I made a beeline for their curated dress edit. My rack had 10 glamorous resortwear gowns lined up — they totally got the look I was going for and had the selection for it. I was drawn to a structured, meticulous lace-up piece by an Australian designer. It had been loaned to them by a girl who found it to be too small on her (more on this later). When worn, it did wonders for my figure, but I couldn't get in and out of it without the girls' help. I love how Salud and Sumabat were so encouraging with my glamazon aspirations; they just get it, and if one were to be more modest, they also know how to help you get it with no-nonsense styling advice to help you nail the look you want.
Another rack features select looks from some of the country's top designers: Martin Bautista, Sassa Jimenez, Stacy Rodriguez of Eustacia, and Vania Romoff. "We invest in our closet so our clients don't have to," shares Salud.
I had been eyeing some of their pieces from their most recent collections and they were there, available to be worn. I was concerned about picking something in a fabric that might be high-maintenance — I didn't want to return with a damaged gown — but they assured me I could just go for it. "That's why we ask for returns to be made as soon as possible, so any wine stains and tears can be fixed before it's too late," Sumabat tells me.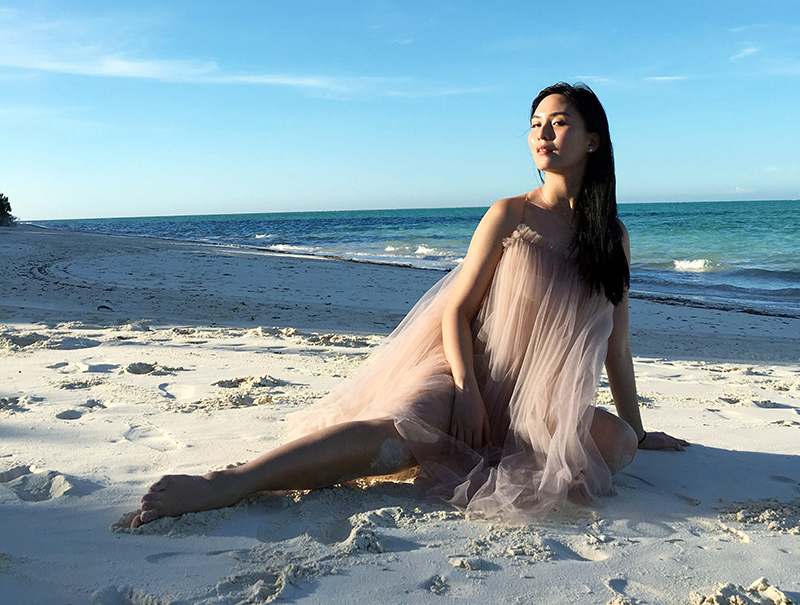 The author in
Sassa

Jimenez from RSVP
I went for two looks. One was an empire-cut tulle extravaganza layered with a floral mini by Sassa Jimenez and the shiniest, smoothest emerald green pure silk cami top paired with a ruched skirt generously beaded on its train. When I tried them on, I literally gasped.
I also fitted a bunch of other options and they would snap pictures as part of their scheduled garment pickup service, with an allowance for reversible dress length alterations.
The proverbial clock striking 12 came two days later and I dropped the clothes off at the studio lobby, back in dead stock and ramie linen clothes. They took care of it with an in-house dry cleaning service. Now I know where to reach my fashion fairy godmothers again.
Too many clothes?
RSVP's sustainable benefit goes both ways. They offer two services: Rent From Us, the luxury rental experience that I just did, and Rent With Us, a pre-loved luxury consignment service for people who have dresses and gowns to spare.
The sharing economy has given us consumption options, with consignment e-tailers and closed pre-loved fashion Facebook groups trying to bridge the gap, but they're just saturated with infinity dresses and buyers who lowball you because they don't see what your one-off designer gowns are worth. RSVP is that special place for and by girls who have style and recognize it when they see it.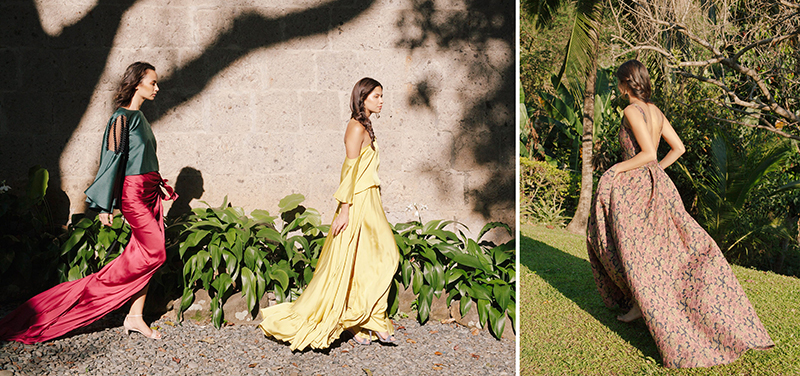 Choose from a wide selection of designer gowns, in-house collections and pre-loved pieces for rent at RSVP .
The partner service allows clients to surrender their pre-loved eveningwear to the rental system. You and that gown may have had fond memories together, but if it's just landfill in your closet now, RSVP can take it off your hands. Each successful match nets a fixed percentage for you while they take care of everything else.
* * *
Rsvp.ph goes live on April 16. Follow @rsvp.ph on Instagram for updates.