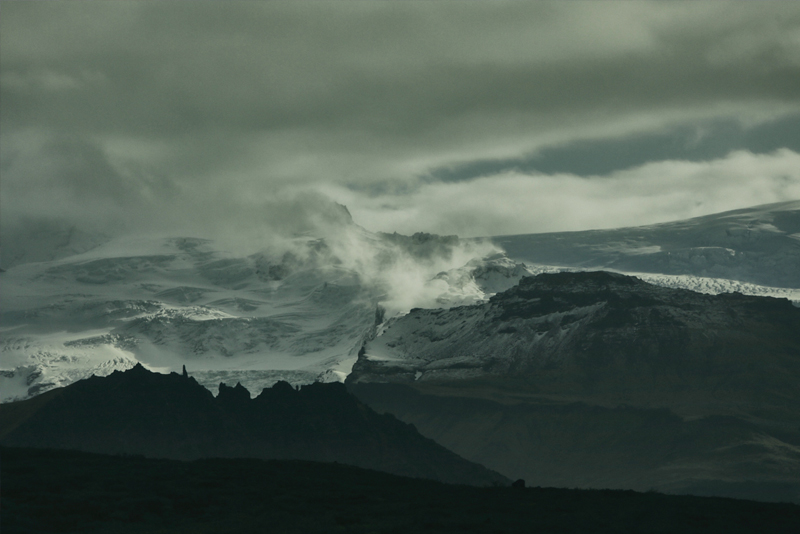 Turning point: "X-Ray" by Mark Nicdao in partnership with Maserati and Hope In A Bottle features the landscapes of Iceland as the setting of his spiritual journey as a creative.
MANILA, Philippines — Photographer Mark Nicdao has shaped the public perception of the Filipino celebrity throughout his 15-year career with editorial and commercial images, but in his second solo show "X-Ray," he ventures out into personal unchartered territory in the land of fire and ice. In partnership with Maserati, featuring 26 untitled landscape images of Iceland, Nicdao hopes to reveal a glimpse at what goes on behind the viewfinder at a moment in time where he was ready to leave it all behind — the industry, the fame and fortune — and what brought him back.
"We're all about performance," says Maserati Philippines' Jason Soong of their People of Passion campaign which Nicdao's second solo show is a part of. "We looked for someone who is the best in their craft. You can stereotype customers with different brands and Maserati customers are very distinguished. They, too, are the best at what they do."
Maserati has always done CSR campaigns in line with what the rest of the global luxury automobile is doing, mostly car shows and golf tournaments, but working with Nicdao, who pledges to donate all proceeds to Nanette Medved-Po's foundation Hope In A Bottle to help construct public school classrooms in underserved Philippine provinces, strikes a chord in more ways than one. What's the use of finding your passion if you can't share it? YStyle caught up with the lensman himself.
YSTYLE: There are 26 "X-rays" on display. Why "X-Ray"?
MARK NICDAO: When you go to a hospital, it's to heal something and X-rays are a souvenir. Iceland healed me. Iceland was my hospital and got my X-ray. The pictures are like my X-ray.
What was the illness?
When I went to Iceland, it was really for work (a fashion shoot in August 2016). I never believed in spiritual experiences, a place with natural energies, blah-blah-blah. I'm not an outdoorsy person. But I was there at the right time. You know when you're on a plateau, when nothing's happening. I mean, everything's good, but at the same time, you're in this mid-life crisis — I think it's what they call it. Before Iceland, my work took me to a lot of places — South Africa, Nepal, Bhutan — so when I went to Iceland it felt like, wow. Part of why I exhibited the pictures is to show what I went through to return to my roots. Taking the pictures in that place was sort of a spiritual therapy. It's not commissioned work. It's my first personal work after so many years. It's not even about the place or Iceland or how beautiful it is. It's a representation of how I felt for so many years being in this kind of job. Coming back, I realized, hey, why am I gonna stop? Not because of Iceland. Not because I was in a nice place.
Wait — you were going to quit the industry?
I don't want fame or any more money. This didn't give me joy anymore. In 2015, I was asking to help UNFP if there was something I can do. I still wanted to do more meaningful work — not that my work doesn't mean anything to me — it's just that you move on to (other) things. This is how I moved on. It's like I came back to when I was starting out. Every day now I'm just excited. I don't run out of ideas. The only reason I wanted to be a photographer was that I loved photographing people. It was reignited when I came back.
Why do you like photographing people?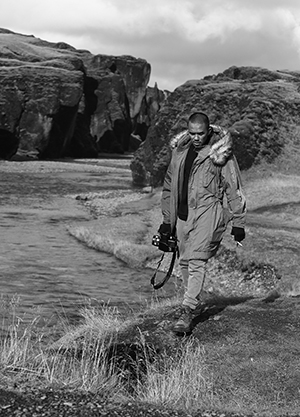 Mark Nicdao: "It's not even about the place or Iceland or how beautiful it is. It's a representation of how I felt for so many years being in this kind of job."
I read something: that in each person, there's a whole universe inside. We're all made out of stars. But I've always known that there's something different about every person you meet. Photographing that whole other side is what's interesting to me. When you look at photographs from the '30s, '40s, even the 1800s, it's a record of someone in that lifetime, recorded in that second. Photography is some sort of big revelation. Yes, editorial photoshoots are a setup — there's makeup, hair, there's a lot of alterations already going on even without Photoshop — but there will always be something natural about a photograph. You don't know what's going on in their heads. You can look at their faces and you can put meaning into their heads. But then, there's no such thing as a completely natural photograph. Once you have a camera in front of you, you're already altered in some sense. To give it balance, there needs to be motivation. Most of the time I joke with them. But sometimes there are people that you don't have to and you get what you want because they're being real.
As a creative, once you set something out it's no longer yours. Leaving the "X-Ray" pieces untitled, does that mean you're no longer attached to your work?
I was — I am attached to my work. But I got to continue working because I learned not to be attached to it. If you're putting a piece of yourself out into the world — especially social media, the craziest place on earth! — it will drive you crazy if you have to think about how you're going to communicate with people. I think that's how I got burnt out. I'm particular about the message I'm sending. It needs to be clear. But now I just pull out something special and don't plan on how people will react. There are so many stories you can create with a photograph; that's why you have to be careful at the same time. Being a photographer you're setting out an image for everyone. That's why my photos are untitled. I want whoever buys it to give it a different meaning. For some people, the exhibition looks like a desktop wallpaper, sized four-by-two-feet average. But why did Salvador Dali paint a clock melting in the desert? There's an inside joke. There's so much of that in the photos.
How would you describe the Philippine photography industry today?
It's bigger than ever because all resources are easily out there. With social media, image and image-making are just out there; it's easy for your work to be seen. If you're really good at it, you can easily turn it into something else. If you want fame, you can get it by being good. If you're fighting for something you can take a photo. Everyone has the access to convey whatever message through photographs. It's democratic. I think this is the best time to be a photographer, but at the same time—
Is it also the worst?
Yes! When I was starting out back in 2003, the masters were all using 4x5 films and digital was still coming in. Playing with a digital camera back then was more of an introduction to photography. Film has something more of an art form about it because until the end, there's always that process in the dark room. How you're gonna enhance it through chemicals. But when people ask me if I'm opposed to Photoshopping, I say no, that's the new dark room. It's how you use it. It's up to your level of knowledge on how you can alter images. It's ignorance not to use it.

In motion: The 26 untitled "X-rays" were taken by Mark while on a bus and in motion during a fashion shoot in the Land of Fire and Ice.
What was the first photograph you took that made you feel like you could do photography?
I started shooting products in 2003 for Sara Lee. Those little plastic bottles? Perfumes in catalogs? That's where I learned how to light. After two months in Francis Abraham's studio, one night he was shooting, he said, "Mark, try it." He asked the models, "You guys wanna try Mark?" I was saying no, but he made me go. I started moving the lights. I was scared 'cause I never tried it but after I wanted to make something out of it. He pushed me every day. I was there for six months as an extra hand while waiting for my next sem.
What would you be doing if you weren't a photographer?
I honestly don't know. I just wanted to leave the country, do whatever, be a gardener, a gas station boy; whatever, I'll do it. After fine arts, I didn't know if I could be hired by ad agencies because my portfolio, I thought it was sloppy. I was up in the air. When this thing opened up, I was still in college, so when I came back, I was still working with him and I continued working as an assistant/photographer.
And everything fell into place.
Thank you, Lord! I was surprised, even in my first year, I felt like a tornado was carrying me to places. It was all happening so fast. I met celebrities, I did advertising, I had a falling out with my boss, another studio fired me, so many things happened to me over the past 15 years. I was ready to quit. I couldn't deal with it anymore. That's why this is special.
Why did you trust Maserati to show something so personal?
Because they wanted me to share my passion. I met Nanette (Medved, Hope In The Bottle founder) when I shot her and we talked about doing something with Hope in 2010 but the time never meshed until now. And I love Hope In A Bottle. It's the smallest thing you can do to actually help out.
* * *
For more information on Maserati x Hope, visit GenerationHope.ph and follow @maseratiphilippines and @hopeinabottleph on Instagram.