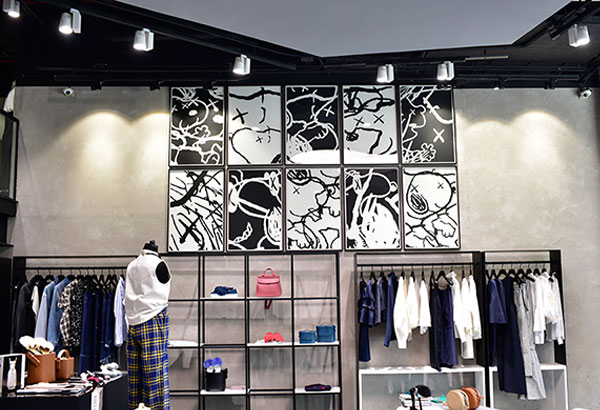 Be Distinqt: Noble House's contemporary luxury multi-brand lifestyle boutique is now open. Artwork by Kaws in the women's floor.
Distinqt is the latest lifestyle concept to open its doors in Manila, filling the gap between high-end luxury labels and fast fashion with the exclusivity of contemporary luxury. The context in which the 131-square-meter multi-brand concept store launches, in our booming, increasingly diverse retail and e-tail landscape, means a focus on making the experience of going to a brick-and-mortar boutique more meaningful and worthwhile.
"Not only is it a fashion store. We want Distinqt to be more of a lifestyle concept store, which goes with our contemporary luxury brands. Contemporary art is a good addition to create the environment we are trying to achieve," says operations manager Andrew Naval.
The logo – a D – appears inside in Nanoleaf lighting. A montage of framed artworks by Kaws on one wall overlooks a vignette of stylized N21 bowed mules, fur pompom Anna Baiguera slippers and furry Joshua Sanders slip-ons laid on Six Inch product glorifiers that take the look and function of blown-up puzzles on the ground floor's black marble floors (the flagship is called Distinqt Black). There are Assouline tomes on fashion, the arts, and culture, stacked up with laptop skins, along with the freshest fall/winter jewelry by May Moma (notable for transforming handcuffs into matte gold rings) and Schield and Wood'd phone cases.
Vasari-treated walls are on the opposite sides of the room, where individually sculpted pure metal racks hang the full line of it girl favorite N21 and ready-to-wear statement pieces from K-pop idol go-to SJYP, Japanese minimalist uniform Enfold, street style photographer magnet TIBI, and Walk of Shame worn by rebellious men and women from Moscow to anywhere in the world. Leaning against the bare concrete fitting rooms furnished with Emeco chairs is another black and white artwork by Tomo Ogokita.
A marble staircase divides and connects the space with a mezzanine featuring urban menswear offerings: button downs by D by D, T-shirts by Jimmy Roos, and pullovers by Ports 1961. Boards by Dior Homme sold like hotcakes.
"Watch out for Resort. We will always showcase the latest collections following the fashion seasons," Naval says, referring to pre-spring, spring/summer, pre-fall and fall/winter; house capsule collections and designer collaborations included. He adds they are also growing their portfolio of emerging global brands and a Podium outpost in the months to come. "You never have to feel left behind."
* * *
Distinqt is located at Shangri-La at the Fort, 3rd Avenue, Bonifacio Global City, Taguig. Store Hours is from 10 a.m. to 10 p.m.