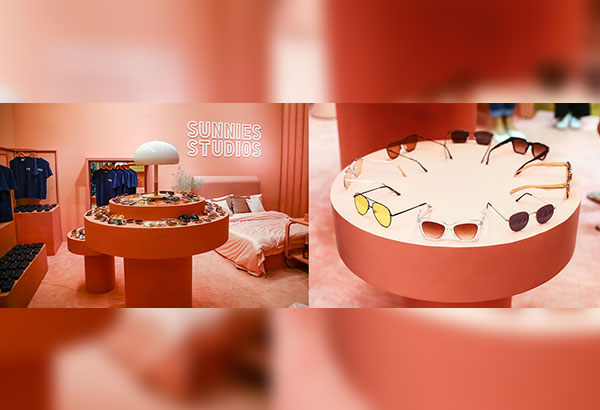 Slumber party: Influencers, press and superfans "lived" inside an all-pink bedroom at the exclusive Sunnies Studios gifting suite.
You should be well aware by now that Sunnies Studios knows how to throw a killer event. Let's be real, a few months later and I'm still hung-over from #SunniesVacay — I can speak on behalf of those that were a part of that dream getaway that it was definitely one for the books. So what's the next best season where Sunnies Studios can host an extravaganza and break the internet? Christmas, duh!
Have you ever dreamt of a pink Christmas? Then look no further as the Manila-based brand brings that to life. The #SunniesXmas event was crafted to be an exclusive experience for their favorite people. The idea behind it all is to give each and every guest the chance to share the best gift ever with their loved ones.
As it is a by-appointment-only kind of event, guests were informed of a secret location, and were given specific time slots where they'll be able to experience the ultimate holiday treat.
Behind the Pink Curtain
Upon arrival, a neon sign greets you — a confirmation that you've reached the dream holiday suite. Mid-century furniture, Pantone 2016 Serenity-tinted walls, and the first of three Christmas trees with a gift waiting underneath. Sugary treats and Christmas-themed drinks were also offered: Skittles, pink bubbly (how appropriate) and a Tim Tam slam latte were a few of the highlights. The room right next to the lounge area is the playful Sunnies bedroom in the perfect pink Pantone shade Rose Quartz. The kitschy interiors were accompanied by a pink Christmas tree, a comfy bed for snoozing, a webcam for selfies and merch in every square-inch of the room. The most important feature of the space? Their entire line of frames, including their latest release the Shields were up for grabs. Pink trays were handed out to assist in picking out the perfect sunglasses for your Secret Santa, bestie or really just for yourself. Once you've ticked everyone off your list, the Sunnies' elves pack up your choices and start wrapping them up for you. Talk about the easiest holiday "shopping" ever!
The third room is the Sunnies Specs living room, a '70s-inspired space complete with a real pine tree. You heard right: a fresh Christmas tree in the middle of it all. On top of the nine pairs that they'd already given away, guests were also given free eye exams, and a choice of two specs to take home.
Now you've seen the photos, we've all ogled at the Instagram-worthy rooms, so I'm crossing my fingers that you're one of the lucky few that got to experience it too because, as we all know, Sunnies Studios is #YourBestGiftEver.