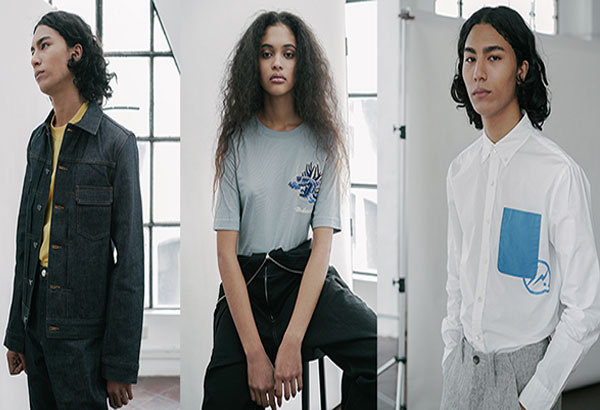 A new point of view: Commonwealth Greenbelt's focus on apparel features four new exclusive brands — Italian sportswear brand Stone Island, Paris label APC, Wacko Maria, and Denim by Fragment from Japan – known for their menswear but are all open to interpretation by its female following.
The line to Commonwealth now starts here
MANILA, Philippines — Expect long lines of shoppers in their streetwear best this weekend as Commonwealth opens its second Philippine flagship store in the Greenbelt 5 Fashion Walk entrance. It's a milestone: a culmination of a happening second year for the sneaker and streetwear retailer, shaking up the Manila retail landscape with events and international collaborations (notably with Asics in the past year, producing the first sneaker from the Japanese brand in and about the Philippines sold internationally) — while also becoming a destination shop located only in SM Aura.
Commonwealth, established in 2004, is an international menswear brand from Washington, DC by US-born-and-raised Filipinos Omar Quiambao and Larry Icognito. Two years ago, entrepreneur Michael Concepcion embarked on a partnership with these two Fil-Ams to bring it here — and the rest is history. Today, on the opposite side of the Pacific, Commonwealth in the Philippines is aligned with the US as it also opens a new store in downtown LA. Days before the opening, YStyle caught up with Commonwealth partner Concepcion to talk shop — from what to expect from this opening, the retail industry, and what all these shifts signify for his group of concepts as founder of Welcome Worldwide.
YSTYLE: Commonwealth's Greenbelt 5 flagship is taking over a strategic space. It's known for having brands with a directional look. How is the space going to look and what does it communicate?
MICHAEL CONCEPCION: The location is incredible. We really held out to make sure it was perfect and spoke our message. It's designed in conjunction with our architects from LA called Workshop. A lot of stores like ours around the world wouldn't necessarily be in the mall but we understand the context of Manila and how retail operates here, so we covered up. There will be a massive concrete wall instead of glass in a crazy brick structure. It's an interesting juxtaposition of being in a mall where it's ultra luxury, where you have the flagship stores of Louis Vuitton and Balenciaga. The design is close to our idea of always being subversive and rebellious in our approach. We adapt to our surroundings and we make sure our point of view is still present.
What new offerings should we look out for?
For a lot of people, Commonwealth is their sneaker destination for massive footwear releases but we're really a multi-brand space and we have several other categories. There's a strong focus on apparel in the Greenbelt space. To some degree (the differences between the demographic in Aura and Greenbelt) are taken into consideration but a lot of the brands we're bringing in have never even been here. It's a lot of education and trial and error at this point.
Greenbelt will have a slew of exclusive brands: Italian sportswear brand Stone Island, Paris label APC, Wacko Maria, and Denim by Fragment from Japan; all our favorites like Maharishi. Aura does have its own set of exclusive brands like Neighborhood, Play by Comme des Garçons and Brain Dead. We want our spaces to have something special about them. That's one of the reasons we segment certain brands. Each store has its unique point of view still falling under the overarching Commonwealth theme.
Looking back, what challenges did you encounter in the past year and how did you overcome them?
Proving our worth, especially to the brands that work with our stores. There's a lot of trust involved. We represent a lot of narratives the brands want to tell through our platform to approach specific customers; Nike can't tell a story that mixes skate and hip-hop in a Nike store. We're so tight with the brands now. Collaborations and events are really important to our business model. We're an energy door; we create buzz around stories. Retail is so black and white. You go to a store, you ask for what you want and go — you're in and out. But I feel retail is storytelling, creating experiences that make people want to be in your store and learn more. We timed it. There's an average of 10 to 15 minutes that people spend in our store after shopping. They linger. It's fascinating. They hang out, talk to the guys. It's a very inclusive setup. That played a big role in getting us where we are today.
How has the local streetwear scene evolved with Commonwealth?
We started Commonwealth in 2015, but prior to that, I was always a fan, a consumer, a spectator; I've seen this industry from infancy to where it is today. It's never been stronger than it is today. People reciprocate our efforts. They're incredibly knowledgeable, to the extent of obsessing about these products. Who would have thought we would be getting 1,000 people lining up for a certain sneaker in one day? It's insane. It points to two good things about where we're headed. Commonwealth has played a big role in improving the level of product that has been able to come to the country. Brands like Adidas are motivated to bring certain products; Tier 0 products can now come to the country. It has a trickle-down effect on everything. The products we carry are no different from what you'd find if you were to go to New York right now or Tokyo. Gone are the ideas of "I'm a fan, but I don't have access to it. I have to go to Hong Kong, shop online, get stuck at customs." We've eliminated that idea.
How has the Commonwealth customer changed from day one?
That's tough. I know my ideal customer, but the (Commonwealth customer) is so diverse and we're okay with it. It's something we internally ask ourselves all the time. Sneakers take everyone's interest. It's your dad, his friend; it becomes a family affair at this point. It's obviously rooted in the youth. It's extended to all walks of life. People wear it to work. It's not a weekend thing. Even the apparel we have. The products aren't so much about a "look." The people who come into our store don't come to look a certain way. They buy because that's who they are; that's what speaks to them.
What do you think has influenced this growth in the industry?
It's so diversified; it's healthy. I've had partners come in and visit and they always liken us to the States before the recession. Before the recession, there was an excitement. You didn't know what was gonna happen next. There's this energy that was very present and people were hungry for it. That's here now: it's very unique to Southeast Asia and the Philippines in particular because there are a lot of factors working for us. E-commerce is very prevalent. In other countries, (access to a lot of products) has become saturated. Here, it's building up.
What's next for Commonwealth and your group of concepts?
We have a project in the works that will involve a beverage concept that will connect to the Greenbelt space store later on, six months from when we open.
We're now ready to properly introduce ourselves as Welcome Worldwide. A lot of people just know us as the Ronnie & Joe group or the Commonwealth guys so we kind of just want to put a name to what we're doing. We've had our heads down in the past two years, just working. We have two Commonwealth stores, three Ronnie & Joe, the Adidas Originals flagship in Uptown and opening another store in Vertis North. We're a black sheep in the retail industry, doing things our own way. We've captured the audience and we're excited to tell our story and all other narratives that are true to us.