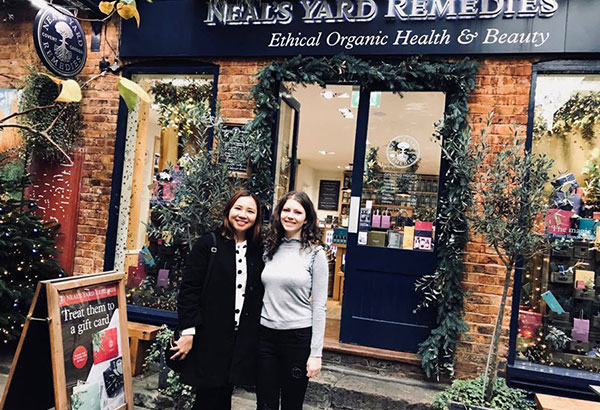 The author with Neal's Yard international assistant Amy Wise at Neal's Yard Remedies, Covent Garden in London.
How Neal's yard saved me from jet lag
My weather app told me there was going to be sunshine. It was about noon when I set my course on my offline map to Neal St. in Covent Garden. There was sunshine. As I made my way to Waterloo Bridge, I started sweating inside my sweater. Imagine that. I started peeling the layers off on the bridge. It was sunny and gorgeous in London, but I could feel the burden of not being able to sleep well for days coming over me. I was constantly thirsty and hungry, and my eyelids felt like heavy theater curtains hanging by a flimsy string. My app told me it was a 12-minute walk from Covent Garden, an estimate, I suspect, is much like one a local would tell you when you asked them for directions: "It's so near. You can walk." Well, it wasn't even close to near, but cold weather just makes for a nice brisk stroll, even if one is strolling on mere adrenaline.
Neal St. in Covent Garden is the home of the original Neal's Yard store, built in 1981. I remember this fact because it's the year I was born. My soles started to feel a little tired by the 11th minute of walking, and I wasn't even halfway there. An orchestra version of Bittersweet Symphony started playing on my phone, and, like a female, not-very-scrawny Richard Ashcroft, I pushed my way through huddled tourists, my coat flapping in the wind. Of course I would play Brit pop during my trip. I made a playlist and everything. These are the same thoughts I had while walking, in an effort to distract myself from the cold and the accrued exhaustion. I looked forward to the massage that Rustan's The Beauty Source's Aiem Ong booked for me at Neal's Yard Remedies Natural Health and Therapy Center.
I reached Neal St. and entered a narrow alleyway that led to the colorful Neal's Yard Remedies compound. It really is like a yard — there is a cluster of small cafés and restaurants, people were chilling with their tea. I proceeded to the Therapy Center where my therapist Eva was waiting to give me a Holistic Massage. "What's that?" I asked her. "It's not too hard, not too light, it's more of relaxing the body and relieving it of tension," she said. It sounded exactly like what I needed. I've forgotten what essential oil she used; I will assume it was lavender because I felt myself nodding off. According to Eva, getting a massage at Neal's Yard when in London is actually something a lot of tourists do, and there were a lot of tourists at the front desk scheduling an appointment.
After my massage, Neal's Yard international assistant Amy Wise met me at the store and recommended some travel essentials for my immediate adjustment (at that time, I was only three days into my seven-day trip), and my prompt re-adjustment upon my return to Manila. Here are her top picks:
Wild Rose Beauty Balm — Aside from its divine scent, this best-selling cult favorite is vitamin- and antioxidant-enriched. It's a multipurpose travel must-have that you can use as an exfoliating cleanser, a moisturizer, a balancing facial mask, a lip balm, and a cuticle balm. It's also Corrine Bailey Ray's favorite, as told to IntoTheGloss.com.
Bee Lovely Hand Cream and Bee Lovely Beautiful Lips — Made with honey and orange oil, this is a super moisturizing duo that's gentle enough for anyone over three years old. It benefits the Bees for Development charity, which introduced bee colonies into cashew orchards in Ghana to boost harvests. Neal's Yard has already donated £9,000 to the organization.
Frankincense Hydrating Facial Mist — This was perfect, because I've been using the Frankincense Toner as a facial mist for the past few months. It contains a blend of organic frankincense and neroli essential oils to hydrate and refresh. It's like a portable spa treatment.
Frankincense Intense Lift Serum — Its key objective is to help relax, which it does. It also visibly lifts the contour of the skin and plumps the appearance of lines with hyaluronic acid. Frankincense being my favorite Neal's Yard Remedies oil (it smells like the inside of a Catholic church, and I've a devotee), I was excited to try it. It really does promote a sense of wellbeing, and, with a little facial massage, you'll feel your face become a little more in place and less tense. Goodbye to jetlag-induced RBF.
Rose and Geranium Shower Gel — I've been looking for a bath bomb from the day that I arrived in London (we all know that a good soak in warm water is the proper preamble to a good night's rest), and this one more than does the job. It has rosehip extract, and the pure essential oils of rose otto, geranium and ylang ylang, which conditions the flaky skin that results from days of being bundled up under layers of clothing.
Superfood Organic Cocoa Blend Rebalance* — This might be a bit TMI, but it's a fact that our digestive systems get disoriented when traveling. I'm guessing it has something to do with the body clock going haywire. I've been taking this one (one scoop with a hot drink every morning) to normalize everything. It has B vitamins, ashwagandha (Indian ginseng), blueberry, cocoa and maca, to energize and restore.
Remedies to Roll Travel — My favorite, this pocked-sized aromatherapy blend is like good mood in a bottle. It has revitalizing bergamot, neroli, rosemary and clary sage, which all help ease travel fatigue (or just daily fatigue). You put it on pulse points and it lifts your mood.
It's been a week since I returned from my trip and I'm still using all of them. I feel a little bit closer to London having been to a spa there — nothing like getting butt naked in a foreign land to make you feel at home. As for jetlag, of course I had it. I'm three and a half decades old, but all of Neal's Yard's remedies helped make the transition easier, and a lot more hippie chic.
* * *
In the Philippines, Neal's Yard is available at Rustan's the Beauty Source. *Superfood Organic Cocoa Blend Rebalance is available online at nealsyardremedies.com.