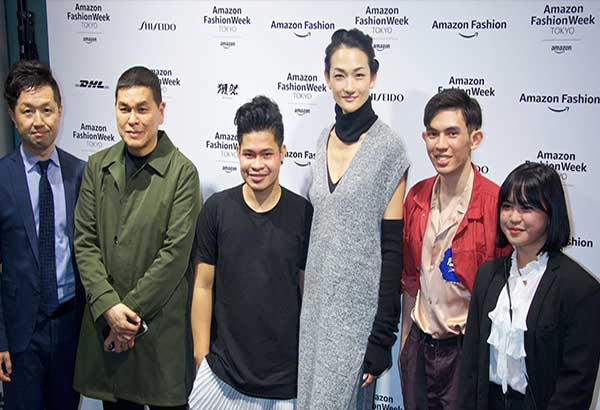 Supermodel Ai Tominaga with Ben Chan and designers Jaggy Glarino, RJ Santos and Jennifer Contreras
Asian Fashion Meets Tokyo-Philippines 3rd Edition
Tetta Matera
(The Philippine Star) - October 26, 2017 - 4:00pm
MANILA, Philippines — For three years in a row, the Philippines has been part of the official Tokyo Fashion Week Spring/Summer calendar via the Asian Fashion Meets Tokyo-Philippines project, a fashion undertaking between the Japanese government and the Japan Fashion Week organiztion to promote ASEAN fashion in Japan. Renamed Amazon Fashion Week Tokyo last year, three young and very talented Filipino designers joined retail giant Bench in another successful fashion show last week at Hikarie-Shibuya, the official venue of the prestigious bi-annual fashion event.
With over 600 guests including Sara Maino of Vogue Talents, Gianluca Cantaro, editor-in-chief of L'Officiel Italia and American style icon Nick Wooster in attendance, our very own young designers and winners of the first ever Bench Design Awards RJ Santos, Jennifer Contreras and Jaggy Glarino showcased their spring/summer 2018 collections alongside retail powerhouse Bench.
The 60-piece presentation started with "Problem Child" by Jennifer Contreras who, at 22 years old, was the youngest of the 3 Filipino designers in the group. Her multi-colored and multi-layered pieces, printed with Renaissance art and provocative messages of angst and sex, took their cue from Romina Ressia's photographs, Cecilia Azcarate's viral memes, Stanley Kubrick films and fly art. The collection, which is a very personal one for Jenni, is reflective of her current state of mind.
Next up was Jaggy Glarino whose "Paper Planes" designs of highly technical, structural pieces with matching oversized backpacks, head and eye gear was as colorful as it was impactful. An ode to a hodgepodge of personal experiences and memories such as his lola's "dasters" and "pamalengke outfits," make-believe monsters and friends, his clothes were fantastical but with a hint of the familiar.
Coming in third was RJ Santos with his Randolf Clothing entitled "Borders" inspired by music from Led Zeppelin and Abba which his parents played in their car during road trips as a child. RJ took elements such as sweetness and innocence from this time of his life and combined them with a dash of punk rock to create delicate silhouttes that were playful with just the perfect dash of whimsy.
Ending the show was Bench, our beloved Filipino brand celebrating 30 years of retail excellence. With a youthful collection of cool, casual separates in summer prints and patterns, Bench proved that their design DNA is as much of a hit in the Philippines as it is in Tokyo.
* * *
I would like to thank Din Eugenio (@dineugenio) for providing the photos for this feature.
Follow me on Instagram @tettaortiz