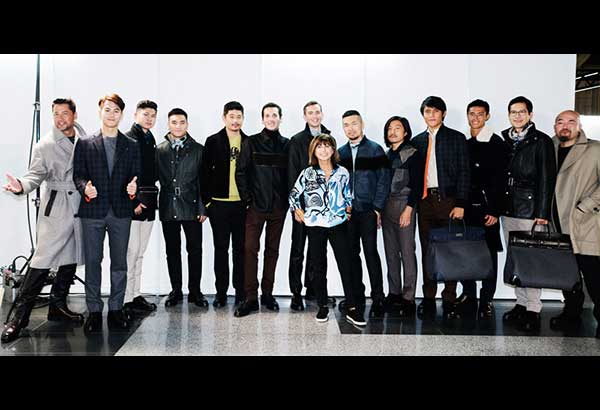 Head of Hermès menswear Véronique Nichanian with HK's local celebrities Michael Wong, Kevin Chu, Kadin Miles Wong, Oscar Wang, Aric Chen, Greg McNamara, Christopher Owen, Jonathan Yee, Kwong Lung Kit, Xiang Ma, Wai Ho Chan, Bryan Gaw and Wyman Wong
It's been three years since I first went to an Hermès Men's event, back in 2015 in Singapore. I remember the French maison converted an old airport into this sort of interactive museum where they paid tribute to the brand's love affair with travel. There was a makeshift conveyor belt with men's accessories on display, a vintage Voisin car upholstered in no less than Hermès leather, a suspended airplane with clothes hanging with it, and so much more. It was such an unforgettable visual experience. Since that year, it has been almost a tradition for me to look forward to the annual Hermès Men's event.
This massive-scale affair of Hermès was created to shine the spotlight on the multi-faceted world of the label's men's collections, from ready-to-wear to accessories. It's their creative and one-of-a-kind way of seeing the house's aesthetic. The whole thing is a reflection of the different aspects of the brand — from its details, prints, and even sensuality. It's an opportunity to get to know the values behind the label, a direct experience of the brand — to understand more about how each Hermès product was created, from its process to what kind of materials were used.
Fast forward to 2017, the luxury house has chosen Hong Kong to be its destination venue for the year. The setup was located at Kai Tek Cruise Terminal, one of the world's most prominent luxury cruise ship terminals in the old Kai Tek airport runway, with the majestic Victoria Harbour as its view.
Titled "Men Upside Down," the event focused on reversals, opposites, contrasts, asymmetry and interplay of perspectives as its theme. Hermès converted the Foster+Partners-designed structure into a topsy-turvy maze with upside-down doors, windows, staircases and installations.
Prior to the unveiling of the setup, over 1,000 VIP guests, including the brand's most loyal clientele in the region, socialites and international press, were treated to watch the men's f/w 2017 collection where not only models walked but also some of HK's local celebrities including legendary Cantopop lyricist Wyman Wong, veteran actor Michael Wong, and more.
The clothes? They're "rock-mantic," as best described by Veronique Nichanian, the esteemed head of the menswear division of Hermès. The Lord Byron-inspired double-breasted suits and velvet sweaters and pants softened the edginess of the wool overcoats, skinny leather pants, and lambskin and shearling blousons. Everything's a rhythm of looks in contrasting volumes.
After the 10-minute runway show, the "Men Upside Down" installations were finally unveiled to the guests. The seven "installations" were split into a number of beautifully decorated, themed spaces which guests can walk through for immersive experiences and activities.
The first room, called "Full Mental Jackets" is a museum-like setup where eight jackets were displayed in glass frames like artifacts. The jackets, owned by loyal customers (some as far back as 20 years), each tell a unique story about the owner. Beside it was the "Stay In Touch" room where different fabrics like cashmere and lambskin are framed. This area is for guests to touch these pieces and experience them with their senses — a tribute to the materials used in creating the exquisite menswear pieces of Hermès.
In one room was the "Men At Work" area or a performing garage — think "gentleman's mancave" — where an artisan worked with leather, thread, needles, pliers and more. On display were Hermès bags in glass containers. A motorcycle upholstered in Hermès leather hung upside down from ceiling. One room titled "Hot Spot" is an Igloo-like installation where guests can take photos wrapped up in coats from the menswear collections.
The "Let's Play" room is an interactive gaming room, or should I say an old-school arcade? There was air hockey, arcade basketball, ping-pong and video games to be played by guests. But the most interesting part was the wallpaper covering the whole room — it was the spider and equestrian motif print originally created by Japanese artist Daiske Nomura for a silk print. It was also definitely an OOTD-worthy location.
A crowd favorite, the "On The Road" area is a life-size Hot Wheels racetrack but instead of mini racing cars, you get to spin around actual shoes in this giant circuit with hairpin bends, loop-de-loops and a pit stop. Outside the terrace facing the South China Sea and Victoria Harbour were different food trucks that were set up for guests to enjoy while listening to a performance by indie band Camp Claude.
As the night came to an end, I got to appreciate the world of Hermès Men even more — its creativity, elegance, and its sense of humor. That they always prioritize delivering an experience rather than just a spectacle for guests is an admirable trait that other brands need to follow in these times of connectivity. And indeed, I'll be looking forward to more events like this in the years to come.