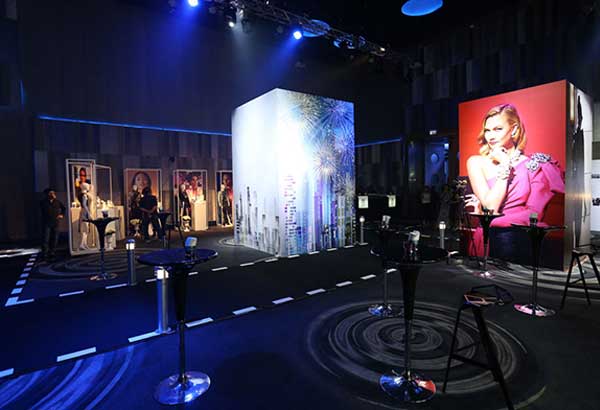 Themed "Brilliance for All," Swarovski celebrates its 120th year in the industry via a Southeast Asian regional event in Bangkok, Thailand.
MJ Benitez
(The Philippine Star) - September 7, 2017 - 4:00pm
MANILA, Philippines — Not all that glitters is gold (or diamonds, even), especially if jeweler Daniel Swarovski has anything to say about it. "Diamonds are for royalty," he once said. "I want to create a diamond for every woman." And with the introduction of a crystal-cutting machine in 1895, the Swarovski founder proved that he could walk the talk, as his invention started a new era for his material of choice, marking crystal's resurgence in jewelry, the arts and even high fashion.
From serving as design inspirations to French couturiers Coco Chanel and Elsa Schiaparelli in the 1900s and the debut of the "Aurora Borealis" (crystals with specially coated surfaces that allowed them to transform from one color to another) in Christian Dior dresses during the late 1950s to the pioneering of a bespoke crystal mesh fabric first used by Vivienne Westwood in the 1990s, Swarovski's relationship with fashion is one that constantly grows in beauty and creativity. Over a century later and Swarovski's vision still shines, with their renowned precision-cut crystal now more accessible and innovative than ever. And to celebrate more than 120 years in the industry, the Austria-born label recently held a regional event for Southeast Asia, aptly themed "Brilliance for All."
Held at the W Hotel and The House on Sathorn (a stunning 128-year-old colonial mansion and Thai national heritage home) in Bangkok, the event showcased Swarovski's storied heritage via a curated exhibit that featured historical milestones, notable Atelier Swarovski collaborations, Hollywood-inspired video campaigns, and of course, their latest fall/winter 2017 collection. With shimmering Swarovski-embellished couture looks from Paris Fashion Week displayed side by side with five key families from the commercial collection, creative director Nathalie Colin explains that their fall offerings — dubbed "Urban Fantasy" — took inspiration from a modern woman's day-to-night journey through dazzling cities.
The night culminated in a runway show that highlighted one of the global jewelry brand's most exciting offerings: the Swarovski Remix Collection. Divided into four categories — Romantic, Timeless, Rock Chic and Glam — the Remix Collection is made for, well, mixing. With each jewelry piece containing invisible magnetic closures, strands can be combined or layered to create multiple bespoke looks. "I have always been a strong advocate of personal styles so the new concept is one of my favorites with its endless mix of possibilities," Colin points out. "Accessories are great ways to customize one's look, helping women to be noticed for their outstanding styles." Now, mixing and matching your favorite adornments can be done in a snap, literally. Ingenious? Yes. Brilliant? Absolutely.
* * *
Swarovski is available in Rustan's Makati, Rustan's Shangri-La, Rustan's Alabang Town Center, and Rustan's Ayala Cebu. Swarovski is also available through boutiques owned and operated by Stores Specialists, Inc. located at Newport Mall, Robinson's Magnolia and Estancia Mall.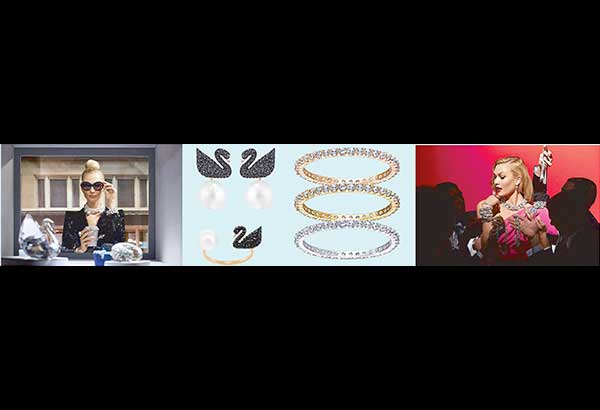 Cinematic Gems
Lights, camera, action! To celebrate Swarovski's lustrous heritage, brand ambassador Karlie Kloss stars in #BeBrilliant, a digital campaign where she recreates iconic moments from two Hollywood classics that featured the century-old label's dazzling jewels — 1961 rom-com Breakfast at Tiffany's (where Audrey Hepburn paired a crystal-encrusted tiara with an elegant Swarovski Montana blue, jet and crystal bead necklace) and 1953 musical Gentlemen Prefer Blondes (where Marilyn Monroe famously crooned "Diamonds are a girl's best friend" while actually being swathed in Swarovski crystals.)
Crystal Catwalk
Watch the sparks fly between Swarovski and some of our favorite fashion houses with these glimmering runway collaborations.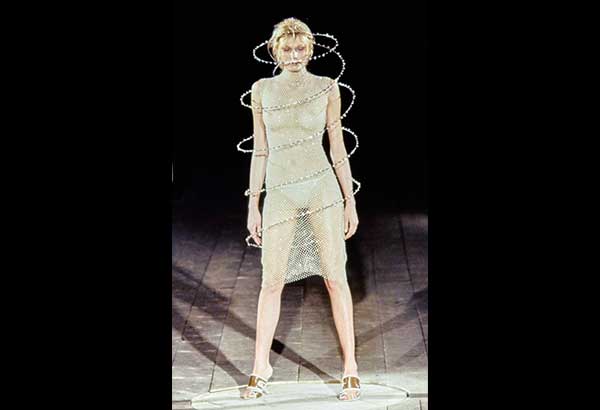 Alexander McQueen s/s 1999
Thanks to an introduction from English fashion icon Isabella Blow, Alexander McQueen and Swarovski collaborated for the first time in 1999, with the jewelry house providing crystals and crystal mesh for the designer's groundbreaking s/s collection. This initial collaboration also led to the birth of The Swarovski Collective, which aims to push the boundaries of crystal use in fashion. Since then, the collective has collaborated with over 150 fashion designers, including Proenza Schouler, Rodarte and Alexander Wang.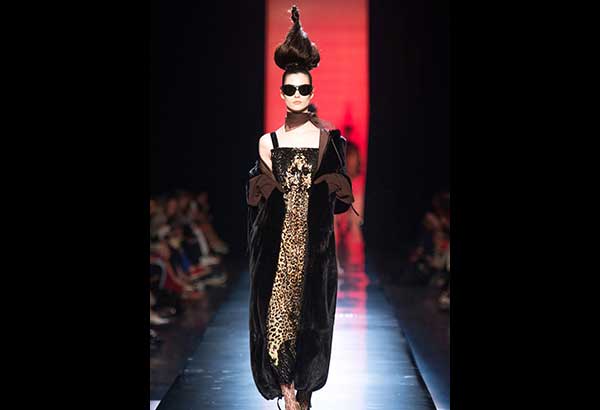 Jean Paul Gaultier f/w 2013 couture
"Woman as Predator" was the central theme of Jean Paul Gaultier's f/w 2013 couture collection, where the designer used 1.8 million Swarovski crystals for his powerful feline looks. Case in point: The Xenia dress, a beautifully embellished leopard-patterned cocktail dress made from transfer motifs on crystal mesh and worn over a noir mink coat, is the cat's meow.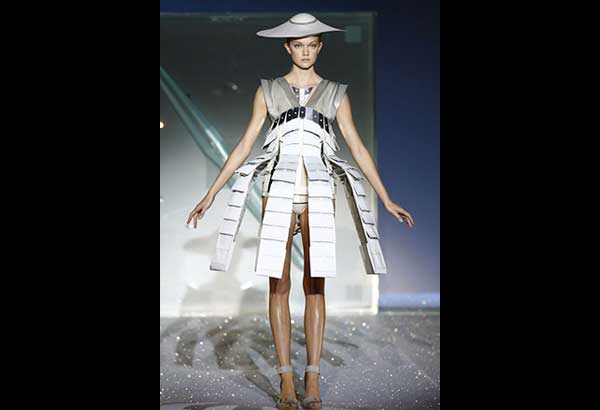 Hussein Chalayan s/s 2007
In this highly conceptual collection, Hussein Chalayan revealed a series of "transformer dresses" — animatronic Swarovski-crystallized garments morphed and reconfigured to reveal changes in design through the decades. As a nod to the crystal company's 111th anniversary, Chalayan also embellished the dresses with Swarovski crystals from different eras and used a crystal watermill as the show's backdrop.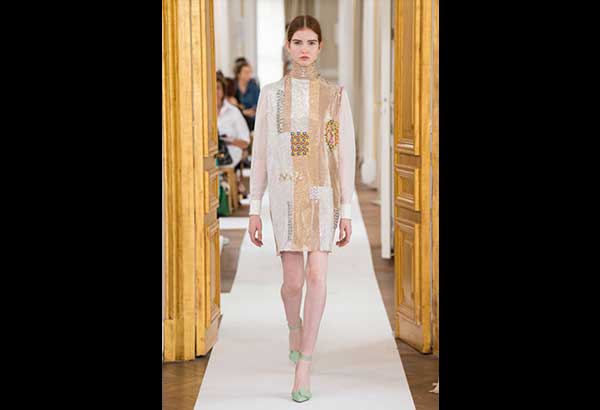 Schiaparelli f/w 2017 couture
More is more at the f/w 2017 Haute Couture show in Paris, where Schiaparelli creative director Bertrand Guyon introduced the Crystal² dress, an innovative garment featuring Swarovski's Crystal Fine Mesh embellished with, well, even more Swarovski crystals. Mutlicolored pavé crystals are fashioned into clusters of 3D formations and hand-embroidered on the dress, lending both dimension and iridescence. High fashion meets high shine? We're obsessed.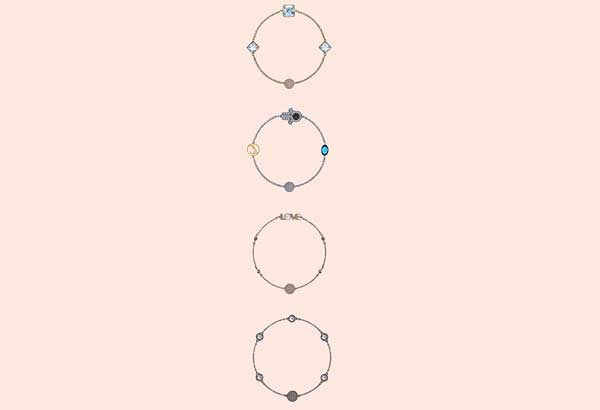 Remix & Match
Wear 'em as you please — the playful Swarovski Remix Collection allows you to customize the jewelry to match your personal style. Whether you choose to wear a single strand (as a bracelet or choker, perhaps?) or combine a few to form a necklace or headband, the best part is that it's entirely up to you! Now that's our idea of getting stranded.
Charmed, I'm Sure
Whether you opt for elegant jewelry with some extra shine or colorful baubles that sparkle and pop, Swarovski's diverse offerings have got you covered from sunup to sundown. Here, we show you our favorite adornments from their fantastical fall collection.