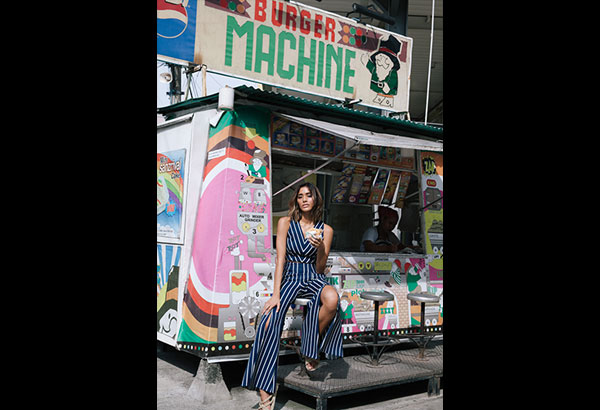 David Milan
(The Philippine Star) - June 15, 2017 - 4:00pm
MANILA, Philippines - It's been a year since designer Stacy Rodriguez came home from New York and launched her line Eustacia. Her debut of colorful, eclectic pieces has become a subtle trademark for the former Altuzarra and The Row intern. Based again in Manila after several trunk shows, pop-ups, made-to-orders and collections, YStyle catches up with the young designer a year later to talk about her fourth collection and how she has grown since.
YSTYLE: How is your Eustacia line doing so far?
STACY RODRIGUEZ: I think, much like me, it's still finding itself. Since, apart from production, I'm doing most of this on my own, the brand's evolution has a lot to do with my personal growth as well. I have so much to learn but taking it day-by-day with its ups and downs — it has really been a great journey of self-discovery for myself and the brand.
What do your clients look for when buying pieces from your line?
I think they come to me for easy but out-of-the-ordinary pieces. Something they can't exactly find in fast fashion retailers but can blend well with the rest of their wardrobe.
Which do you enjoy most? Creating made-to-order pieces for your clients or reproduction of your collection?
Each comes with its own challenges, but as with most things, they both have elements I really love. For example, there are clients that really make you love what you do because the intimacy of a collaborative relationship is something that really excites me. On the other hand, creating a collection is such a life-altering and self-exploratory experience. It's like getting pregnant, giving birth and raising a child every time!
How are you different from other ready-to-wear designers?
For one, I do things on a small scale because of a number of limitations but because of this I am able to keep things personal and I find that I'm able to keep things very on-brand, for the most part. This industry is so fast and vast that I fear losing myself in it.
How have you grown from your previous collections?
To be honest, I think I struggled a lot on keeping true to myself as a designer. Maybe it had a lot to do with my broad tastes and aspirations. I wanted to be so many things and try so many things but slowly I am really coming to terms with myself and the brand. For this collection, I stuck to what I know best: making clothes me and my favorite girls would wear. Really pushing that #eustaciagirls hashtag. (Laughs)
What was the inspiration behind your collection?
I'm usually heavily inspired by my travels but this collection's inspiration is from somewhere I fantasize visiting which is Salvation Mountain in Colorado Desert. It's a manmade mountain turned into this massive monument representing folk art and restoration. Apart from the concept being incredibly inspiring, seeing pictures of the different textures and prints piled on through years really helped me jumpstart this collection. It's called The Revival because I made new versions of some of my clients' favorite signature pieces.
What's the perfect scenario to wear this new collection?
Pick a destination, book that flight, pack this collection, and go on an adventure.
Who is the Eustacia girl this time?
She's that adventure-seeking girl; always ready for what life is going to throw at her. That's why my model Kimi Juan was the perfect girl for this collection. She truly embodies that.
What's in store for Eustacia in the last half of the year?
Actually, this collection launches our online platform for all things Eustacia. We are slowly growing the #eustaciagirls gang by opening up this platform. Please visit www.shopeustacia.com for updates.
Photos by RALPH MENDOZA
Makeup by MARTIN BAUTISTA
Modeled by KIMI JUAN