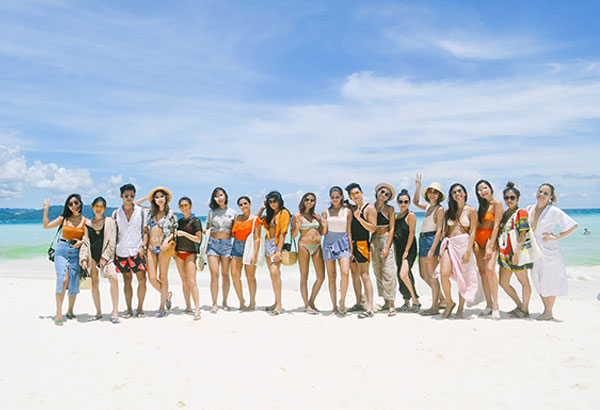 The first in a series of Sunnies Studios summer events: #SunniesVacay was held at The Lind Boracay, May 16-18.
How do you resist an invitation to what could possibly be the most talked about vacay in recent memory? #NotFyreFestival. You don't — because, let's face it, nobody wants to deal with #FOMO deep down. After having attended a few of Sunnies Studios' events, it's a no-brainer to say that this brand knows how to throw a party, even more so a three-day dream getaway to Boracay. Think 5-star hotel accommodations, unlimited frames (no kidding, I took home about 20 pairs), and did I mention a yacht party? Sunnies Studios likes to get personal so you could say that everything was curated down to the most miniscule detail — they even figured out my favorite snack (Oreos with a side of milk, in case you were wondering).
Being only one of two press people on the invite list, I knew I was going to be surrounded by social media bombshells and celebrities who are known for their well-curated feeds and huge followings. That's where my panic started to kick in. I was getting opinions on what to wear because being in my usual denim shorts and flip-flops wasn't going to cut it. I had my favorite Áraw linen looks all laid out with some cute sandals I'd just picked up a few days before, and I was ready — or so I thought.
In true Sunnies fashion, we were greeted by the lovely ladies behind the brand with a welcome care package. It had the pre-flight essentials of what was going to be the crème de la crème of all summer trips of the year: a pair of reflective frames, Tim-Tams, a sleeping mask and their own brand of mints. The flight, care of Air Asia Philippines, was short but sweet and we soon made descent to a less than sunny Caticlan. We were all a little bit concerned as rain was in the forecast for the next three days; but lo and behold, the sun managed to sashay away from the storm clouds as though the Sunnies Studios team had staged the whole thing.
#Gonewiththelind
It was made known that this was going to be an Instagram-worthy trip, and true enough, we were booked for a two-night stay at the newest luxury hotel in Station 1, The Lind. On arrival, a handwritten Sunnies mail (or Tyra Mail, as we candidly called it) and a refreshing ice-cold berry infused tea awaited us at the lobby. We made our way to our rooms and were floored by the spread that was laid out on our beds. It was like Sunnies Studios threw up rainbows and unicorns on our freshly ironed sheets. The flat lay had a hodgepodge of limited-edition merch — swimsuits, totes, T-shirts, Glossier's balm dot com, sunscreen and first dibs on their unreleased styles of the color washed collection (yellow tint frames for me, please!). All this merch upon merch exclusively for the 26 guests invited to this dream vacay — and I just so happened to be a part of it. Can you say #blessed?
The Sunnies team had set up a series of installations on our side of the island, and that included a Pantone-perfect tangerine-hued block that was larger than life. A blown-up mirror was assembled on the beachfront perfect for daily touchups or just a casual #OOTD facing the crystal blue water of Boracay — no biggie.
First on the agenda was a rooftop sunset party underneath a lit-up canopy with paper lantern decors by the Lind's signature infinity pool — fab. A curated list of tropical cocktails was on the menu and I have to give a personal shout-out to the malunggay mojito. Should you find yourself at The Lind when in Boracay, don't miss it. The beanbag lounge set-up was perfect for the casual social event and gave way for influencers, content creators, actors and bloggers to mingle. We had the best view on the island with drinks in tow, and to top it all off, we had front row seats to Boracay's world-famous sunset. Before we knew it we were famished, and drunkenly whisked ourselves down to the beachfront for the welcome dinner. The infamous chori burger made a special appearance and was a crowd favorite. I'm not going to lie; I smuggled some up to the room for a midnight snack. Who else was going to eat it anyway? As we capped off the night with some syrupy shots and lots of dancing, we soon retreated to our respective rooms to rest up for the main event the next day — the yacht party.
All Aboard
The call time was at 4:30 p.m. sharp to be transported to the triple-deck party boat. Now you can just imagine our faces seeing it from the distance. The Sunnies Studios flag was raised up high with creative director Martine Cajucom in the most appropriate canary yellow swimsuit swaying along to what was going to be the Best. Boat. Party. Ever.
The whole yacht was decked out in the brand's sorbet hues, from the staircase sticker decal, down to the customized pink bar which had party cups lined up ready to be demolished. And if that wasn't enough, the team treated all their guests to DJ Samantha Duenas, otherwise known as @SOSUPERSAM of the legendary 143 parties held all over the globe for some hip-hop and R&B tunes through the night. The yacht was also fully equipped with a free-flowing gifting suite with all the new styles in every color on display. As we worked our way to the third floor, the sundeck was packed with visors, embroidered towels, disposable cameras and temporary tattoos — just the right recipe for an iconic yacht party. The battle for the best photo from the entire #SunniesVacay commenced and we were practically onboard a mobile photo studio as everyone was using every square inch of the yacht. Soon enough we were jumping off the deck to cool down with kitschy inflatables in tow, which proved to be a cute l'il moment. This was the place to be in Boracay at that moment in time, and it would be an understatement to say that we had a fun time.
All good things must come to an end though, and when reality set in, all of us felt a certain sadness — partly because I didn't know whether or not I could fit all of my merch in my tiny suitcase.
If there's one thing that Sunnies Studios understands it's creating that personal experience with its favorite people. I haven't been back to Boracay since my traumatizing Labor Day trip in 2014 and the team at Sunnies has given me a newfound experience of this beautiful island, one that I'll be talking about for years, and a reminder that Sunnies Studios truly knows best.